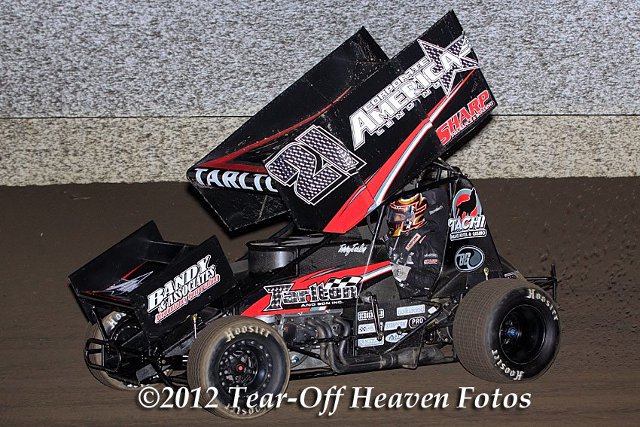 PETERSEN MEDIA
Tommy Tarlton continues to dominate the Ocean Speedway Watsonville, as he picked up his third win in just his fifth start at the scenic quarter mile on Friday night, and by doing so, he becomes the first person to qualify for the Johnny Key Classic that takes place later this year.
"We have been awesome at Watsonville," said Tommy. A few weeks back we had some issues, but since then Paul Baines and my guys have done their homework, and this Tachi Palace/Corporate Lending America/Bandy and Associates car has been a pleasure to drive."
With 15 cars on hand for the first Johnny Key Classic qualifying race, Tarlton timed his Sharp Insurace/BG Lubricants/Astro Titanium machine in 6th fastest.
Winning his heat in convincing fashion, Tommy lined up in the second row for the feature event.
Gunning into the second spot, Tarlton persistently chased down early race leader, Shane Golobic.
As the duo battled for the lead, Golobic was able to keep Tommy behind him until the 14th lap.
Running the top, Golobic slid up into the turn two wall, allowing Tommy to grab the lead, and once in front, Tommy was simply untouchable.
Though he was slowed for a pair of late race cautions, the Easton, CA driver was able to keep second running Brad Furr behind him as he picked up his fourth win of the season, his third at Watsonville, and locked into "The Key".
"It's just awesome to get back to victory lane," he said. "I'm glad we are running well, and hopefully we can steal one from the 410 guys this weekend."
Tommy would like to thank Corporate Lending America, Tachi Palace and Casino, Sharp Insurance, Bandy and Associates, Pro Signs, BG Lubricants, and Astro Titanium for their continued support.
VIDEO: Check out some behind the scenes action as well as some of the racing from Friday night, June 1, 2012 in Watsonville, CA by visiting http://www.youtube.com/watch?v=9JThboT-o-I&feature=youtu.be