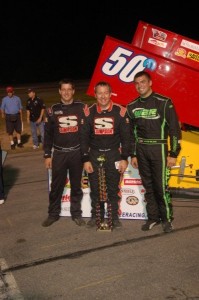 From David Sink
Clio, MI — (July 3, 2012) — Brian Gerster became the first TRUFUEL Must See Racing Xtreme Sprint Series (MSRXSS) multiple feature winner of 2012 Tuesday night at Auto City Speedway in Clio, MI.
Gerster captured the 3rd annual ' Must See Twin 20's ' event for the second consecutive year. Gerster's win was his second consecutive with the series in 2012 after winning the last time out on June 9 at Lucas Oil Raceway Park in Indianapolis. His victory busted up a string of five different winners to start the 2012 season.
The highly popular ' Must See Twin 20's ' featured a unique format and was greeted by a large crowd despite threatening rain earlier in the day. In addition to heat races, drivers were to run one of two twenty lap qualifying races that would set the field for the twenty lap feature event.
Jo Jo Helberg bested twenty other competitors to capture the night's fastest qualifying time when he turned a lap of 13.212 seconds. Helberg was unable to lower the track record and broke a string of five consecutive outings where a track record had been set at 2012 MSRXSS events dating back to the opener April 13 at Five Flags Speedway.
Brian Gerster and Mike Larrison won each of their qualifying races to earn front row starting positions for the feature event. Larrison lead the opening lap but quickly surrendered the lead back to Gerster by the second go around. Gerster continued to lead Larrison and Jacob Wilson until the race went yellow for the first time on lap 14 for a slowed Larrison. When the green flag flew again, Jimmy McCune got past Wilson and set sail for Gerster until another yellow flew on lap 19 bunching up the field and giving McCune one last chance at Gerster. Gerster was able to hold off McCune for his fifth career MSRXSS victory in only eight starts.
The MSRXSS now prepares for a trip to the state of New York for races Thursday July 5 at Shangri-La II and Oswego Speedway Saturday night July 7. It will be the furthest east the series has traveled in its short history.
For more information on the MSRXSS including the remaining 2012 schedule log onto www.mustseeracing.com.
AUTO CITY SPEEDWAY TWIN 20'S FEATURE FINISH
1. Brian Gerster
2. Jimmy McCune
3. Jacob Wilson
4. Brian Olson
5. Jason Cox
6. Jo Jo Helberg
7. Sondi Eden
8. Hank Lower
9. Ryan Litt
10. Kyle Flint
11. Donnie Adams Jr.
12. Kyle Feeney
13. Jerry Caryer
14. Bill Tyler
15. Dave Baumgartner
16. Bobby Santos III
17. Aaron Pierce
18. Mike Larrison
19. Jeff Bloom
20. Kevin Feeney
DNS Ryan Gillenwater