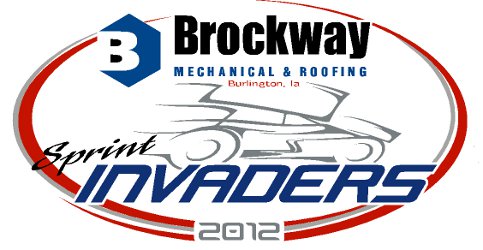 By Bill W
July 10, 2012 – One of the most anticipated stops on the Brockway Mechanical & Roofing Sprint Invaders is always the racy ¼-mile Cedar County Raceway in Tipton, Iowa. The annual event takes place this Thursday night, July 12, and there is plenty of anticipation!
This will mark the sixth year that the Sprint Invaders have competed in Tipton. Last year, Kaley Gharst became the first repeat winner at the track last season when he won for the second year in a row. Other past winners include Jack Dover, Bobby Mincer and current point leader, Ryan Jamison.
Mincer trails Jamison by only seven points heading into Thursday's event. Knoxville, Iowa's Tony Shilling is close behind, followed by Russ Hall and Ben Wagoner. Bret Tripplett, Justin Parrish, Jordan Goldesberry, Jimmy Davies and John Greenwood round out the top ten in series standings.
It was a night of thrills last time out, with double features at the 34 Raceway in West Burlington, Iowa. Josh Higday finished atop the make-up feature from April, while hometown hero, Josh Schneiderman, picked up his first Sprint Invaders win at the track.
Hot laps are scheduled for 6:45 p.m. Thursday with racing to follow! Tickets are just $10, with Seniors admitted for $7! Kids 6-10 are $2, with 5 and under FREE!
For more information on the Sprint Invaders, including points, schedule, results and more, visit www.SprintInvaders.com!
Current Brockway Mechanical & Roofing Sprint Invaders Point Standings (top 20)
# Races
Driver
Hometown
Car #
Total Points
1
4
Ryan Jamison
Mediapolis, IA
51J
1039
2
4
Bobby Mincer
Burlington, IA
15
1032
3
4
Tony Shilling
Knoxville, IA
47T
1001
4
4
Russ Hall
Pleasant Hill, IA
45c
996
5
4
Ben Wagoner
Emden, IL
84
992
6
4
Bret Tripplett
Lincoln, IL
22
979
7
4
Justin Parrish
Oquawka, IL
4J
968
8
4
Jordan Goldesberry
Springfield, IL
14P
897
9
4
Jimmy Davies
Oquawka, IL
99
894
10
4
John Greenwood
Woodward, IA
1st
857
11
4
Andy Huston
Roseville, IL
40
809
12
4
Chris Martin ®
Ankeny, IA
44
751
13
3
Matt Harms
Lacon, IL
53H
748
14
4
Daniel Bergquist
Burlington, IA
40B
742
15
2
Josh Schneiderman
West Burlington, IA
2
604
16
2
Matt Sutton
Macomb, IL
3
546
17
3
Tim Moore
Rock Island, IL
10T
543
18
3
Destini Clark
Bolingbrook, IL
79
476
19
2
Jarrod Schneiderman
West Burlington, IA
88
440
20
2
Dave Getchell
Sperry, IA
83
405
A Look at the Winners over the Years at Cedar County Speedway (5 events)
7-13-07 Ryan Jamison, Mediapolis, IA
7-13-08 Bobby Mincer, Burlington, IA
7-9-09 Jack Dover, Springfield, NE
7-15-10 Kaley Gharst, Decatur, IL
7-14-11 Kaley Gharst, Decatur, IL
2012 Sprint Invaders Schedule
Saturday, April 14 – 34 Raceway (Rain)
Friday, June 1 – Peoria Speedway (Bret Tripplett, Lincoln, IL)
Friday, June 8 – Jacksonville Speedway (Jerrod Hull, Sikeston, MO)
Thursday, June 21 – Lee County Speedway (Matt Sutton, Macomb, IL)
Tuesday, July 3 – 34 Raceway – Two Features (Josh Higday, Des Moines, IA; Josh Schneiderman, West Burlington, IA)
Thursday, July 12 – Cedar County Raceway (Tipton, IA)
Wednesday, August 1 – Knox County Raceway (Knoxville, IL)
Saturday, August 18 – 34 Raceway – Night of the Twins (West Burlington, IA)
Friday, September 7 – Mississippi Valley Fairgrounds (Davenport, IA)
Saturday, September 29 – Lee County Speedway – Season Championship (Donnellson, IA)