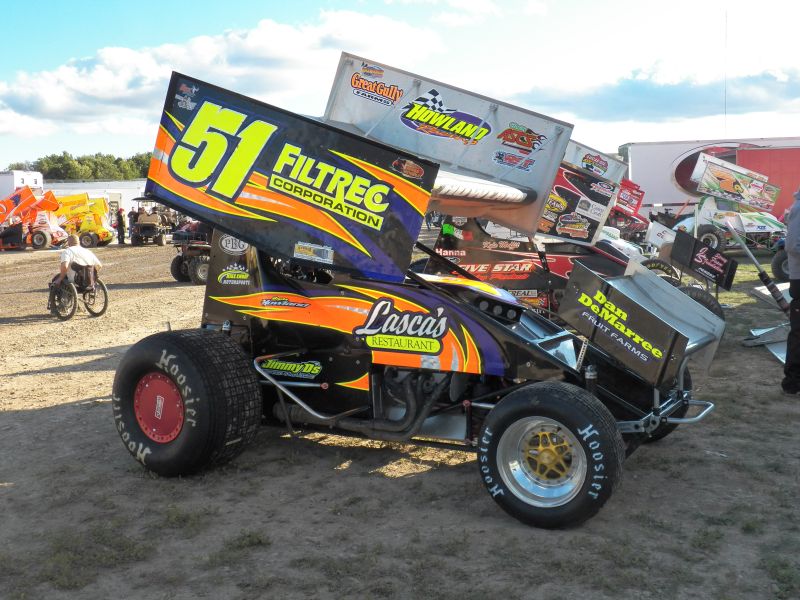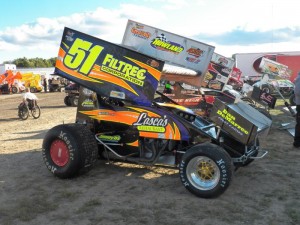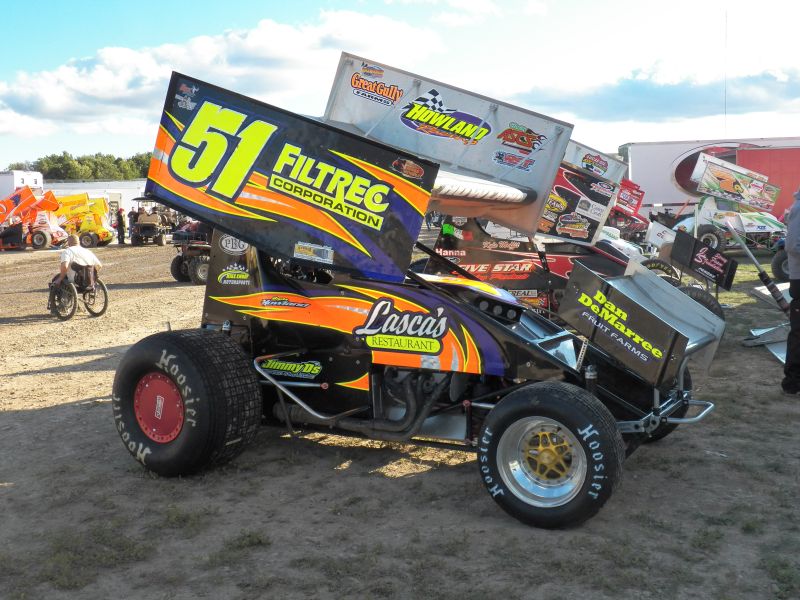 From Rich Vleck
CORNWALL, Ont., (July 15, 2012)- Never before had Bryan Howland waited this long to get his first win of a season; but after a convincing victory on Sunday Night in Cornwall he proved that July is when he really heats up.
"Finally", declared Howland in Cornwall Victory Lane, as he presented the checkered flag to the crowd after leading wire-to-wire in a caution-free event. It was Howland's 21st career PST win, his 10th in the month of July.
"The car was just perfect tonight," he stated. "The start was really good. We came off of turn two like a rocket ship and I think that is what won us the race."
The four-time Patriot Sprint Tour Champion had even debated attending the Sunday sprint special at the ¼-mile, a track where he had crashed at on his two prior visits, but he knew his luck had to turn around soon enough.
"This is an awesome racetrack, we just had bad luck here in the past," added Howland. "We've had a real rough year and every week (my crew) keeps coming back with their chin up looking for our first win and we finally got it tonight!"
Howland, of Auburn, NY, finished third in his heat, which was good enough to get into the redraw, where his string of poor draws was snapped when he selected the pole starting spot. Outside pole sitter Mitch Brown ran him hard into turn one, but the Filtrec No. 51 would get the lead working down the backstretch. Lapped traffic would soon become a factor, but it also allowed "Flyin' Bryan" to gauge how strong his car was.
"I tried the top a few times but I wasn't gaining anything on the lapped cars so I was just holding my position on the bottom, figuring that I didn't feel anyone would be moving on the top," reflected the ninth different PST winner of 2012 in nine races.
As the race wore on, the track became increasingly slicker while not taking any rubber; this put more emphasis on being tactical and hitting the correctly line, something that has made Howland a front-runner for so many years. Despite Howland's excellence at being precise, Mitch Brown was not going to let it be a run away.
At points during the middle of the race, Brown would chop the lead down but was not able to gain enough on Howland. Over the final five laps, the Brantford, Ontario driver would have to work hard just to hold off Jared Zimbardi, but was able to do just that as he claimed his best career PST finish. It was a solid end to the weekend for the third year sprint driver after a motor problem Friday at Ohsweken made them thrash just to make it up to Brockville and Cornwall.
Jared Zimbardi's third place showing was impressive considering that he started seventh on a track where passing was certainly at a premium. The defending PST Champion drove from seventh to fourth on the first lap but without a caution would have to settle for his second third-place of the weekend. In the process, "The Juice" has taken over the PST Canada Series point lead.
On the final lap, Glenn Styres, who had a very impressive run from 12th place up to fourth running the high line, planted his Ohsweken No. 0 in the turn four wall after the checkered flag had already been given to Howland. That would hand fourth back over to Alain Bergeron, who returned to action on Sunday with a heavy heart after the passing of his father earlier in the week. It was an emotional night for the two-time Cornwall winner but ended with a quality result.
Michael Parent would earn his second top-five finish in the last three starts at Cornwall. It was also a difficult week off the track for Parent but he too was able to use racing as an escape.
Saturday Night's winner Jamie Collard won his heat race but struggled to move forward in the feature as he finished sixth. Justin Barger was able to rally from a poor heat race to earn a seventh place result. Those two are still squarely in the PST Canada Championship picture but will have to gain ground on Zimbardi now.
Two-time Cornwall winner Jeff Cook won the Original Pizza Logs Four Laps of Fame Dash and was able to finish in eighth. Heat two winner Dain Naida crossed in ninth while local favorite Lee Ladouceur rounded out the top 10.
No official race stoppages occurred on the night, however red flags were unfurled after in the checkered flags had been displayed in the dash and the feature. Styres crash at the conclusion of the A-Main resembled the flip Scott Kreutter took in the dash; the difference being that Kreutter's incident was a result of the throttle sticking on his No. 52. Both drivers would walk away unharmed.
For more information visit www.PatriotSprintTour.com.
Patriot Sprint Tour Results: 7/15/12, Cornwall Motor Speedway, Cornwall, Ontario.
A-Main (25 Laps)- 1. Bryan Howland (51), 2. Mitch Brown (10), 3. Jared Zimbardi (35), 4. Alain Bergeron (8B), 5. Michael Parent (25), 6. Jamie Collard (7x), 7. Justin Barger (5), 8. Jeff Cook (10c), 9. Dain Naida (07x), 10. Lee Ladouceur (51L), 11. Keith Dempster (5k), 12. Devin Caron (24k), 13. Glenn Styres (0), 14. Kayle Robidoux (46), 15. Tyler Rand (84), DNS: Scott Kreutter (52).
Lap Leaders- Howland 1-25.
Original Pizza Logs Four Laps of Fame Dash (4 Laps)- 1. Jeff Cook (10c), 2. Lee Ladouceur (51L), 3. Justin Barger (5), 4. Glenn Styres (0), 5. Keith Dempster (5k), 6. Scott Kreutter (52).
National Parts Peddler Heats (8 Laps Each)-
Race 1: 1. Jamie Collard (7x), 2. Michael Parent (25), 3. Bryan Howland (51), 4. Alain Bergeron (8B), 5. Jeff Cook (10), 6. Keith Dempster (5k), 7. Glenn Styres (0), 8. Tyler Rand (84).
Race 2: 1. Dain Naida (07x), 2. Mitch Brown (10), 3. Jared Zimbardi (35), 4. Devin Caron (24k), 5. Scott Kreutter (52), 6. Lee Ladouceur (51L), 7. Justin Barger (5), 8. Kayle Robidoux (46).
Patriot Sprint Tour Canada Series Standings (Top 10)- Jared Zimbardi 579, Justin Barger 567, Jamie Collard 561, Bryan Howland 541, Dain Naida 522, Mitch Brown 510, Scott Kreutter 432, Alain Bergeron 392, Lee Ladouceur 390, Glenn Styres 373.