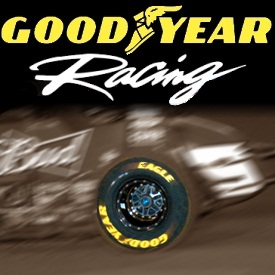 By Lee Elder
AKRON, Ohio (July 16, 2012) – Sammy Swindell got regal, Joey Saldana was Knighted and Kerry Madsen won the Brad Doty Classic as the World of Outlaws Sprint Car Series raced three times in Ohio.
Swindell won the King's Royal, the 29th running of the $50,000-to-win race at Eldora Speedway in Rossburg. Saldana won at the same track a night earlier in what has come to be known as the Knight Before the King's Royal and Madsen's win came at Lima Motorsports Park in Lima.
The World of Outlaws Sprint Car Series teams all compete on Goodyear Eagle bias-ply tires. Goodyear is the Official Tiremaker of the World of Outlaws Sprint Car Series and has the same status with touring series for winged sprint cars around the racing world. In addition, Goodyear supplies tires for weekly programs, such as those at Knoxville Raceway, the home of the Goodyear Knoxville Nationals in August.
Swindell's victory was his 20th at Eldora and his third in the rich King's Royal. Swindell led the final 30 laps of the 40-lapper. Madsen finished second, followed by Jac Haudenschild, Justin Henderson and Kraig Kinser. Kinser started 23rd in the field.
Saldana won his 11th WoO race at Eldora, leading every lap. Greg Wilson, Dale Blaney, Craig Dollansky and Brian Brown completed the top five finishers.
Madsen's win at Lima was his third in the last 11 events. Stevie Smith, David Gravel, Wilson and Donny Schatz filled the top five.
Steve Kinser leads the standings with 5,235 points. Schatz is next with 5,227.
More information about Goodyear Racing is available at www.racegoodyear.com. More information about the WoO is available at www.worldofoutlaws.com.
Goodyear employs about 73,000 people at manufacturing plants and facilities in 22 nations. Based in Akron, Ohio, Goodyear is among the largest tiremakers in the world and is the world-wide leader in race tire innovation.