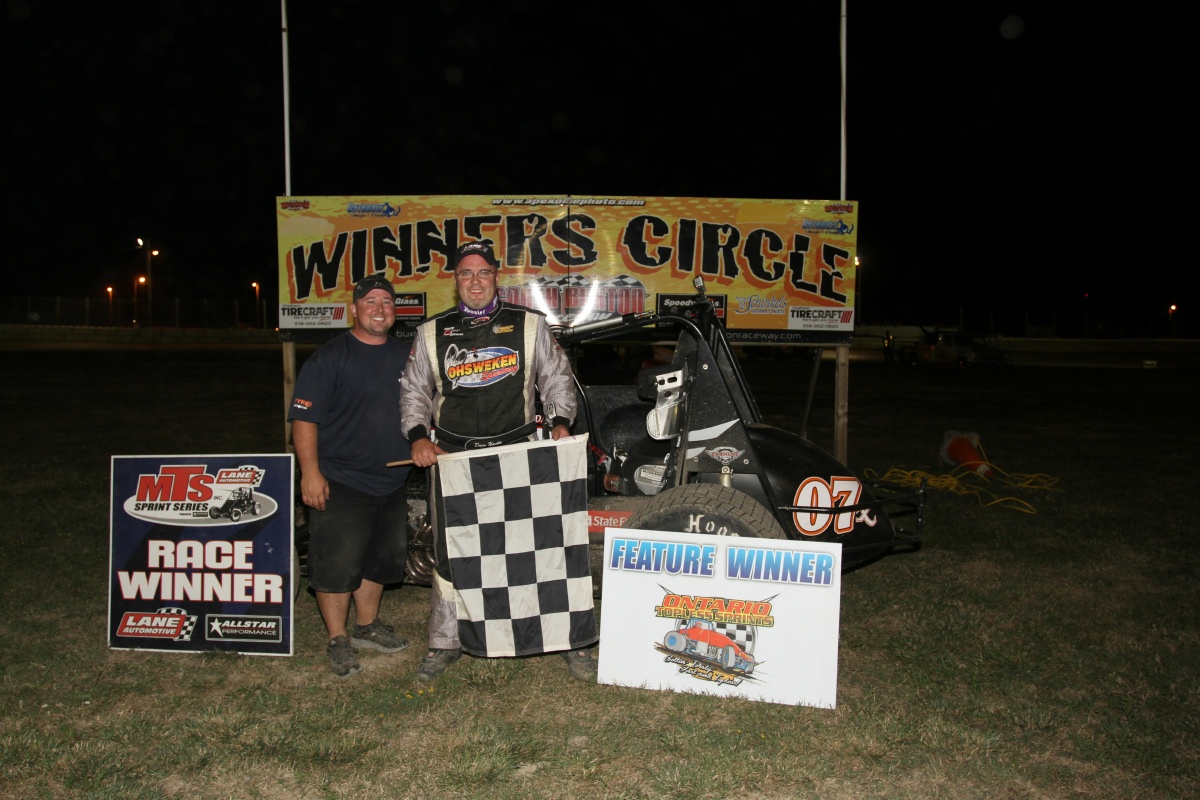 From MTS,Apexonephoto.com
Lane Automotive MTS Sprint series , Ontario Topless Sprints and the Buckeye Outlaw Sprint Series comes together for wingless racing at south buxton.
Dain Naida, of Tecumseh, Mich., led all 25 laps from the pole posistion in the Can-Am Midseason Championship wingless sprint feature. Mark Cassella was second with Joe Bares Taking third and Mike Galajda and Dick Mahoney rounding the top 5.
 
Northwestern Auto Machine  
Cam-Am Championship Feature (25 laps)
1. Dain Naida (07) Tecumseh, Mich.
2. Mark Cassella (91) Weirton, W. Virginia
3. Joe Bates (19) Traverse City, Mich.
4. Mike Galajda (2) Fenton, Mich.
5. Dick Mahoney (79) Newmarket
6. Rick Wilson (42W) Joyceville, Ont.
7. Warren Mahoney (25) Lefroy, Ont.
8. Joe Irwin (00) Davison, Mich.
9. Mike Baker (12B) Vicksburg, Mich.
10. John Watson (26) St. Thomas, Ont.
11. Kyle Patrick, Tilbury, Ont.
12. Jim Payne (100) Bryan, Ohio
13. Eric Jamieson (4) Chatham, Ont.
14. April Wilson (15AW) Joyceville, Ont.
Strpko Engineering
First Heat
1. Cassella
2. W. Mahoney
3. Baker
4. A. Wilson
DNS – Patrick
Hoosier Race tire
Second Heat
1. Naida
2. D. Mahoney
3. Irwin
4. Jamieson
5. Galajda
Tri County Equipment
Third Heat
1. Bares
2. R. Wilson
3. Watson
4. Payne
Outhouse Image & Design
Dash
1. Watson
2. Galajda
3. A. Wilson
4. Payne
5. Patrick
6. Baker
7. Jamieson