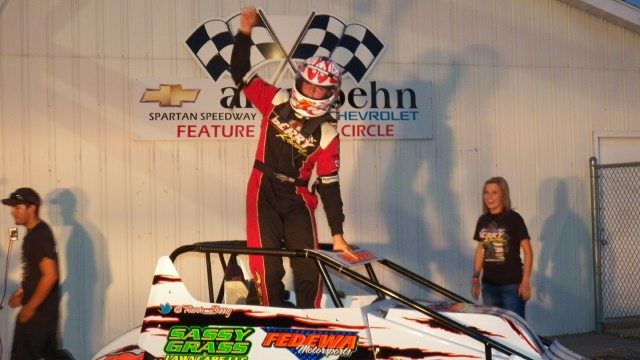 From MudclodBob
Trevor Berry beat back the weather and the field of Spartan Sprint Cars Friday night at "The track the stars call home" Spartan Speedway. After rain at the track early in the afternoon and showers skirting the area later, the sprints were the first feature of evening to take to the track.
Hayden Reeves and Doug Dietsh would lead the field to the green flag for the 30 lap feature with Reeves leading after one circuit. Before lap two was completed Tracy Rice and Steve VanNote tangled in turn one to bring out the yellow. Both cars restarted.
Reeves continued to lead at lap five and now Dietsch was making a run at Reeves with Gary Sherman and Leroy Ellis in hot pursuit. However 6th starting Trevor Berry was on the prowl and on lap 11 he drove under Dietsch for second. Lap 12 saw Berry try to shoot low under the leader Reeves, but Berry dropped his left front off the track into some water, bringing out the caution again.
When the green appeared once more, Berry was nipping at the heels of Reeves and got by a lap later. Reeves wasn't ready to throw in the towel and ran side by side with Berry for a lap. The second half the feature belonged to Berry as he once again proved to be the car to beat. At the stripe it was Berry, Reeves, Dietsch, Sherman, Leroy Ellis, Tom Hernly Jr., Jim Heeney and Jay Rohrback.
Heats were won by Leroy Ellis and Gary Sherman.