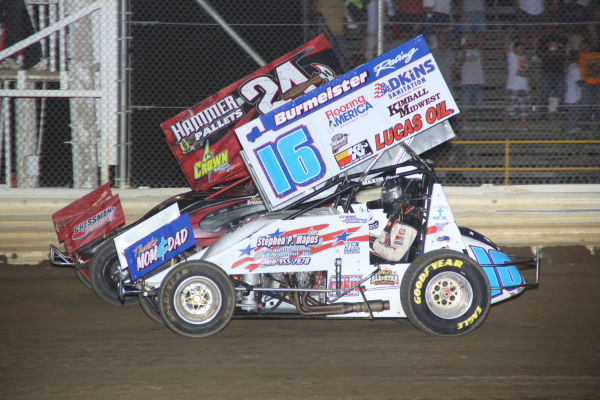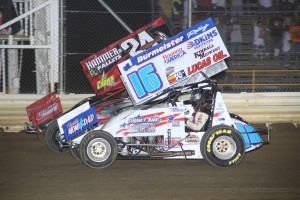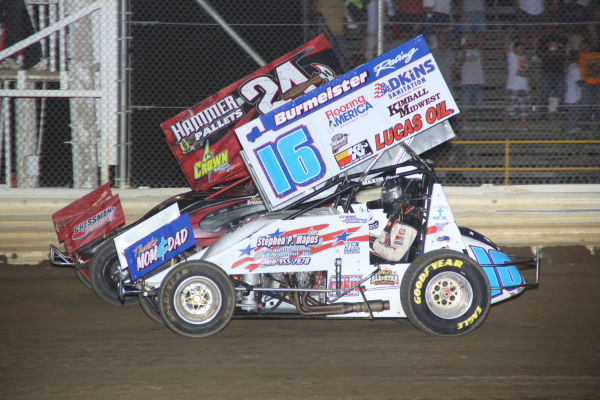 By Todd Tappel
Fremont, OH — (August 11, 2012) — Zack Kramer became the fourth and final leader in the Engine Pro NRA 360/305 shootout on Auto Value Group Night at Fremont Speedway Saturday. Not to be outdone, Chris Andrews was the fifth and final leader in the Fort Ball Pizza Palace 410 sprint 30 lap feature.
Kramer's win came in the Tackle Box 2, Youngs Breading & Batter Mix, McDonalds sponsored 305 sprint as the Fremont Speedway regulars again held court against the 360 cubic inch traveling series, sweeping the top four positions. It was Kramer's fourth career win at "The Track That Action Built." The Fremont, Ohio native has only competed in a handful of races in 2012.
Kramer thanked Al Davis and the entire 8k crew, along with his family for believing in him and sticking with him.
Andrews picked up his first 410 win of the season in the Lucas Oil, K&N Filters Steven Mapus Productive Tools, Adkins Sanitation, Tender Touch Car Wash sponsored Burmeister Racing entry. It was also his fourth career win at Fremont Speedway.
"I want to thank Hoosier Tires and also Goodyear. We ran an old Goodyear spec tire…from like 2006, on the right rear and it worked," said Andrews in the Engine Pro Victory Lane. "I have to thank Sonny and Sharon Burmeister and the whole Burmeister Family for stick with me. We've had some horrible luck this year even though we've been fast. I also have to thank Mike Sommers for ALL of his hard work. No one in this pits works harder than he does and I'm glad I could finally reward him for that. Also, my hats off to Rich Farmer (Fremont Speedway Promoter). He has taken a lot of heat this year for the track conditions. I've seen how hard he works on this place and he had it beautiful tonight."
Dennis Yoakam would take the early lead in the NRA feature, easily out-distancing front row mate Jamie Miller. Yoakam would continue to extend his lead by a full straightaway while Todd Heuerman fought with Miller for second. Yoakam's dominant early run quickly turned sour on lap seven as he clipped a spinning car that was about to be lapped. On the restart, the running order was Miller, Heuerman, John Ivy, Hud Horton, and Kramer. Kramer made quick work of Heuerman to make it a three car battle up front. Ivy slid in front of Miller on lap ten and Kramer did the same one lap later. Horton would bring out the caution on lap 12 after making contact with Miller.
The ensuring restart saw Ivy and Kramer locked into a nose-to-tail duel while D.J. Foos was charging from a 15th place starting position into the top three. Ivy and Kramer traded slide jobs on laps 15 and 16 before Kramer secured the top position. With five laps to go, the running order behind the lead trio was Beau Stewart and Alvin Roepke (up from 16th). However, Roepke caught in inside tire barrier with three laps to go, handing the fifth spot to Steve Rando. Kramer checked out on the last restart to claim the $1,500 top prize over Ivy, Foos, Rando and Stewart.
Mike Linder led the first four laps of the 410 sprint feature before Brian Smith wrestled the lead away. While Smith and Linder waged their battle, Cole Duncan sat in third ahead of Craig Mintz and Broc Martin. By lap six, the young Oklahoma speedster Christopher Bell had cracked the top five after starting 11th. Bell then quickly moved into the second position behind Smith by lap ten. Duncan would pass Linder, Bell, and leader Smith on three successive laps to hold the top spot at lap 13. A caution at lap 15 saw the running order Duncan, Smith, Bell, Mintz, and Linder.
On the restart, Bell spun in turn two, ending his run in the top five. Mintz now showed his muscle, passing Smith for second. On a lap 17 restart, Mintz blew past Duncan for the lead as Andrews began his charge. By lap 20, Andrews had run up to the second spot behind Mintz and passed him with five laps to go. Just as Andrews was reaching lapped traffic, the caution flew for the final time at lap 26. Andrews easily pulled away for the win over Mintz, Duncan, Rob Chaney, and Todd Heller.
Fremont Speedway – 8/11/2012
Auto Value Group-Wilhelm Auto Parts – JD Automotive -Jake's Auto Services Night
Fort Ball Pizza Palace 410 Sprints (26 Cars)
[#]-Starting Position
Qualifying – Callie's Performance
1. 29-Rob Chaney, 13.055; 2. 53-Phil Gressman, 13.415; 3. 12-Jarred Ridge, 13.449; 4. 55-Brad Bowman, 13.455; 5. 14H-Todd Heller, 13.494; 6. 35-Stuart Brubaker, 13.535; 7. O9-Craig Mintz, 13.536; 8. 16-Chris Andrews, 13.579; 9. 83M-Broc Martin, 13.619; 10. 22-Cole Duncan, 13.663; 11. O-Chris Bell, 13.690; 12. 97-Dean Jacobs, 13.734; 13. 2+-Brian Smith, 13.742; 14. 3-Mike Linder, 13.759; 15. 73-Joe Armbruster, 13.806; 16. 60-Jody Keegan, 13.807; 17. 5R-Byron Reed, 13.833; 18. 45L-Brian Lay, 13.890; 19. 51-Roger Campbell, 13.918; 20. 38K-Lee Jacobs, 13.965; 21. 9Z-Duane Zablocki, 13.979; 22. 39M-Matt Merrill, 13.984; 23. 14-Chad Wilson, 14.065; 24. 16M-Danny Mumaw, 14.094; 25. 27B-Shelby Bilton, 14.608; 26. 48-Mike Burkin, 14.911
Heat 1 – (8 Laps – Top 5 finishers transfer to the A-feature)
1. 2+-Brian Smith[2] ; 2. 29-Rob Chaney[6] ; 3. 60-Jody Keegan[1] ; 4. O9-Craig Mintz[4] ; 5. 22-Cole Duncan[3] ; 6. 55-Brad Bowman[5] ; 7. 51-Roger Campbell[7] ; 8. 39M-Matt Merrill[8] ; 9. 27B-Shelby Bilton[9]
Heat 2 – (8 Laps – Top 5 finishers transfer to the A-feature)
1. O-Chris Bell[3] ; 2. 3-Mike Linder[2] ; 3. 5R-Byron Reed[1] ; 4. 38K-Lee Jacobs[7] ; 5. 16-Chris Andrews[4] ; 6. 53-Phil Gressman[6] ; 7. 14H-Todd Heller[5] ; 8. 14-Chad Wilson[8] ; 9. 48-Mike Burkin[9]
Heat 3 – (8 Laps – Top 5 finishers transfer to the A-feature)
1. 83M-Broc Martin[4] ; 2. 9Z-Duane Zablocki[7] ; 3. 12-Jarred Ridge[6] ; 4. 16M-Danny Mumaw[8] ; 5. 45L-Brian Lay[1] ; 6. 35-Stuart Brubaker[5] ; 7. 73-Joe Armbruster[2] ; 8. 97-Dean Jacobs[3]
B-Main – Computer Man Inc. (10 Laps – Top 5 finishers transfer to the A-feature)
1. 55-Brad Bowman[2] ; 2. 53-Phil Gressman[1] ; 3. 35-Stuart Brubaker[4] ; 4. 14H-Todd Heller[3] ; 5. 39M-Matt Merrill[8] ; 6. 51-Roger Campbell[7] ; 7. 14-Chad Wilson[9] ; 8. 48-Mike Burkin[11] ; 9. 27B-Shelby Bilton[10]
A-Main – (30 Laps)
1. 16-Chris Andrews[5]; 2. O9-Craig Mintz[6]; 3. 22-Cole Duncan[3]; 4. 29-Rob Chaney[8]; 5. 14H-Todd Heller[12]; 6. 2+-Brian Smith[2]; 7. 9Z-Duane Zablocki[18]; 8. 3-Mike Linder[1]; 9. O-Chris Bell[11]; 10. 12-Jarred Ridge[7]; 11. 39M-Matt Merrill[19]; 12. 38K-Lee Jacobs[17]; 13. 35-Stuart Brubaker[13]; 14. 55-Brad Bowman[10]; 15. 5R-Byron Reed[15]; 16. 45L-Brian Lay[16]; 17. 60-Jody Keegan[14]; 18. 16M-Danny Mumaw[20]; 19. 53-Phil Gressman[9]; 20. 83M-Broc Martin[4]
Hard Charger: 9Z-Duane Zablocki[+11]
Fremont Federal Credit Union 305 Sprints -vs- NRA 360 (48 Cars)
[#]-Starting Position
Heat 1 – (8 Laps – Top 4 finishers transfer to the A-feature)
1. 17-Jared Horstmen[11] ; 2. 28H-Hud Horton[9] ; 3. 27L-Brad Lamberson[1] ; 4. 48X-Dustin Keegan[2] ; 5. 48-Mike Burkin[5] ; 6. 31-Andy Teunessen[12] ; 7. 24J-Jeremy Keegan[3] ; 8. 23-Devon Dobie[7] ; 9. 38-Dennis Wagner[10] ; 10. 6-Ryan Dickey[4] ; 11. 88-Mike Linder[6] ; 12. 35R-Ronnie Blair[8]
Heat 2 – (8 Laps – Top 4 finishers transfer to the A-feature)
1. 10S-Roger Shammo[2] ; 2. 19R-Steve Rando[3] ; 3. 22DY-Dennis Yoakam[6] ; 4. 9-Jimmy Colvin[9] ; 5. 5M-Max Stambaugh[7] ; 6. 39-Matt Merrill[11] ; 7. 11-Tim Allison[12] ; 8. 27K-Ryan Kirkendall[1] ; 9. 26-Ryan French[10] ; 10. 50B-Mike Burns[5] ; 11. 1W-Paul Weaver[8] ; 12. 49-Shawn Dancer[4]
Heat 3 – (8 Laps – Top 4 finishers transfer to the A-feature)
1. 7K-Kyle Sauder[1] ; 2. 8K-Zack Kramer[2] ; 3. 18-Todd Heuerman[4] ; 4. 11F-D.J. Foos[10] ; 5. 49T-Gregg Dalman[6] ; 6. 5-Dustin Dinan[7] ; 7. 1-Nate Dussel[9] ; 8. 68G-Tyler Gunn[3] ; 9. 13D-Jeremy Duposki[5] ; 10. 10-Josh Harrison[12] ; 11. 25-Jason Keckler[8] ; 12. 8J-Jess Stiger[11]
Heat 4 – (8 Laps – Top 4 finishers transfer to the A-feature)
1. 27B-Beau Stewart[3] ; 2. 8I-John Ivy[4] ; 3. 4M-Jamie Miller[2] ; 4. OO-Alvin Roepke[6] ; 5. O7X-Dain Naida[10] ; 6. 10X-Dustin Stroup[7] ; 7. 6S-Mike Dussell[11] ; 8. B20-Butch Schroeder[9] ; 9. 22D-Dan Hammond[5] ; 10. 23M-Jack Miller[12] ; 11. 77S-Jim Sipe[1]
B-Main #1 – Computer Man Inc. (10 Laps – Top 3 finishers transfer to the A-feature)
1. 5M-Max Stambaugh[2] ; 2. 49-Shawn Dancer[16] ; 3. 39-Matt Merrill[4] ; 4. 11-Tim Allison[6] ; 5. 48-Mike Burkin[1] ; 6. 31-Andy Teunessen[3] ; 7. 1W-Paul Weaver[14] ; 8. 23-Devon Dobie[7] ; 9. 38-Dennis Wagner[9] ; 10. 24J-Jeremy Keegan[5] ; 11. 27K-Ryan Kirkendall[8] ; 12. 26-Ryan French[10] ; 13. 50B-Mike Burns[12] ; 14. 6-Ryan Dickey[11]
B-Main #2 – Computer Man Inc. (10 Laps – Top 3 finishers transfer to the A-feature)
1. O7X-Dain Naida[2] ; 2. 10X-Dustin Stroup[4] ; 3. B20-Butch Schroeder[8] ; 4. 68G-Tyler Gunn[7] ; 5. 6S-Mike Dussell[6] ; 6. 5-Dustin Dinan[3] ; 7. 10-Josh Harrison[11] ; 8. 49T-Gregg Dalman[1] ; 9. 24-Kevin Lee[15] ; 10. 22D-Dan Hammond[10] ; 11. 13D-Jeremy Duposki[9] ; 12. 23M-Jack Miller[12] ; 13. 1-Nate Dussel[5] ; 14. 77S-Jim Sipe[14] ; 15. 25-Jason Keckler[13]
A-Main – (25 Laps)
1. 8K-Zack Kramer[6]; 2. 8I-John Ivy[5]; 3. 11F-D.J. Foos[15]; 4. 19R-Steve Rando[7]; 5. 27B-Beau Stewart[9]; 6. B20-Butch Schroeder[22]; 7. 18-Todd Heuerman[2]; 8. 4M-Jamie Miller[1]; 9. 49-Shawn Dancer[19]; 10. O7X-Dain Naida[18]; 11. 9-Jimmy Colvin[14]; 12. 7K-Kyle Sauder[10]; 13. 10X-Dustin Stroup[20]; 14. 5M-Max Stambaugh[17]; 15. 28H-Hud Horton[8]; 16. 17-Jared Horstmen[12]; 17. 27L-Brad Lamberson[4]; 18. OO-Alvin Roepke[16]; 19. 48X-Dustin Keegan[13]; 20. 22DY-Dennis Yoakam[3]; 21. 39-Matt Merrill[21]; 22. 10S-Roger Shammo[11]
Hard Charger: B20-Butch Schroeder[+16]
©2012 – Results Provided by: Computer Man Inc. Fremont, OH