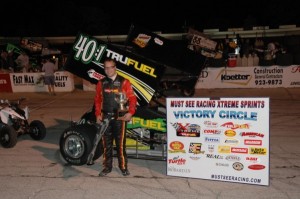 From David Sink
Salem, IN – (August 11, 2012) – Brian Olson used a front row starting spot to claim the TRUFUEL Must See Racing Xtreme Sprint Series sanctioned 53rd Joe James/Pat O'Connor Memorial Saturday night at Salem Speedway. Olson won the event in dominating fashion.
Olson can now add his name to an impressive list of past champions of the event that includes the likes of: Pat O'Connor, Eddie Sachs, A.J.Foyt, Parnelli Jones, Mario Andretti, Rich Vogler, Tony Stewart, and Bob Sweikert among others. The win was Olson's second career MSRXSS victory.
In victory lane Olson indicated that this was perhaps the biggest win of his career and his Davey Hamilton Racing entry was flawless. " The car was really good and I was close to being flat the whole race " explained Olson. " There in the middle part of the race the car got a little loose. I pulled the wing back and it made it better. The crew got the car so good for me that it made my job easier. This win is right up there for sure. Winning at Salem with the history of this race, this is as big as it gets in pavement sprint cars " concluded Olson.
A nice crowd was treated to near perfect weather conditions for the event. Brain Gerster thrilled everyone on hand to an exciting round of qualifications as he lowered his own track record of 14.169 seconds set last August 6. Gerster became the first man in Salem Speedway history to break into the 13 second barrier when he ripped off a lap of 13.957 seconds.
Heat races were won by Jason Cox, Brain Gerster, and Jacob Wilson.
The only serious incident of the evening occurred on lap 26 of the feature when Jason Cox broke a right rear wheel entering turn four slamming him hard into the wall. Cox was ok. Tight close knit racing was the norm the entire feature as battles ensued for positions two through five nearly the entire race. Jason Blonde came home in second followed by Brain Gerster, Jo Jo Helberg, and Jimmy McCune rounding out the top five.
The MSRXSS will now look forward to a busy next weekend with two events in the Central Indiana area. The series will be at Anderson Speedway Saturday August 18 and Winchester Speedway the following afternoon. For more info log onto www.mustseeracing.com.
53RD JOE JAMES/PAT O'CONNOR MEMORIAL RESULTS
1. Brian Olson
2. Jason Blonde
3. Brian Gerster
4. Jo Jo Helberg
5. Jimmy McCune
6. Jacob Wilson
7. Aaron Pierce
8. Mike Larrison
9. AJ Russell
10. Todd Fayard
11. Jason Cox
12. Sondi Eden
13. Billy Wease
14. Jim Sheets
15. Jerry Caryer
16. Jeff Bloom
17. Jimmy Kite DNS