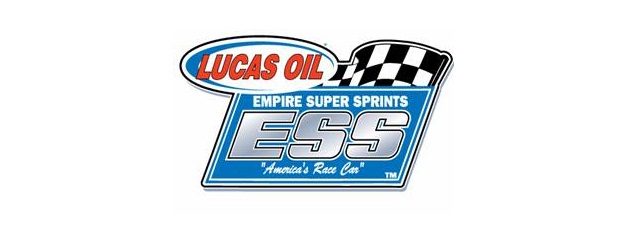 By MIKE MALLETT
BREWERTON, NY – Shawn Donath has won his fair share of races in his career but on Friday night at the Brewerton Speedway Donath took winning to another level. The multi-time Empire Super Sprint winner used a late race slide job to beat Chuck Hebing to the checkered flag.
"Hands down this is the best race that I've ever won," said Donath. "When you get to win like that and beat Chuck Hebing and Steve Poirier at your home town track there is no feeling like it. Without a doubt this is the biggest win I've ever had."
Donath of South Onondaga, N.Y., won the Lucas Oil Empire Super Sprint 25-lap A-Main in thrilling fashion in front of several family and friends. Along with earning valuable overall tour championship points, the event was also part of the Universal American Stars and Stripes Tour as well as the AKS Firearms Top Gun Central New York series.
Canada's Tyler Rand paced the field for the first couple of circuits before Hebing made his charge for the top spot on lap four. Hebing drove to the top of the speedway in turns three and four while Rand stayed low on the track.
Hebing led the early laps with Donath advancing from the inside of the fifth row with his No. 33 to climb into the top five by lap 10. At that point he settled in and had a torrid battle with other local drivers Sammy Reakes IV and Jason Barney.
The race came under red on lap 17 when Hebing got together with Tommy Wickham as he was attempting to put him a lap down. The contact sent Wickham high into the air and he rolled several times before landing upside down. He was uninjured in the accident.
On the restart, Hebing had the top spot when Larry Wight tried going to the outside coming down the front stretch at the green flag. Contact was made between the two and Wight suffered a left front flat on his LJL Racing sprinter. This placed Donath right behind Hebing for the restart.
Hebing held onto the lead as Donath battled with Reakes for second. Hebing opened the advantage on the top while Reakes methodically worked the bottom of the speedway. He was close several times to getting the lead before Donath was able to pass him back with three laps to go on the outside.
Before lap 23 could be clicked off the final caution of the event slowed the race when Cory Sparks got air after getting into Jeff Cook heading into the first turn. His car never got upside down but he was done for the night after damaging the rear-end in his family owned ride.
The double-file restart saw Hebing shoot low in turns one and two while Donath blasted the car on the cushion hoping for a run. He got it off of the second turn and he shot underneath Hebing in turns three and four and slid up in front of him but hopped the cushion allowing Hebing to hold the lead.
"I barreled it in there and parked the car sideways and caught the cushion," said Donath about the first attempt at the lead. "I'm not very good at it."
On the final circuit Donath again drove the car hard into the first turn and used the cushion to keep his momentum up. He stayed with Hebing down the back straightaway and this time pulled off the slide job to perfection as he caught the cushion and drove off of four to the checkered flag.
"That was the hardest I drove one and two all night," commented Donath. "I was surprised it came off the corner like it did. I jumped 400rpms on that last lap. I had to make sure I got off of two. The second time I slid him was much more graceful than the first."
Hebing, of Ontario, N.Y., finished in the runner-up position. His car was extremely tight throughout the event and even more so after contact with Wight on the restart damaged the front end of the car.
"I was tight to start with and the front end was off the ground," stated Hebing. "I couldn't do anything there with Shawn (Donath) at that point."
Hebing was quick to state that he didn't get into Wight intentionally as he never saw the Phoenix, N.Y., driver to his outside on the restart.
"We had a tough restart there with Larry (Wight)," said Hebing. "I pulled my nose and I didn't see Larry and I've had to lift at that same point 100 times. I didn't see him and it is unfortunate he got tore up. We are friends. Like I said I didn't see him there."
Steve Poirier, in only his second race back after knee surgery, came home in the third position after starting 11th in the feature field. The former three time series champion was just happy to be back in the car.
"It feels really good to be back racing it was not fun staying home," stated Poirier. "It's nice to be part of the tour again. You realize after a while when you are out all the friends you have when you are not there."
Reakes, of Fulton, N.Y., crossed the line in fourth while Lance Yonge drove from the 12th starting position to finish in fifth. Rounding out the top ten were Charlie Donk, Matt Tanner, Jason Barney, Paul Kinney, who earned the hard charger honors once again and Jeff Cook in tenth.
ESS/Brewerton Notes: A field of 25 sprints were in the pits with a big crowd on hand…With his second place finish, Hebing won the AKS Firearms title. He will receive a $1300 shotgun and case package from Tony Steiner, the owner of AKS, at the annual awards banquet…Next weekend is a busy one in Quebec for the Lucas Oil Stars, it will be full point shows at Autodrome Granby and Le RPM Speedway on Friday and Saturday and then on Sunday it will be the special wingless event at RPM. All events will pay $1800 to win.
A-Main – Shawn Donath ($1550), Chuck Hebing, Steve Poirier, Sam Reakes IV, Lance Yonge, Charlie Donk, Matt Tanner, Jason Barney, Paul Kinney, Jeff Cook, Mike Stelter, Joe Trenca, Etienne Girard, Tim Kelly, Kyle Dutcher, Steve Hutchinson Jr., Kory Gurney, Cory Sparks, Larry Wight, Tommy Wickham, Tyler Rand, Patrick Vigneault, Bobby Breen.
Lap Leaders – Rand 1-3, Hebing 2-23, Donath 24-25.
Did Not Qualify – Dave Wickham, Brandan Warner.
Car Mate Custom Built Trailer Heat 1 – Tanner, Stelter, Hebing, Poirier, Girard, Kinney
Car Mate Custom Built Trailer Heat 2 – Reakes IV, Rand, Yonge, Donath, Donk, Kelly
Car Mate Custom Built Trailer Heat 3 – Barney, Cook, Wight, Breen, T. Wickham, Vigneault
Apex X-1 Race Cars/Cobra Coaches Dash – Reakes IV
B-Main – Trenca, Sparks, Dutcher, Hutchinson Jr.
Added Starter – Gurney.
Bonuses:
Westward Painting Company Halfway – Hebing $100
Lee's Repair Auto and Truck Hard Charger – Kinney (9 pos.) $50
Ohsweken Speedway Winners Bonus – Donath $50
Fondations 55 Pick 5 – Yonge $50
North Eastern Pool and Spa Power Picks – Poirier, Vigneault $50
Car Mate Custom Built Trailers Heats – Tanner, Reakes IV, Barney $25
The Lucas Oil Empire Super Sprints are brought to you by: Lucas Oil, Le Groupe Ultra, SUNY Canton, Universal American, Hoosier Racing Tires, Fondations 4 Saisons, Cobra Coaches, Westward Painting Company, Mach 1 Chassis, Lee's Repair Auto and Truck, Fondations 55, Eric Varin Roofing, North Eastern Pool and Spa, Car Mate Trailers, Brodix Cylinder Heads, Ohsweken Speedway, Northwood 2 Construction/Lasalle Motorsports, AKS Firearms, Jasmin Peloquin Sport, 730 Truck Stop, Riverside Bar and Grill, FX Chevy and many, many associate sponsors!!