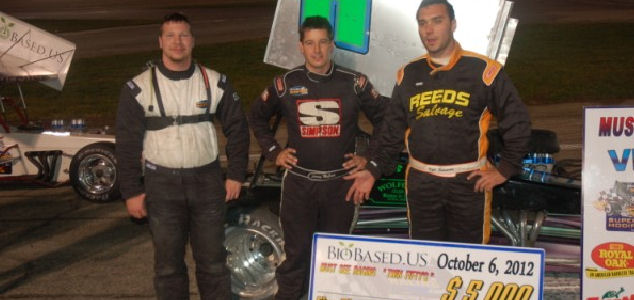 From Must See Racing
Anderson, IN – October 6, 2012 – Kyle Edwards took advantage of Charlie Schultz's late race misfortune to win the BIOBASED.US Must See Racing Super Modified Series (MSRSMS) event Saturday night at Anderson Speedway. The win was worth $5,000 and Edwards clinched the inaugural MSRSMS championship.
The 100-lap feature event was broken up into two 50-lap segments with a new inversion after the first segment. Charlie Schultz put in a dominating performance in the first segment nearly lapping the entire field. Schultz put on a driving exhibition as he worked lapped traffic to perfection using the outside groove.
At the resumption of the second segment, Schultz picked up where he left off and quickly resumed the point. It appeared as if the race were his to loose until his luck ran out on lap 78. Schultz appeared to make contact with a lapped car and in the process breaking a heim joint and sending his car to the pits for the night. Edwards assumed the lead and held off a fast approaching Jimmy McCune to claim his second MSRSMS victory of the season.
In victory lane Edwards explained how quickly his luck turned for the better."We had the second best car all night " explained Edwards."We qualified fast time but we struggled. I was just riding and our only chance was if Charlie had bad luck and he did. Its unfortunate for him. But, I'd rather lucky than good. We got lucky tonight but we'll take it. I cant thank Don Wilshe with BIOBASED.US enough as he does a lot for the series" concluded Edwards.
Edwards began the night by collecting $500 from BIOBASED.US for setting fast time with a lap of 10.873 seconds. Heat races were won by Jimmy McCune and Charlie Schultz.
100 LAP FEATURE RESULTS
1. Kyle Edwards
2. Jimmy McCune
3. Brandon Fisher
4. Sondi Eden
5. Jon Henes
6. Zack Gibson
7. Jack Smith
8. Charlie Schultz
9. Danny Shirey
10. Dave McKnight
11. Don Johnson
12. Matt Marlowe
13. Cord Ehrhardt
DNS Rich Reid
DNS Jim Paller
DNS Aaron Pierce