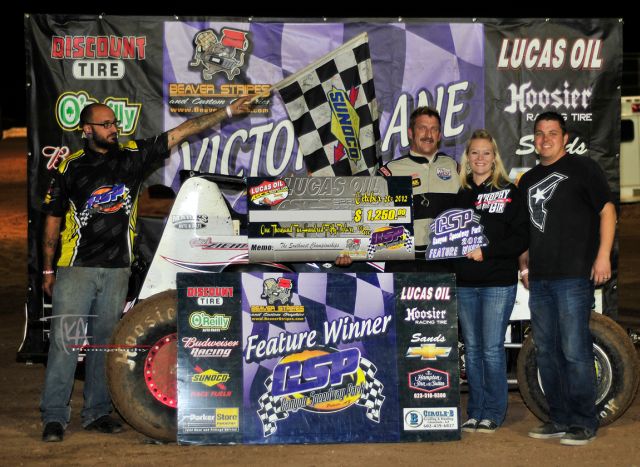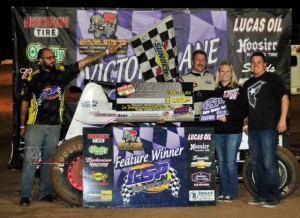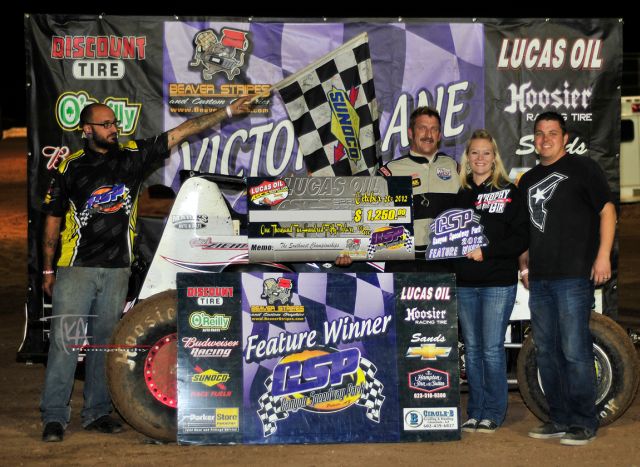 From Bryan Hulbert
Peoria, AZ — (October 20, 2012) — Bettering his performance from Friday night at the Canyon Speedway Park, Rick Ziehl came from third to capture the win with the ASCS Canyon Region Saturday night.
Ziehl raced to victor ahead of current ASCS Canyon Region point's leader Charles Davis Jr., with R.J. Johnson third. Shon Deskins, who took the win Friday night, settled for forth with fourteenth starting Mike Martin rounding out the top five.
Bruce St. James took sixth with Casey Shuman seventh. Dalten Gabbard climbed from nineteenth to eighth with Bob Ream Jr., and Ryan Linder making up the top ten.
ASCS Canyon Region
Canyon Speedway Park – Peoria, Arizona
October 20, 2012
Car Count: 21
Heat 1 (8 Laps): 1. 7K-Bruce St. James; 2. 48T-Thomas Ogle; 3. 74X-Joshua Hodges; 4. 21-Casey Shuman; 5. 5X-Jody Wirth; 6. 17K-Kyle Danielson; 7. 13-Glen Brace
Heat 2 (8 Laps): 1. 41W-Rick Ziehl; 2. 8-Bob Ream Jr; 3. 16-Mike Martin; 4. 19-Andrew Reinbold; 5. 78-Chris Bonneau; 6. 53-Tom Lee; 7. 82-Tom Kamrath
Heat 3 (8 Laps): 1. 51-R.J. Johnson; 2. 9-Ryan Linder; 3. 32B-Brian Hosford; 4. 93-Justin Quinn; 5. 99-Chuck Jackson; 6. 3D-Michael Dayney; 7. 77-Dalten Gabbard
B Feature (10 Laps): 1. 78-Chris Bonneau; 2. 19-Andrew Reinbold; 3. 77-Dalten Gabbard; 4. 17K-Kyle Danielson; 5. 99-Chuck Jackson; 6. 3D-Michael Dayney; 7. 13-Glen Brace; 8. 53-Tom Lee; 9. 82-Tom Kamrath
A Feature (25 Laps): 1. 41W-Rick Ziehl; 2. 50-Charles Davis Jr; 3. 51-R.J. Johnson; 4. 20-Shon Deskins; 5. 16-Mike Martin; 6. 7K-Bruce St. James; 7. 21-Casey Shuman; 8. 77-Dalten Gabbard; 9. 8-Bob Ream Jr; 10. 9-Ryan Linder; 11. 74X-Joshua Hodges; 12. 78-Chris Bonneau; 13. 32B-Brian Hosford; 14. 93-Justin Quinn; 15. 29-Michael Bonneau; 16. 99-Chuck Jackson; 17. 3D-Michael Dayney; 18. 48T-Thomas Ogle; 19. 5X-Jody Wirth; 20. 17K-Kyle Danielson; 21. 12-Josh Pelkey; 22. 19-Andrew Reinbold