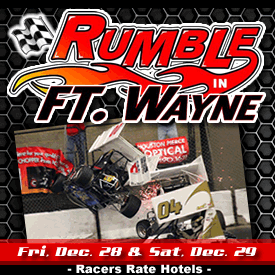 By RON WARE
FORT WAYNE, Ind. – Just before one of the biggest races of his career, Bobby East got a text message of support from none other than three-time NASCAR champion Tony Stewart.
Sufficiently motivated, East went out that October night in Terre Haute, Ind., and led all 100 laps, clinching the 2012 USAC Silver Crown championship for himself and Tony Stewart/Curb-Agajanian Racing.
But East shouldn't count on that same level of encouragement the next time he and his boss cross paths.
The 27-year-old from Brownsburg, Ind., has joined the previously announced Stewart on the entry list for the 15th annual "Rumble in Fort Wayne" indoor midget races Dec. 28-29 at the Memorial Coliseum Expo Center. The holiday event also includes winged outlaw modified midgets, karts and quarter midgets, with complete programs both Friday and Saturday.
East, whose 48 career victories make him one of USAC's top names, picked up the ride in Don and Mel Kenyon's No. 61 midget when Tony Elliott, citing doctor's orders, bowed out because of recent rotator cuff surgery.
"It's something every year we try to figure out, how to get back up there while also getting ready for (January's) Chili Bowl," East said. "I'm really glad to get back there and go run. Shoot, I used to really enjoy the indoor races."
While Stewart has won a record nine times on the 1/6-mile indoor track, East found victory lane sooner.
In December 2001, as a high school junior less than two weeks past his 16th birthday, East captured the opening night feature in stunning fashion. The second night, he was running second, trying to hold off Stewart, when his race unraveled.
"He hit me so hard in turn one," East recalled, "it knocked my foot off the brake."
With East sidelined by a subsequent crash, Stewart went on to claim his first victory in the Rumble. He's now an amazing 9-for-14 at Fort Wayne.
"Tony's pretty special," said East, who as a youngster watched Stewart race for his father, famed car builder Bob East. "He's a really good driver. That's an understatement."
Not too long ago, it appeared East might follow Stewart on the road to NASCAR stardom. His 2004 USAC midget title helped land him a development deal with Ford and Jack Roush Racing, and he made 42 starts in the Nationwide and Truck series from 2005-08.
"I'd definitely give it another shot if it was anything worth doing," he said. "I get one or two calls a year (from owners), usually before the Truck race at IRP (Lucas Oil Raceway near Indianapolis). I think it's something I could win.
"But at the end of the conversation, they want to know how much money (he can offer). And I don't have any money."
If East spends the rest of his career in midgets, sprints and Silver Crown cars, that's fine with him, though. He won features in all three USAC national divisions in 2012, a distinction he shared with Bryan Clauson, and figures to collect his milestone 50th victory next season.
Married for nearly three years to the former Courtney Kirts – herself a former midget driver who raced at Fort Wayne – East says life has never been better.
"Don (Kenyon) will have the car going around pretty good," he said, looking ahead to the Rumble. "That's all I want right now – a happy life with my wife and trophies."
Spectator gates open at 11 a.m. both days of the Rumble, with the main portion of the program after 7 p.m. Information about tickets, race entries and special hotel rates is available at www.rumbleseries.com or by calling (317) 418-3216. Requests for information also may be e-mailed to tbracefest@aol.com.