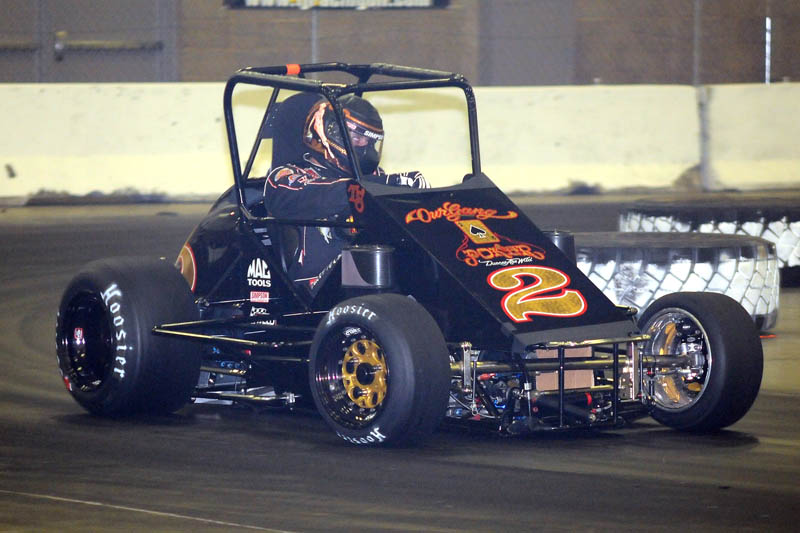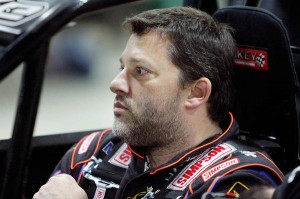 From Tony Barhorst
Ft. Wayne, IN — (December 21, 2012) — Defending champion Tony Stewart is among a record-tying six former winners entered in the 15th annual "Rumble in Fort Wayne" indoor midget races on Friday, Dec. 28 and Saturday, Dec. 29.
Jim Anderson, Rich Corson, Bobby East, Mike Fedorcak and Billy Wease also are among the 34 entries in the midget division. Led by Stewart's nine victories, the six have combined to win 17 of the 25 features held at the Memorial Coliseum Expo Center since the event originated in 1998.
The entry list, announced Friday, also includes David Gough, Kyle Hamilton, Tim Jedrzejek, Brandon Knupp and Bryan Nuckles, all of whom have a second-place finish on the 1/6-mile track.
In all, nearly 300 drivers are pre-entered in midgets, winged outlaw modified midgets, nine kart classes and seven quarter midget classes (entries continue to be accepted). Spectator gates open at 11 a.m. both days, with the main portion of the program, including midget and winged midget heat races, semi-features and features, after 7 p.m. Tickets and pit passes will be available at the door.
Larry Joe Sroufe and John Ivy, the dominant drivers in the 600cc winged midget division at Fort Wayne, top the 31 entries in that class. Defending champions Tyler Ross and Ryan Smith also are back.
Jason Dunn leads the kart entries after going 6-for-6 last year, sweeping the senior heavy, senior medium and senior caged features. Addison Lushin, who won twice last year, is among the returnees in quarter midgets.
Stewart, a three-time NASCAR Cup champion and member of the National Midget Auto Racing Hall of Fame, will be racing at Fort Wayne for the ninth year. He'll drive his No. 2 Volkswagen-powered Munchkin chassis that was built some 25 years ago.
More information about the event, including ticket prices and special motel rates, is available at www.rumbleseries.com, by e-mailing tbracefest@aol.com or by calling (317) 418-3216.
FRIDAY, DECEMBER 28 & SATURDAY, DECEMBER 29, 2012   MEMORIAL COLISEUM EXPO CENTER   FORT WAYNE, IND.
MIDGET ENTRY LIST
(list complete as of close of pre-race entry period on Thursday, Dec. 20)
No.    Driver/Hometown Entrant/Sponsor/Chassis/Engine
2 Stratton Briggs/Anna, OH Thomas & Shelly Briggs/Briggs/Beast/Ford Focus
2 Jim "Timex" Morgan/Rochester, NY Afterhours Imaging/Lafler Chassis – NPS Motors – Castle Car Care Products/Munchkin/Volkswagen
2 +Tony Stewart/Columbus, IN Tony Stewart Racing/Our Gang Poker Club/Munchkin/Volkswagen
3 Joe Swanson/Warsaw, IN Gary Barnett/Glenbrook Hyundai/Gaerte/Stealth
5x    Justin Peck/Monrovia, IN    Steve Clay/Duracoat Products/Beast/Volkswagen
6 David Gough/Machesney Park, IL   David Gough/Manic Racing – DSR Mechanical – Janssen Machine – Midwest Supplies/Thompson/Autocraft
6t6 Terry Ahern/Countryside, IL    Terry Ahern/Lightning Chasssi/Lightning/Esslinger
8 Nick Hamilton/Danville, IN Mike Hamilton/Curtis Motor Sales/Beast/Volkswagen
8up Tim Jedrzejek/Independence, OH   Randall Williams/Tim Williams Auto Sales – Williams Auto Service – Enerco – Mr. Heater/Jacobs/Pontiac
10 Geoff Kaiser/Fort Wayne    Moore Racing Enterprises LLC/Don Moore Music Publications/Beast/Stanton Mopar
10 Mike Wallace/Plainfield, IL Mike Wallace/Lightning Chassis/Lightning/Esslinger
10x    Vince Kuelbs Jr./Berwyn, IL   Mike Wallace/J&L Recycle/Beast/Ecotec
14 Cooper Clouse/Ohio City, IN Cooper Clouse Racing/Burtch Seed – Hawk Chassis/Hawk/Volkswagen
14 Keith Ousley/Warsaw, IN   Keith Ousley/Akron Concrete Products – Wilbert Vaults – Williams Supply Co. – Bremen Monuments – Rumble Series
Shores/Volkswagen
15 +Rich Corson/Markham, IL Rich Corson/Autism Awareness – In Loving Memory of Steve & Colleen Savage – D'Arcy Motors – Ash-Dome – MWR Technologies/Hawk/Esslinger
19 Matt Westfall/Pleasant Hill, OH   Dave & Bonna Ryder/Dave Ryder Racing–Bordner Welding–E&E Machine–Klotz/Vogler/Volkswagen
20 Mike Osite/Brooklyn, NY    Mike Fedorcak/Fedorcak Fabrication/Munchkin/Volkswagen
24 Cory Setser/Fort Wayne Curtis Setser/Setser Transport – Harlan Cabinets – Hunt Performance/Munchkin/Volkswagen
27 Chris Jagger/Warsaw, IN   Chris Jagger/Ruoff Home Mortgage/Hawk/Gaerte Chevrolet
31 Derek Bischak/Indianapolis Bob Bischak/Angola Collision Services – Snap-on Tools/Spike/Gaerte Ford
33 Kyle Hamilton/Danville, IN Mike Hamilton/Curtis Motor Sales/Beast/Volkswagen
46 Russ Gamester/Peru, IN Against the Wind Racing/First Financial Bank – Green Gable Village/Grant King/Volkswagen
49 Joey Burrow/Noblesville, IN    Randy Burrow/Burco Molding Inc./Kenyon/Volkswagen
59 Bryan Nuckles/Canal Winchester, OH    Bryan Nuckles/Columbus Motor Speedway – BTC Technology Services/Nuckles Performance Specialties/Volkswagen
61 +Bobby East/Brownsburg, IN   Mel Kenyon/3K Racing – Print Image/Kenyon/Gaerte Buick
67 Joe Liguori/Lebanon, IN Joseph Liguori/C&R Racing – Liguori Racing/POS-Jacobs/Volkswagen
78k    Brandon Knupp/Mooresville, NC John Chambers/Death Clutch – Mark Knupp Muffler & Tire/LTC/Volkswagen
88 Basil Hicks/Wilmington, IL Basil Hicks/Lucas Oil – MWR – Cys Heating & Cooling – B&B Auto Sales – RHO Chemical/Hawk/Ecotec
88 Billy Hulbert/Channahon, IL    Bill Hulbert/Hulbert Motorsports/Shores/Volkswagen
91 Alex Malycke/Purcellville, VA Alex Malycke/FedEx Ground/Tiger/Mopar
97 +Mike Fedorcak/Roanoke   Tony Stewart Racing/Physical Medicine Consultants/Munchkin/Volkswagen
98 Bobby Santos III/Franklin, MA    Randy Burrow/Burco Molding Inc./Edmunds-Burrow/Volkswagen
99 +Jim Anderson/Joliet, IL Guess Racing/Packard Transport – Mr. B's Bar & Grill/Ellis/Mopar
99 +Billy Wease/Noblesville, IN    Randy Burrow/Burco Molding Inc./Fedorcak-Burrow/Volkswagen
+former Rumble in Fort Wayne feature winner
TRACK QUALIFYING RECORD: 7.323 seconds set by Tony Stewart, Dec. 30, 2005
DEFENDING RUMBLE IN FORT WAYNE CHAMPION: Tony Stewart (both nights)