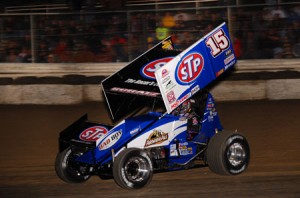 From Brian Liskai
Ocala, FL — (February 9, 2013) — On many nights in racing, it's all about taking advantage of opportunities when they present themselves. For the second night in a row Donny Schatz did just that as he took the win against the University of Northwest Ohio All Star Circuit of Champions Saturday at Bubba Raceway Park.
When Steve Kinser suffered a flat tire with 10 laps to go Saturday, it caused race leader Dale Blaney, who was locked in a battle with four time UNOH All Star champion Tim Shaffer, to slow ever so slightly and Schatz was there to pounce. Schatz, a five time and defending World of Outlaws champion, drove into the lead in his Tony Stewart Racing/STP/Armor All backed machine. Shaffer regrouped and was able to apply pressure to Schatz as they raced into lapped traffic late in the race. However, Shaffer couldn't make the pass as Schatz drove to his 11th career UNOH All Star victory.
"What a great weekend. The guys got all the cars and motors running fantastic and it's a lot of fun. This is what's fun about racing. I was able to maneuver around and take advantage when Dale and Tim got to racing and they left a spot open for me," said Schatz. "These new Hoosier tires aren't like the tires we ran eight years ago, but they have a little forgiveness to them. I can do things in the race car that I haven't been able to do in while. I can maneuver the car again…it's exciting to see."
After being involved in tangle on the opening night, a second place finish was just what Shaffer and his Aaron Call/Janet Holbrook Motorsports team needed.
"This is a tough place to pass. We had a couple of shots at Donny, but he got the breaks and things went his way. After the first night, this is a shot in the arm for us," said Shaffer, who has won the last four consecutive UNOH All Star championships.
"We know we can compete with these guys. I'm excited to get to Volusia. It won't be easy there. It's like Knoxville…everyone has their best stuff and the competition is the best," added Shaffer beside his Kistler Engines/Kistler Racing Products/VRP Shocks backed #83.
Blaney and Shaffer would bring the field to the green, with Blaney grabbing the lead with Shaffer remaining within striking distance. Meanwhile Schatz and three-time NASCAR Sprint Cup Series champion Tony Stewart were battling for third with two-time All Star champion Greg Wilson in fifth. As they raced into traffic, Shaffer was able to grab the lead on lap 8, but it was short-lived as Blaney used the same traffic to regain the lead a lap later.
Just past the half-way point, Kinser, who had worked his way from 24th to 13th, had a right rear tire going down. With 10 laps to go as Kinser tried to exit the track, it hindered Blaney and Shaffer, allowing Schatz to drive into the lead with Shaffer in second and Blaney falling back to third. A lap later and Stewart, aboard his Chevy Performance/Mobil 1 #14, would take third from Blaney with Wilson continuing to round out the top five. Shaffer would get to Schatz with less than a handful of laps left, but couldn't make the pass.
Schatz would drive to the victory over Shaffer, Stewart and Blaney while Daryn Pittman would slip past Wilson with four laps to go to round out the top five finishers.
Bubba Raceway Park  – 2/9/2013
UNOH Night
All Star Circuit of Champions (32 Cars)
[#]-Starting Position
Qualifying – Kistler Engines
1. 15-Donny Schatz, 11.982; 2. 14-Tony Stewart, 12.118; 3. 2-Dale Blaney, 12.216; 4. 51-Paul McMahan, 12.235; 5. 4D-Cody Darrah, 12.251; 6. 83-Tim
Shaffer, 12.286; 7. 89G-David Gravel, 12.291; 8. 27-Lance Dewease, 12.309; 9. W20-Greg Wilson, 12.315; 10. 9-Daryn Pittman, 12.376; 11. 48-Danny Dietrich, 12.385; 12. 54-Cap Henry, 12.456; 13. 7S-Jason Sides, 12.470; 14. 1-Danny Lasoski, 12.492; 15. 1S-Logan Schuchart, 12.526; 16. 11K-Kraig
Kinser, 12.565; 17. 17B-Steve Buckwalter, 12.600; 18. 45-Danny Holtgraver, 12.609; 19. 40-Caleb Helms, 12.654; 20. 80-Trey Gustin, 12.669; 21. 15H-Sam Hafertepe Jr., 12.670; 22. O-Justin Henderson, 12.677; 23. 59-Jac Haudenschild, 12.717; 24. 94-Jack Sodeman Jr., 12.732; 25. 11-Steve Kinser, 12.798; 26. 13-Jason Leffler, 12.819; 27. 9B-Jamie Barnes, 12.830; 28. 4-Danny Smith, 12.944; 29. O7-Mark Coldren, 12.992; 30. 40I-Mark Imler, 13.366; 31. 5-Glendon Forsythe, 13.383; 32. 18L-Shawn Lawler, 14.141
Heat 1 – Kears Speed Shop (8 Laps – Top 5 finishers transfer to theA-feature) 1. 15-Donny Schatz[6] ; 2. 17B-Steve Buckwalter[2] ; 3. 7S-Jason Sides[3] ; 4. 15H-Sam Hafertepe Jr.[1] ; 5. W20-Greg Wilson[4] ; 6. 4D-Cody Darrah[5] ; 7. 11-Steve Kinser[7] ; 8. O7-Mark Coldren[8]
Heat 2 – All Pro Aluminum Heads (8 Laps – Top 5 finishers transfer to the A-feature) 1. 1-Danny Lasoski[3] ; 2. 83-Tim Shaffer[5] ; 3. 9-Daryn Pittman[4] ; 4. 45-Danny Holtgraver[2] ; 5. 14-Tony Stewart[6] ; 6. 13-Jason Leffler[7] ; 7. 40I-Mark Imler[8]
Heat 3 – Dragon Race Fuel (8 Laps – Top 5 finishers transfer to theA-feature)1. 59-Jac Haudenschild[1] ; 2. 2-Dale Blaney[6] ; 3. 48-Danny Dietrich[4] ; 4. 89G-David Gravel[5] ; 5. 40-Caleb Helms[2] ; 6. 1S-Logan Schuchart[3] ; 7. 9B-Jamie Barnes[7] ; 8. 5-Glendon Forsythe[8]
Heat 4 – Kinsler Fuel Injection (8 Laps – Top 5 finishers transfer to the A-feature) 1. 11K-Kraig Kinser[3] ; 2. 54-Cap Henry[4] ; 3. 94-Jack Sodeman Jr.[1] ; 4. 51-Paul McMahan[6] ; 5. 4-Danny Smith[7] ; 6. 80-Trey Gustin[2] ; 7. 18L-Shawn Lawler[8] ; 8. 27-Lance Dewease[5]
Dash – Outerwears Performance Products (6 Laps, finishing order determined first 6 starting positions of A-feature) 1. 2-Dale Blaney[1] ; 2. 83-Tim Shaffer[2] ; 3. 15-Donny Schatz[5] ; 4. 14-Tony Stewart[6] ; 5. 89G-David Gravel[3] ; 6. 51-Paul McMahan[4]
B-Main – MSD Ignition (12 Laps – Top 4 finishers transfer to the A-feature)1. 4D-Cody Darrah[1] ; 2. 27-Lance Dewease[2] ; 3. 1S-Logan Schuchart[3] ; 4. 11-Steve Kinser[6] ; 5. 9B-Jamie Barnes[8] ; 6. 80-Trey Gustin[4] ; 7. O-Justin Henderson[5] ; 8. 13-Jason Leffler[7] ; 9. 40I-Mark Imler[10] ;
10. O7-Mark Coldren[9] ; 11. 18L-Shawn Lawler[12] ; 12. 5-Glendon Forsythe[11]
A-Main – University of Northwestern Ohio (30 Laps) 1. 15-Donny Schatz[3]; 2. 83-Tim Shaffer[2]; 3. 14-Tony Stewart[4]; 4. 2-Dale Blaney[1]; 5. 9-Daryn Pittman[8]; 6. 89G-David Gravel[5]; 7. W20-Greg Wilson[7]; 8. 51-Paul McMahan[6]; 9. 7S-Jason Sides[13]; 10. 27-Lance Dewease[12]; 11. 48-Danny Dietrich[9]; 12. 4D-Cody Darrah[11]; 13. 17B-Steve Buckwalter[17]; 14. 54-Cap Henry[10]; 15. 45-Danny Holtgraver[18]; 16. 11K-Kraig Kinser[16]; 17. 15H-Sam Hafertepe Jr.[20]; 18. 4-Danny Smith[24]; 19. 40-Caleb Helms[19]; 20. 94-Jack Sodeman Jr.[22]; 21. 11-Steve Kinser[23]; 22. 59-Jac Haudenschild[21]; 23. 1-Danny Lasoski[14]; 24. 1S-Logan Schuchart[15]
Hard Charger: 4-Danny Smith[+6]