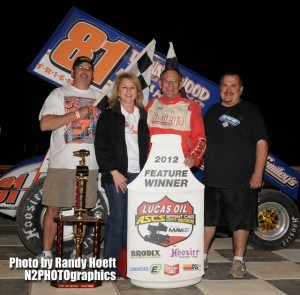 From Bryan Hulbert
Tulsa, OK — (February 18, 2013) — The 2012 season was not what Danny Wood expected. Earning a thrilling last lap victory at the Cocopah Speedway just outside Yuma, Ariz. to start his season off, the season seemed to going swimmingly until engine problems, coupled with a family emergency sidelined "The Flying Fossil".
Despite the setback, there was a silver lining as Danny Wood returned home to begin expanding his trucking company. Hitting select shows throughout the remainder of the 2012 season, the time away allowed Danny to rebuild his team and get a head start on a 2013 return.
Asked about the changes made while away, the biggest came with a change of engine builders. Trying a Shark Racing Engine towards the end of 2012, Danny was pleased enough with the engines performance to make the switch to the Washington based engine builder.
"We've been needing more bottom end on our motors and right there towards the end of the year we sent one of our motors to shark and had Marc [Husson] go through it and he was able to make some changes" explained Wood. "I talked with Sam Hafertepe, Jr. and he was having the same problems and we were just having to wind those motors so much, and then they would just run hot."
Having his own business, Danny has to walk a fine line between racing and working. One of the biggest challenges he faces is having everyone in place to allow him to race, "It makes it tight for me a little bit, you know, and I've had some growing pains these last few years" said the Norman, Okla. native of his business.
"I've really grown and put on a lot more trucks so now I've been trying to get everything in place to where I can appoint someone now a little bit to watch things so we can get some time away to do things that we want to do."
With a new design on the Statewide Services No. 81 for the 2013 season, Danny will again welcome D&J Land, Flying "J" Ranch, A-Plus Lawn Care, Smiley's Racing Products, Hoosier Tire, and J&J Chassis to the lineup of sponsors for the 2013 season.
Longtime friends with the owner of Statewide Services, the pair have a great love of racing "Jim and I went to school together and he just enjoys it. He's helped me quite a bit, well as say quite a bit he has helped here and there along the way because he just enjoys racing, and enjoys being around it. He called me about doing this deal last year and I was like heck yeah, let's do it."
Keeping everything low key and laid back for the most part, the pair are serious about their racing, "When we roll up we want to win every race. That's our goal every time we show up but if we run second, or run tenth, then that's fine."
Even with the goal of winning, the veteran driver was clear that he, and his partners, are more than welcome to the idea of winning and putting on a show for the fans, but realize that there are things beyond just winning, "We are not going to get ourselves into a stupid situation that's going to tear up our equipment. If it's been raining and we have to put on a show that's one thing, but I won't put up with a man-made mess."
Bringing up his nickname, Danny laughed about the origins of the name, "You know when that deal first started, and Johnny [Gibson] gave me that name when I was running the Outlaws; my wife hated it. You just don't make a woman look old but she's gotten over it and the fans really like it."
With the years of experience, the A-Plus Lawn Care No. 81, has a simple goal of consistency for the 2013 season. Asked what it takes to maintain the momentum from track to track, Danny's answer was simply about routine, "We got a set routine that we do and keep records of what the tracks are, and what size they are and what changes we make. We have a standard setup and just kind of work in from there."
Danny Wood's season begins at the Tucson International Raceway on Friday, Feb. 22 and Saturday, Feb. 23. The two day event will be preceded by a practice night on Thursday, Feb. 21 starting at 7pm. For more information, log onto http://www.ascsracing.com.
The 2013 season marks the twenty-second year of sanctioning Sprint Car racing for the American Sprint Car Series, which brings the best of Sprint Car racing to dozens of different tracks throughout the nation and into Canada. Anchored by the Lucas Oil American Sprint Car Series, ASCS also consists of nine different Regions throughout the nation.
Lucas Oil Products is the title sponsor of the American Sprint Car Series. More information can be found on Lucas Oil Products at www.lucasoil.com. MAVTV is the presenting sponsor of the American Sprint Car Series. Log onto www.mavtv.com for information regarding availability and listings in your area.
Associate sponsors for the Lucas Oil American Sprint Car Series presented by MAVTV include: Hoosier Racing Tire and Brodix
Team Lucas Sponsors for the American Sprint Car Series consist of Protect the Harvest, Geico, E3 Spark Plugs, and General Tire.
Product and Contingency Sponsorship provided by: K&N Filters, PitstopUSA.com, Engler Machine and Tool, Roush Yates Racing Engines, FSR Radiator and Racing Products, Schoenfeld Headers, Driverwebsites.com, Weld Wheels, Fuel Safe, Saldana Racing Products, SBI Fuel Bladders, Maxwell Industries, Print Place, Xtreme Accu-Tach, Simpson, LeJoie Seating, Ti 22 Performance, Wesmar Racing Engines, Hinchman Indy Racewear, Brown and Miller Racing Solutions, DMI Rear Ends, Rod End Supply, Smiley's Racing Products, Speedway Motors, and Hilborn Injection Systems.
Additional information regarding the American Sprint Car Series is available at www.ascsracing.com as well as Twitter (@LucasOilASCS) and Facebook. News and information can also be sent to you with the ASCS E-News by texting ASCS to 22828 with any mobile device.