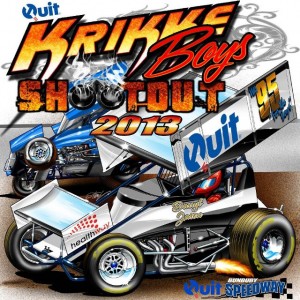 Bunbury, AU — (March 2, 2013) — American Tim Kaeding won night one of the Krikke Boys shootout holding of Jamie Maiolo and Steven Lines in third. Kaeding inherited the lead after fellow American Shane Stewart got caught up in a crash as he was lapping traffic. Stewart had nowhere to go and slid into Cam Gessner which broke a suspension part on the Americans car.
Kaeding pulled a lead on Maiolo at each re start and when Carl Dowling flipped and brought out an open red, it looked as though it could change the complexity of the race but Kaeding got faster.
Several laps into the re-start Callum Williamson who had driven his butt off all night flipped in turn three and brought out another red.
Again it was Kaeding and he made this one count and went on for the win ahead of Maiolo and Steve Lines had worked on Dumesney all race and finally got third place in the late stages. Dumesney held on for fourth place.