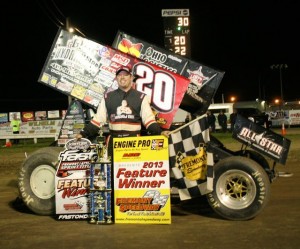 From Brian Liskai
Fremont, OH — (April 27, 2013) —  Greg Wilson spent a month in the west racing on unfamiliar tracks. He said, simply put, he got his butt kicked. But, he learned and couldn't wait to get back to Ohio to familiar surroundings. The Benton Ridge, Ohio driver put his new knowledge to great use Saturday at Fremont Speedway.
Wilson passed Cole Duncan coming to the white flag and went on to score an exciting victory in the Fort Ball Pizza Palace 410 Sprints on Adkins Sanitation and Fence Night. The win, coming on a Kistler Racing FAST (Fremont Attica Sprint Title) Championship Series night, is the 10th career win for the two-time All Star champion.
"This is one of the toughest places in the country. This race track…when it's like this you can race on the thing and the guys did an awesome job prepping the thing tonight and opening up the entry to the corner. I'm speechless…hell I haven't been in victory lane in two years," said an excited Wilson  beside his Hercules Tires/All Star Plumbing Heating and Cooling/DNC Hydraulics backed machine.
"We made a gutsy call in the pits. We hired a young kid from Washington and I was looking at him and I said screw it let's go for this win. We changes some stuff around and I got the wing back and got lucky," added Wilson in the Engine Pro Victory Lane. "The good Lord was looking out for us and gave us a caution there at the end. I finally got a trophy for my youngest child. My oldest daughter…we won right away after she was born."
For Bradner, Ohio's Nate Dussel, you couldn't ask for a better weekend. He dominated for the win Friday at Attica Raceway Park, and then held off veteran John Ivy to score the victory at Fremont in the Fremont Federal Credit Union 305 Sprints.
"You dream of sweeping a weekend. All I can saw is wow. These guys have this car so dialed in…it's easy to drive right now," said Dussel in the Engine Pro Victory Lane beside his Berrier Fabrication/Gressman Powersports/Dussel Welding/Kylynn Manufacturing/Conrad Transport/Kistler Racing Products backed machine.
"I've got a ton of respect for John (Ivy). He's one hell of a race car driver and pretty much put himself in the history books. I know he's going to be coming even if he's a little slower than me he's going to run me down in lapped traffic. I thought I got through traffic decent…I opened up holes for him," added Dussel of his 8th career Fremont victory. "Scott (Gressman) puts a fantastic bullet under the hood. It takes off like a rocket ship and doesn't miss a beat."
In the AAA Ohio Auto Club Dirt Trucks, Bellevue, Ohio's Cory Ward led all 20 laps, but rookie Matt Foos and veteran Art Ball didn't make it easy as they hounded him the entire distance. For Ward, a former track champion, it was his 22nd career victory, moving him into a five way tie for 21st on the track's all-time win list.
"It helps to start up front. My girlfriend Kayla picked the number and it worked out perfect. I just knew I had to beat him (Foos) on the start and get to the inside and I figured I'd be alright," said Ward beside his Budweiser and Yuengling Beer/Precision Body & Frame/Hiser's Transmissions/Eastside Café/B&L Plumbing/Gibson Auto Salvage/Mini Warehousing/Griff's Engines backed #18w. "I have to thank my dad, my grandpa and my uncle Jeff…if it wasn't for them I wouldn't be here."
In the Surfin' Sweepstakes Sports Compacts, 14-year-old Mark Gillingham Jr. of Liberty Center, Ohio, scored his third career win in a crash filled event.
"I want to thank my dad and grandpa and King Road Auto Parts for all the parts I need to race," said Gillingham.
Bryan Sebetto and Craig Mintz, both former Fremont track champions, would bring the 410 sprint field to the green for their 30-lap feature, with Mintz grabbing the early lead with Sebetto hounding him to the outside. Cole Duncan would slip into third with Brian Smith, Dean Jacobs, D.J. Foos, Todd Heller and fast qualifier Wilson in tow. Sebetto's challenge for the lead would come to an end on lap four when he went to the infield with mechanical woes, moving Duncan into second.
With six laps in, Mintz held a two-car length lead over Duncan while Smith, Foos and Wilson were locked in a fantastic battle for third. Foos would take the third spot on lap seven with Wilson moving into fourth. Mintz continued to lead Duncan by a couple of car lengths as Foos, Wilson and Smith battled for third. Wilson would eventually take third on lap 12 as the leaders prepared to race into lapped traffic.
Mintz would catch the back of the field at the half-way point as Duncan and Wilson closed. The lead trio of Mintz, Duncan and Wilson would dice through traffic and would be three wide on lap 17, with Duncan driving low to take the point and bringing Wilson into second. Duncan and Wilson would then race side by side over the next nine laps with Foos, Smith and Brad Bowman giving chase.
The event's only caution flew with five laps to go when Broc Martin stopped on turn four with mechanical issues. The running order was Duncan, Wilson, Mintz, Smith, Foos, Caleb Griffith (up from 14th) and Chris Andrews (up from 17th). With a clear track and only a handful of laps remaining it appeared Duncan was headed to his second career Fremont win. When the green flew he pulled away slightly from Wilson as Mintz ran comfortably in third while Foos, Smith, Griffith and Andrews battled for fourth.
As they raced out of turn two headed to the white flag lap, Wilson got a tremendous bite on the bottom of the track and erased Duncan's three car length advantage. Wilson dove low into turn three and he and Duncan raced side by side to the white, with Wilson holding a nose wing lead. Wilson would stay glued to the bottom groove and would lead going down the back stretch, but Duncan charged to his outside the final two turns. Wilson would keep his car straight and rocket off the corner to the checkered. Duncan, Mintz, Foos and Smith would round out the top five.
In the 25 lap 305 sprint feature, Dussel and Jeremy Duposki led the field to the green with Dussel gaining the lead over third starter Ivy with fifth starter Jordan Ryan sliding into third. Eric Duposki would spin after a lap was recorded to bring about a single file restart. Dussel and Ivy would pull away from Ryan with Jeremy Duposki trying to hold off Roger Shammo, Alvin Roepke, Bobby Clark, Jimmy Colvin and Jason Keckler.
On lap three Eric Duposki would spin again and on the restart, fourth place running Jeremy Duposki would also spin. On the ensuing restart, Jamie Miller and Dustin Dinan would get together in turn three with both getting upside down (no injuries). When the green came back out, Dussel led Ivy, Ryan, Roepke, Shammo, Clark and Colvin.
Dussel and Ivy would pull away slightly from Jordan who was locked in a torrid battle with Roepke for third. With 11 laps in, Roepke got around Ryan for third as Dussel held a four car length lead over Ivy. But, Dussel raced into lapped traffic on lap 12 and Ivy quickly closed as Roepke and Ryan continued their side by side race for third. With 11 laps to go, Ivy raced under Ivy as the duo sliced through traffic. Jeremy Duposki would spin again on lap 17, handing Dussel a clear track. He would use it to his advantage to pull away from Ivy as Roepke, Ryan, Clark and Colvin gave chase.
As Dussel continued to lead Ivy, Ryan would retake third on lap 20. Josh Harrison would spin in turn four on lap 22, setting up a three lap battle to the checkered. Dussel was just too strong on the restart and pulled away for the win with Ivy, Ryan, a closing Colvin and Roepke rounding out the top five.
Matt Foos and Ward would pace the field to the green in the 20 lap dirt truck main. Before a lap was completed, Brian Melnek would spin necessitating a complete restart. When the green reappeared, Ward would grab the lead with Foos glued to his rear bumper while Jim McGrath, Jimmy McGrath, Art Ball and Bob Dible staying close.
With three laps in, Kent Brewer would spin with the running order Ward, Foos, the McGraths, Ball, Dible and Dan Roepke Jr. The race would stay green the rest of the distance.
While Ward led, he couldn't hide, as Foos, Ball, Jim McGrath and Jimmy McGrath stayed close. Ball would move into the runner-up spot on lap 10, while Jim McGrath took third a lap later. But, Foos rallied and moved back into third on lap 12 and drove to Ball's outside to challenge for the runner-up spot, just inches off leader Ward's back bumper. With two laps to go, Foos was able to take second and raced to Ward's outside to challenge for the lead.
Ward stayed smooth and would drive to the win over Foos, Ball, Jimmy McGrath and Jim McGrath.
In the 12-lap sports compact feature, Tyler Sherman and Gillingham paced the field to the green with Sherman gaining the early advantage over Gillingham, Brandon Myers and Andrew Schroeder. Gillingham would take the lead the next, bringing Cody Laney into second with Chevy Farmer moving into third. A lap later and Farmer would go to the infield with mechanical woes as Gillingham lead Laney and Schroeder. With eight laps in as Gillingham attempted to lap another car, contact was made, sending Erik Paulson upside down (he was okay). That brought an end to the event with Gillingham scored as the winner.
Fremont Speedway will be back in action Saturday, May 4 for the Mike Hensel Memorial a 33-lap, $3,300 to win non-wing sprint event on Smith Foods Night. It kicks off the 2013 BOSS (Buckeye Outlaw Sprint Series) schedule. The dirt trucks, 305 sprints and sports compacts will also be in competition.
For more information go to www.fremontohspeedway.com or like Fremont Speedway on Facebook and follow the track on Twitter.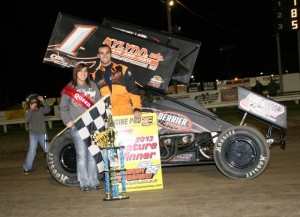 Fremont Speedway – 4/27/2013
Adkins Fence / Sanitation  Night
Fort Ball Pizza Palace 410Sprints (33 Cars)
[#]-Starting Position
Qualifying – Fricker's Restaurant/Callie's Performance
1. W20-Greg Wilson, 13.003; 2. 53-DJ Foos, 13.015; 3. 55-Brad Bowman, 13.030; 4. 9X-Brandon Martin, 13.115; 5. 35-Stuart Brubaker, 13.208; 6. 14H-Todd Heller, 13.232; 7. 9-Dean Jacobs, 13.261; 8. 46AU-Stuart Williams, 13.272; 9. 22-Cole Duncan, 13.285; 10. 2+-Brian Smith, 13.286; 11. O9-Craig Mintz, 13.312; 12. 24H-Bryan Sebetto, 13.314; 13. 45L-Brian Lay, 13.338; 14. 29-Kyle Sauder, 13.348; 15. 40DD-Caleb Griffith, 13.363; 16. 27P-Paige Polyak, 13.377; 17. 2M-Dallas Hewitt, 13.393; 18. 5T-Travis Philo, 13.422; 19. 9Z-Duane Zablocki, 13.475; 20. 16-Chris Andrews, 13.477; 21. 60-Jody Keegan, 13.598; 22. 10X-Dustin Stroup, 13.722; 23. 83M-Broc Martin, 13.742; 24. 5R-Byron Reed, 13.746; 25. 23D-Devon Dobie, 13.839; 26. 51-Roger Campbell, 13.856; 27. 23-Jimmy Light, 13.909; 28. 14-Chad Wilson, 13.969; 29. 7-Troy Kingan, 14.227; 30. O6-Brandy Bower, 14.554; 31. 32M-Derek Hastings, 14.771; 32. 50B-Mike Burns, 14.786; 33. 22B-Ryan Broughton, 99.000
Heat 1 –  (8 Laps – Top 4 finishers transfer to the A-feature)
1. 60-Jody Keegan[1] ; 2. 2M-Dallas Hewitt[2] ; 3. 22-Cole Duncan[4] ; 4. W20-Greg Wilson[6] ; 5. 35-Stuart Brubaker[5] ; 6. 45L-Brian Lay[3] ; 7. 22B-Ryan Broughton[9] ; 8. 23D-Devon Dobie[7] ; 9. 7-Troy Kingan[8]
Heat 2 –  (8 Laps – Top 4 finishers transfer to the A-feature)
1. 5T-Travis Philo[2] ; 2. 2+-Brian Smith[4] ; 3. 53-DJ Foos[6] ; 4. 14H-Todd Heller[5] ; 5. 29-Kyle Sauder[3] ; 6. 10X-Dustin Stroup[1] ; 7. 51-Roger Campbell[7] ; 8. O6-Brandy Bower[8]
Heat 3 –  (8 Laps – Top 4 finishers transfer to the A-feature)
1. 9Z-Duane Zablocki[2] ; 2. O9-Craig Mintz[4] ; 3. 9-Dean Jacobs[5] ; 4. 83M-Broc Martin[1] ; 5. 40DD-Caleb Griffith[3] ; 6. 55-Brad Bowman[6] ; 7. 32M-Derek Hastings[8]
Heat 4 –  (8 Laps – Top 4 finishers transfer to the A-feature)
1. 16-Chris Andrews[2] ; 2. 27P-Paige Polyak[3] ; 3. 24H-Bryan Sebetto[4] ; 4. 5R-Byron Reed[1] ; 5. 9X-Brandon Martin[6] ; 6. 46AU-Stuart Williams[5] ; 7. 14-Chad Wilson[7] ; 8. 50B-Mike Burns[8]
B-Main – Computer Man Inc. (12 Laps – Top 4 finishers transfer to the A-feature)
1. 55-Brad Bowman[1] ; 2. 9X-Brandon Martin[2] ; 3. 35-Stuart Brubaker[3] ; 4. 40DD-Caleb Griffith[7] ; 5. 29-Kyle Sauder[6] ; 6. 46AU-Stuart Williams[4] ; 7. 45L-Brian Lay[5] ; 8. 10X-Dustin Stroup[8] ; 9. 23-Jimmy Light[11] ; 10. 23D-Devon Dobie[9] ; 11. 51-Roger Campbell[10] ; 12. O6-Brandy Bower[14] ; 13. 22B-Ryan Broughton[17] ; 14. 32M-Derek Hastings[15] ; 15. 14-Chad Wilson[12] ; 16. 50B-Mike Burns[16]
A-Main –  (30 Laps)
1. W20-Greg Wilson[8]; 2. 22-Cole Duncan[4]; 3. O9-Craig Mintz[2]; 4. 53-DJ Foos[7]; 5. 2+-Brian Smith[3]; 6. 40DD-Caleb Griffith[14]; 7. 16-Chris Andrews[17]; 8. 14H-Todd Heller[6]; 9. 55-Brad Bowman[11]; 10. 5R-Byron Reed[20]; 11. 9-Dean Jacobs[5]; 12. 27P-Paige Polyak[9]; 13. 5T-Travis Philo[15]; 14. 9Z-Duane Zablocki[16]; 15. 35-Stuart Brubaker[13]; 16. 2M-Dallas Hewitt[10]; 17. 9X-Brandon Martin[12]; 18. 60-Jody Keegan[18]; 19. 83M-Broc Martin[19]; 20. 24H-Bryan Sebetto[1]
Hard Charger: 16-Chris Andrews[+10]
Fremont Federal Credit Untion 305 Sprints (21 Cars)
[#]-Starting Position
Heat 1 –  (8 Laps – Top 7 finishers transfer to the A-feature)
1. 6-Dustin Dinan[2] ; 2. OO-Alvin Roepke[4] ; 3. 13D-Jeremy Duposki[1] ; 4. 25-Jason Keckler[3] ; 5. 4M-Jamie Miller[5] ; 6. 8M-T.J Michael[6] ; 7. 7P-Brandon Moore[7]
Heat 2 –  (8 Laps – Top 7 finishers transfer to the A-feature)
1. 9-Jimmy Colvin[2] ; 2. 8I-John Ivy[1] ; 3. 4X-Bobby Clark[6] ; 4. 22D-Dan Hammond[5] ; 5. 68G-Tyler Gunn[7] ; 6. 48-Mike Burkin[4] ; 7. 26-Ryan French[3]
Heat 3 –  (8 Laps – Top 7 finishers transfer to the A-feature)
1. 5R-Jordan Ryan[2] ; 2. 1-Nate Dussel[5] ; 3. 1W-Paul Weaver[6] ; 4. 10S-Roger Shammo[4] ; 5. 10-Josh Harrison[1] ; 6. 8J-Jess Stiger[7] ; 7. 34-Eric Duposki[3]
A-Main –  (25 Laps)
1. 1-Nate Dussel[1]; 2. 8I-John Ivy[3]; 3. 5R-Jordan Ryan[5]; 4. 9-Jimmy Colvin[10]; 5. OO-Alvin Roepke[6]; 6. 4X-Bobby Clark[8]; 7. 1W-Paul Weaver[12]; 8. 25-Jason Keckler[7]; 9. 10S-Roger Shammo[4]; 10. 8J-Jess Stiger[18]; 11. 22D-Dan Hammond[9]; 12. 68G-Tyler Gunn[14]; 13. 10-Josh Harrison[15]; 14. 48-Mike Burkin[17]; 15. 8M-T.J Michael[16]; 16. 26-Ryan French[20]; 17. 7P-Brandon Moore[19]; 18. 13D-Jeremy Duposki[2]; 19. 6-Dustin Dinan[11]; 20. 4M-Jamie Miller[13]; 21. 34-Eric Duposki[21]
Hard Charger: 8J-Jess Stiger[+8]
AAA Auto Club Dirt Trucks (24 Trucks)
[#]-Starting Position
Heat 1 –  (8 Laps – Top 5 finishers transfer to the A-feature)
1. 88-Dan Roepke Jr.[4] ; 2. 17-Bob Dible[8] ; 3. 18W-Cory Ward[5] ; 4. 23M-Brad Mitten[2] ; 5. 37-Eric Devanna[7] ; 6. 45-Brian Melnek[1] ; 7. 22J-Josh Kiser[3]
Heat 2 –  (8 Laps – Top 5 finishers transfer to the A-feature)
1. O1-Art Ball[5] ; 2. 7-Dana Frey[2] ; 3. 5JR-Jimmy McGrath Jr.[8] ; 4. D1-Dustin Keegan[6] ; 5. 115-Ben Good[3] ; 6. 36M-Cory McCaughey[4] ; 7. 44-Todd Keegan[7]
Heat 3 –  (8 Laps – Top 5 finishers transfer to the A-feature)
1. 5-Jim McGrath[2] ; 2. 2-Matt Foos[5] ; 3. 7B-Shawn Valenti[4] ; 4. 16-Steve Sabo[7] ; 5. 8KB-Kent Brewer[6] ; 6. 18-Jeff Ward[1] ; 7. 95-Keith Sorg[3]
B-Main – Computer Man Inc. (10 Laps – Top 5 finishers transfer to the A-feature)
1. 36M-Cory McCaughey[2] ; 2. 45-Brian Melnek[1] ; 3. 44-Todd Keegan[5] ; 4. 95-Keith Sorg[6] ; 5. 72-Eric Potridge[8] ; 6. 22J-Josh Kiser[4] ; 7. OO-John Ivy[7]
A-Main –  (20 Laps)
1. 18W-Cory Ward[2]; 2. 2-Matt Foos[1]; 3. O1-Art Ball[3]; 4. 5JR-Jimmy McGrath Jr.[5]; 5. 5-Jim McGrath[4]; 6. D1-Dustin Keegan[10]; 7. 88-Dan Roepke Jr.[7]; 8. 17-Bob Dible[6]; 9. 16-Steve Sabo[9]; 10. 36M-Cory McCaughey[16]; 11. 7B-Shawn Valenti[8]; 12. 7-Dana Frey[12]; 13. 23M-Brad Mitten[11]; 14. 8KB-Kent Brewer[15]; 15. 115-Ben Good[14]; 16. 95-Keith Sorg[19]; 17. 45-Brian Melnek[17]; 18. 37-Eric Devanna[13]; 19. 44-Todd Keegan[18]; 20. 72-Eric Potridge[20]
Hard Charger: 36M-Cory McCaughey[+6]
Surf'n Sweepstakes Compacts (14 Cars)
[#]-Starting Position
Heat 1 –  (8 Laps – Top 8 finishers transfer to the A-feature)
1. 5-Tyler Sherman[6] ; 2. 32-Brandon Myers[5] ; 3. 29-Chevy Farmer[3] ; 4. 92-Kyle Farmer[7] ; 5. 34S-McKenzie Biddle[2] ; 6. 711-Taylor Holland[4] ; 7. 14-Amanda Shammo[1]
Heat 2 –  (8 Laps – Top 8 finishers transfer to the A-feature)
1. 23-Andrew Schroeder[2] ; 2. 5G-Sparky Marky[7] ; 3. 93-Cody Laney[5] ; 4. 7P-Evan Patynko[3] ; 5. PI-Erik Paulson[1] ; 6. 99-Eric Pocock[6] ; 7. 98-Maverick Wright[4]
A-Main –  (12 Laps)
1. 5G-Sparky Marky[2]; 2. 93-Cody Laney[5]; 3. 98-Maverick Wright[14]; 4. 23-Andrew Schroeder[4]; 5. 32-Brandon Myers[3]; 6. 5-Tyler Sherman[1]; 7. 7P-Evan Patynko[7]; 8. 92-Kyle Farmer[6]; 9. 711-Taylor Holland[11]; 10. 34S-McKenzie Biddle[9]; 11. PI-Erik Paulson[10]; 12. 29-Chevy Farmer[8]; 13. 99-Eric Pocock[12]; 14. 14-Amanda Shammo[13]
Hard Charger: 98-Maverick Wright[+11]
©2013 – Results Provided by: Computer Man Inc. Fremont, OH