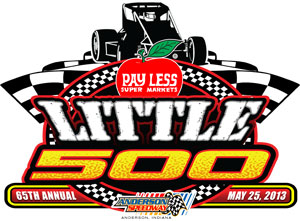 From Barry Braun
Silver Bay, MN (April 30, 2013)– The X.CELERATED SPORTS ACTION NETWORK – XSAN has reached an agreement with the MustSeeRacing.com organization to broadcast and produce the legendary 65th Annual Pay Less Super Markets Little 500 from Anderson Speedway on May 25,2013, and three shows preceding the event. The coverage will include a week of live broadcasts, on demand segments to YouTube, a massive social media promotion, and will conclude with the showcase event, the 65th running of Little 500, the Super Bowl of pavement sprint car racing.
The action will start at Winchester Speedway in Winchester, Indiana, on May 19, 2013, with a combined MustSeeRacing.com show featuring the Xtreme TruFuel Sprint Series and the highflying action of the Super Modifieds. The week will move to Anderson Speedway in Anderson, Indiana, on Monday, May 20, another round with the Super Modifieds. The live broadcast cranks up again on Wednesday May 22, with an Xtreme TruFuel Sprint Series show and then the grandaddy of them all, the 65th Annual Pay Less Super Markets Little 500 featuring the MustSeeRacing.com Xtreme TruFuel Sprint Series on May 25th.
In addition, XSAN will provide unprecedented coverage of the entire week including practice, behind-the-scenes, race highlights, and more on the company's YouTube page, Facebook, Twitter, and Instagram accounts. All can be found under the username XSANTV.
The MustSeeRacing.com May 19,20, and 22 events are available for purchase and viewing with an XSAN Subscription. $19.95 Per Day, $99.95 Per 6 Months, or $174.95 Per Year. The 65th Annual Pay Less Super Markets Little 500 on May 25th will be available as a stand alone special Pay Per View event and will cost $35.00 to view that day. A special "Week of the Little 500" viewing package will be available for $50 and include all four shows plus 30 days of XSAN (including more live races and all digital archives of events).
Users can head to www.xsan.tv andpurchase access to the races. All events and video are available on the PC, Tablet and iPad, Mobile and iPhone, and select video game platforms.
"The agreement with XSAN and Must See Racing puts us on every platform possible," stated series president Jim Hanks. "If you want to watch live on your phone, in your home, video highlights at the track, or our extensive television schedule we have you covered. XSAN does a phenomonal job with live broadcast events and social media awareness. Our goal as an organization is to appeal to all age ranges and get them to watch the worlds fastest short track cars. Our partnership with XSAN will complete our goals and offer our fans and sponsors incredible access to our sport."
To find out more informationon XSAN, a list of events, and to subscibe visit www.xsan.tv
Information on the Must SeeRacing Xtreme TruFuel Sprint Series and Super Modifieds can be found at:www.mustseeracing.com