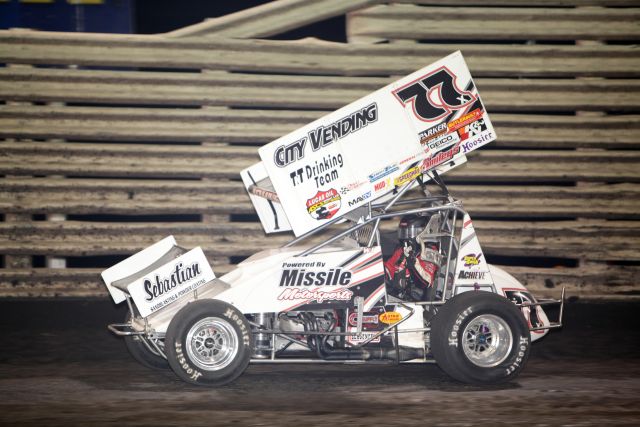 By Bill W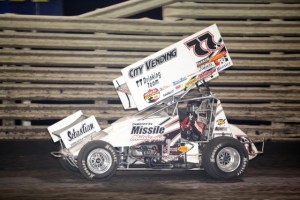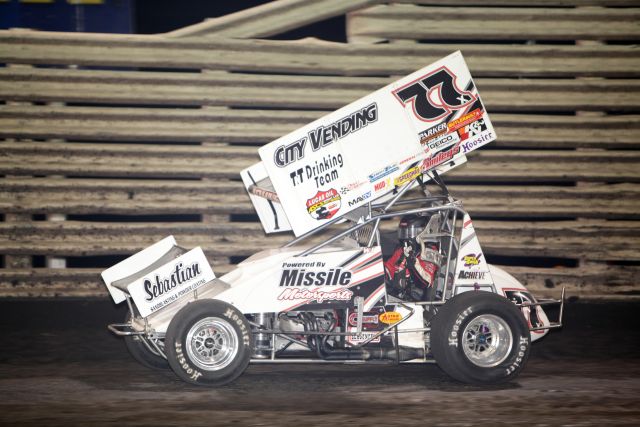 May 1, 2013 – A rainout at the Salina (OK) High Banks on Friday set the stage for a Saturday run with the World of Outlaws for the Wayne Johnson Racing team.  Scorers had the #77x finishing anywhere from 12th to 14th.  Wayne was paid for 13th, with press releases showing him scored 14th.  In any case, the Knoxville, Iowa driver is back home and weather pending will be running two miles from his house on Saturday.  He is also currently looking for a full-time mechanic on the team.
Initial plans were to run Salina on Friday and Knoxville Saturday.  "Rain! Rain! Rain!" says Wayne.  "We were wanting to run Knoxville on Saturday, but we were already down there.  Todd (Carlile), our partner, was down there.  We had to go down and pick up some parts too.  So we were down there and we ran."
The heavy rains in Oklahoma took their toll on a track that remained lightning fast all night long.  "We were 14th quick with the wrong gear in it," says Wayne of time trials.  "Normally, you take about 40 points of gear out from a 360.  We were eighth quick in hot laps.  I knew I needed a little more gear, but you're qualifying out there by yourself.  We weren't even close."
The heat was uneventful.  "It was a one-lane, no passing track," says Wayne.  "We started fifth and finished fifth.  Finally, we just kept putting more gear in it."
Wayne has at least three previous wins in Salina, including one last year with the ASCS National series.  Though his finish was a bit of a mystery on Saturday, we do know he started outside of row seven.  "We started 14th there and we were actually really good in the feature," he says.  "It was really a mystery where I finished and I don't know why.  The Outlaws had me 12th, then I was 13th and someone else had me 14th.  I do know I got paid for 13th though (laughs)!"
It was six of one, half a dozen of the other with track conditions as they were.  Wayne knew he had a fast ride.  "It was just a high speed freight train," he says.  "It was a product of all the rain.  I just chased (Donny) Schatz the whole race.  I felt I was better than him at times, but there was no way to pass him.  I looked at the Race Monitor and the times, other than the guys up front in clean air…we were about fifth or sixth quickest a lot of the time."
This weekend offers limited options other than Knoxville.  "The plan is to run Knoxville," says Wayne.  "Of course, the weather doesn't look the greatest.  The only other option is Eldora (with the WoO), and it's tough to tow that far with just the one motor we have right now."
Looking for a Mechanic
Wayne is looking for a full-time mechanic that is motivated and would relocate to Knoxville.  Wayne is running around a 70-race schedule.  You would not need a CDL, but would need experience driving a big truck and trailer.  Experience maintaining a sprint car is a must.  Salary depends on experience
E-mail Wayne at WayneJohnsonRacing@yahoo.com with the following information:
Please include a bio with your experience working on a racecar.
Follow Updates on Facebook!
Wayne will update as his race night goes on at his Facebook page.  Find it by searching for Wayne Johnson Racing or clicking the following link…
http://www.facebook.com/#!/WayneJohnsonRacing
Outlaw Wings – "The Wing with an Attitude"
Check out the new "recessed rivet" design put out by Outlaw Wings.  Talk to Wayne about purchasing Outlaw Wings for your car! Outlaw Wings – "The Wing with an Attitude"!
Wayne's World                                                       
Got a question for Wayne? Each week, Wayne will answer your questions about "Tech Tips", or anything that's on your mind. If you ever wondered what a part on a sprint car is all about, send an e-mail to us at sprntcar@iowatelecom.net, and we may answer it in this section! Put "? for Wayne" in your subject line. He'll try to keep it clean if you do!
Wayne's Fast Facts
Wayne was a winner at the Salina High Banks exactly a year ago from last Saturday's event.  That was with the Lucas Oil ASCS Naitonal Series.  He led all 25 laps and the win came ahead of Brian Brown, Jack Dover, Danny Lasoski and Brad Loyet.
Partner of the Week – Speedway Motors
Speedway Motors is America's Oldest Speed Shop® and has been a trusted source for specialty rodding and racing products and friendly expert advice for 60 years. Founded in 1952 by "Speedy" Bill Smith – a racer and street rodder himself – Speedway Motors has grown from a one-man operation to become the world's largest manufacturer, distributor and retailer of street rod and racing products. Our industry-leading fast delivery is the result of same-day shipping from our state-of-the-art, centrally located 500,000 sq. ft. headquarters. Speedway Motors size offers customers unmatched product selection and low pricing, while our excellent technical support and customer service have made us a recognized leader in the rodding and racing industries. Visit them on the web at www.SpeedwayMotors.com!
"Wednesday's with Wayne"
"Wednesday's With Wayne" is an up close look at the past, present and future of colorful and talented sprint car driver Wayne Johnson. You'll never know what to expect next with Wayne, so don't miss us on Wednesdays!
To receive "Wednesday's with Wayne", send an e-mail to sprntcar@iowatelecom.net with"Wayne" in the subject line.
Wayne Johnson Racing would like to thank Vern Rengen and Missile Motorsports, Sebastian Sandblasting & Powdercoating, Williams Motorsports, Outlaw Wings, Team Achieve, The Oil Medics, Smiley's Racing Products, Hoosier Tire Southwest, Simpson, Butlerbuilt, Super Shox, Maxim, Speedway Motors, Rod End Supply, Schoenfeld Headers, 517 Design and Canyon Apparel.