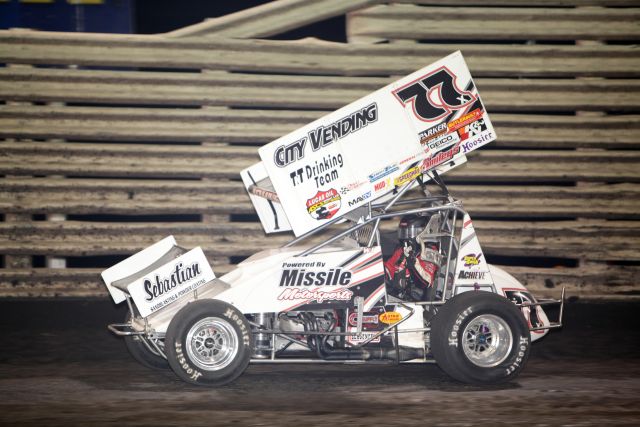 By Bill W
May 15, 2013 – The Wayne Johnson Racing #77x team is getting back up to speed.  The team competed in two World of Outlaws events last weekend.  Friday night, they visited Elko Speedway in Minnesota before competing at the Knoxville Raceway in Iowa on Saturday.  Wayne will stay close to home this weekend again and compete at Knoxville on Saturday night.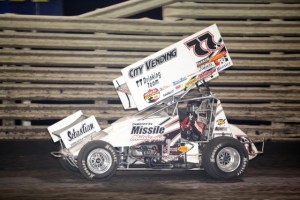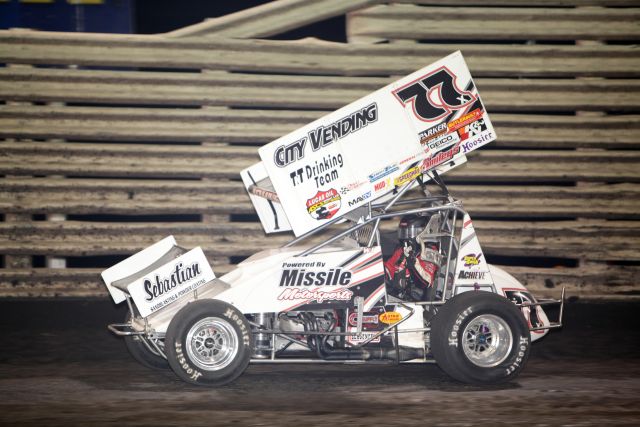 A late qualifying pill hurt Wayne at Elko and he timed in 24th in the stout 34-car field.  "We didn't qualify well, but we made it through the heat race (finishing 5th)," he says.  "We started at the tail of the feature, because I had a throttle issue.  The throttle hung before the feature started.  I didn't want to run over anyone, but I wanted to start the race."
The car responded at that point, but Wayne pulled off early.  "I stayed out there for a while," he says.  "Once I got up to speed, the throttle unhooked and I raced a bit.  I passed a few cars, but once I got lapped…it was silly to stay out there when I'm not racing for points."
Fifty-one cars invaded Knoxville on Saturday, and Wayne qualified well.  "We were 18th quick, which was good," he says.  "I think the car was definitely better than the driver.  I haven't had a motor like that, especially at Knoxville.  It was faster than I've gone there in a while.  I was a little not up to speed myself.  We're figuring some things out."
The time put Wayne on the pole of his heat.  He led for a while before finishing second, earning a spot in the Dash.  "I thought we were going to get a heat race win there, but (Brian) Brown is just strong there," he says.  "That got us in the Dash, and we had a good start.  Then (Chad) Kemenah and (Kerry) Madsen almost got together coming off of turn two.  I had to check up for them.  We were able to get by Kemenah towards the end."
A starting spot inside row six for the main event was the result.  "We fell back to 14th or 15th," says Wayne.  "I got a horrible start.  We rode around for five or six laps and the caution came out.  On the restart, we got a really good start.  I had the car working on the bottom.  I think they said I was up to 9th at one point.  (Jason) Sides and (Kyle) Larson got by me and that put me back in 11th."
Wayne was up to speed until a mishap going into turn three.  "We were rolling pretty well at that point," he says.  "Then I hit the berm going into turn three and broke the left front shock off.  The oil went to the headers to the hood and onto my shield.  I thought I knocked an oil line off of the motor, and I pulled in.  I didn't want to hurt a motor.  I probably would have stayed out longer knowing it was just a shock."
The Knoxville, Iowa driver is hoping to nail things down at his home track before hitting the road in another week or so.  "I don't feel the best in the car, but still we're decent," says Wayne.  "Once we get rolling…the car and the driver…we'll be good.  Thanks to Todd (Carlile) and Vern (Rengen), we're going to have the components we need.  I'm looking forward to about two weeks from now.  Our ducks should all be in a row and we'll be racing a lot.  We raced out west a lot, but we really had one hand tied behind our back a little bit equipment-wise for a lot of those races."
Looking for a Mechanic
Wayne is looking for a full-time mechanic that is motivated and would relocate to Knoxville.  Wayne is running around a 70-race schedule.  You would not need a CDL, but would need experience driving a big truck and trailer.  Experience maintaining a sprint car is a must.  Salary depends on experience
E-mail Wayne at WayneJohnsonRacing@yahoo.com with the following information:
Please include a bio with your experience working on a racecar.
Follow Updates on Facebook!
Wayne will update as his race night goes on at his Facebook page.  Find it by searching for Wayne Johnson Racing or clicking the following link…
http://www.facebook.com/#!/WayneJohnsonRacing
Outlaw Wings – "The Wing with an Attitude"
Check out the new "recessed rivet" design put out by Outlaw Wings.  Talk to Wayne about purchasing Outlaw Wings for your car! Outlaw Wings – "The Wing with an Attitude"!
Wayne's World                                                       
Got a question for Wayne? Each week, Wayne will answer your questions about "Tech Tips", or anything that's on your mind. If you ever wondered what a part on a sprint car is all about, send an e-mail to us at sprntcar@iowatelecom.net, and we may answer it in this section! Put "? for Wayne" in your subject line. He'll try to keep it clean if you do!
Wayne's Fast Facts
Wayne has seventeen career wins at Knoxville, ten in the 360 class and seven in the 410 class.  He won one in each class in 2012.
Partner of the Week – Rod End Supply
Whether you are running a go-cart, micro, mini-sprint, midget, modified, late model, sprint or a tractor, Rod End Supply has the assortment of rod ends, radius rods, and specialty products that will help you lead the field in performing at your maximum potential. At Rod End Supply, "They don't just sell 'em, they race 'em! Visit them on the web at www.RodEndSupply.com or call 1-800-284-2902 today!
"Wednesday's with Wayne"
"Wednesday's With Wayne" is an up close look at the past, present and future of colorful and talented sprint car driver Wayne Johnson. You'll never know what to expect next with Wayne, so don't miss us on Wednesdays!
To receive "Wednesday's with Wayne", send an e-mail to sprntcar@iowatelecom.net with"Wayne" in the subject line.
Wayne Johnson Racing would like to thank Vern Rengen and Missile Motorsports, Sebastian Sandblasting & Powdercoating, Williams Motorsports, Outlaw Wings, Team Achieve, The Oil Medics, Smiley's Racing Products, Hoosier Tire Southwest, Simpson, Butlerbuilt, Super Shox, Maxim, Speedway Motors, Rod End Supply, Schoenfeld Headers, 517 Design and Canyon Apparel.