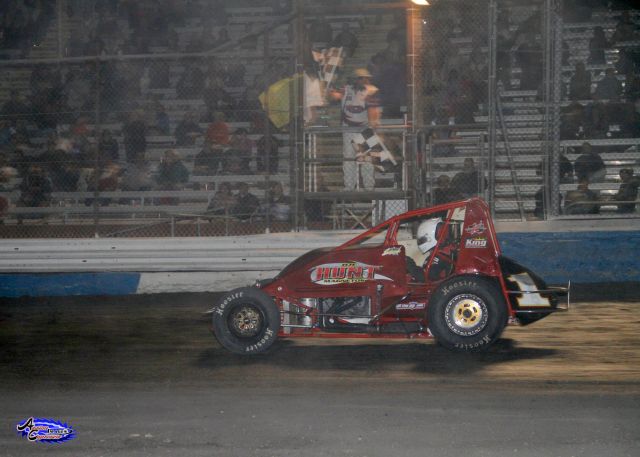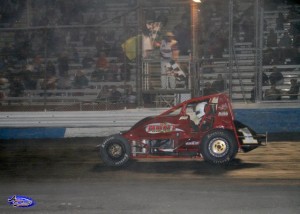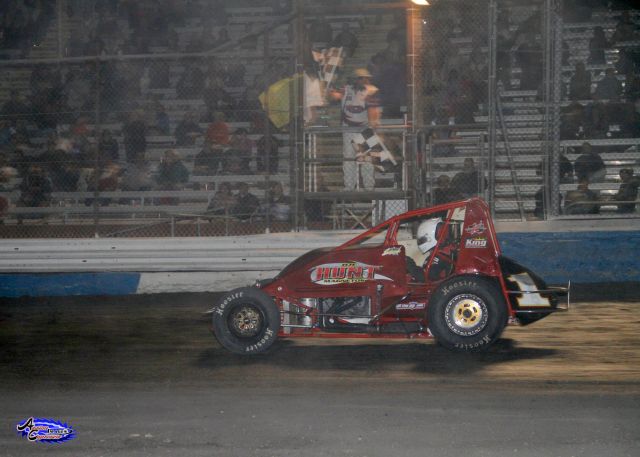 From Troy Henning
Sacramento, CA — (June 1, 2013) –- Terry Schank Jr. did what most people thought was impossible, winning the Joe Hunt Magnetos Wingless Sprint Shootout Series main event after starting in the 18th position. The win is a testament to his talented team and his aggressive driving style that Schank showcased on a slick speedway. "I didn't make any friends along the way," said Schank in a post-race interview at the track with promoter Rick Faeth. "But I am on the front stretch and they are not." Officially, 23 Joe Hunt Magnetos Wingless Sprint Shootout Series drivers entered the third race of the season. Petaluma Speedway offers a great mix of non-wing sprint cars because of their strong local following of the Pit Stop USA wingless sprint series.
Napa's hot shoe Joe Stornetta led the first couple of main event laps. On lap two, Colton Slack took advantage of a mistake by Stornetta and took the lead. A caution on lap four slowed the race. One of the drivers involved was point leader Scott Hall who was inside the top five at that point. Hall restarted deep in the field and was able to salvage a top ten finish once the race was over.
Slack began to extend his lead over the rest of the field. It was nice to see Slack showcase his driving talents as the leader. While this was happening up front, Schank began to make his charge. In fact, during one stretch, Schank passed roughly 12 cars in under six laps.
About the mid-way point of the race a caution bunched back up the field. Slack was the leader, however, Tommy LaLiberte was ready to challenge for the lead. On the restart, Slack bobbled a bit and LaLiberte took the lead. Yet, a few laps later, the right rear of LaLiberte went flat. The yellow was waived on lap 21. LaLiberte went to the pits. Schank was the new leader. It was an impressive charge to the front for the defending series champion. Whether you love him or hate him, Schank continues to be the most polarizing face in non-wing spec sprint car racing.
Slack held on to finish in the second spot. Former Silver Dollar Speedway champion Bob Newberry enjoyed a great third place finish. Anderson's Rowdy McClenon enjoyed a good point night by finishing in the fourth spot. Early leader Stornetta rounded out the top five.
Stornetta beat Nick Larsen by 0.591 seconds to win heat race one. Jason McIntosh dominated the second heat race over Zack Lynskey and Bret Barney. Scott Hall won the third heat race by nearly one full second over Rowdy McClenon.
Stornetta won the right to start on the pole position by winning the six lap dash. Slack finished a close second.
The fourth round of racing for the Joe Hunt Magnetos Wingless Sprint Shootout Series takes place at Alan Handy's Placerville Speedway on June 22nd.
Results – Petaluma – Round #3
Fast Time – Colton Slack. : 15.239
Heat 1: Joe Stornetta, Nick Larsen, Slack, Tommy LaLiberte, Terry Schank Jr.,
Heat 2: Jason McIntosh, Zack Lynskey, Bret Barney, Bradley Clark, Sparky Howard
Heat 3: Scott Hall, Rowdy McClenon, Bob Newberry, Michael Drew, Jason Toft,
Dash: Stornetta, Slack, McIntosh, Hall, Clark, Newberry
A Main: Schank Jr., Slack, Newberry, McClenon, Stornetta, Larsen, Geoff Ensign, Hall, Barney, Howard, Jerry Cisco, Scotty Dupont, Keith Shipherd, Drew, Angelique Bell, Shawn Jones, Nic McMichael, LaLiberte, Toft, Clark, Lynskey, McIntosh, Craig Smith