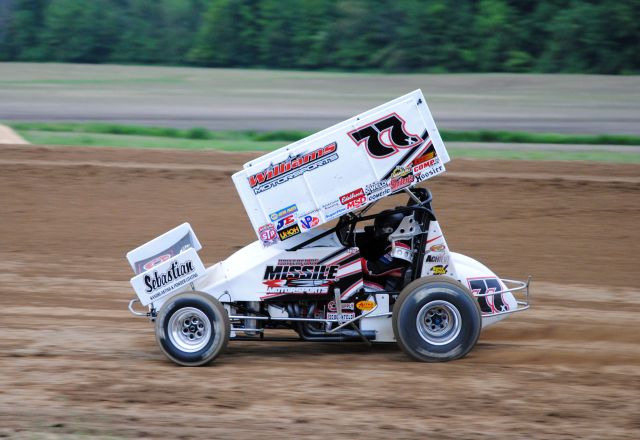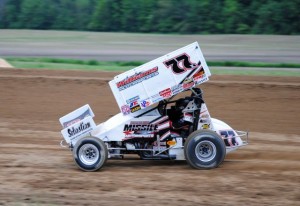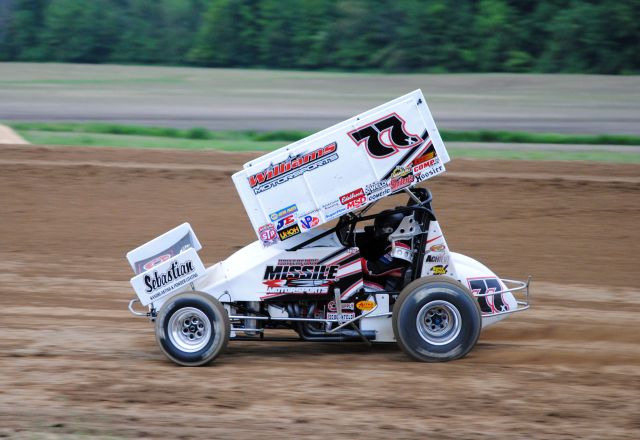 From Bill W
June 12, 2013 – The feature last week at Kokomo Speedway in Indiana with the World of Outlaws was a crazy one.  One of the entertaining drivers of the night was Wayne Johnson, who banged the turn two wall repeatedly in route to a sixth place finish.  Forty-three cars ran with the WoO at both Kokomo and 34 Raceway near West Burlington, Iowa last week.  This weekend, the WoO hits Jackson Speedway in Minnesota Friday, and two miles from Wayne's home at Knoxville Raceway in Iowa Saturday.
With a little helping hand from mechanic, Rob Hart, Wayne was 13th quick at Kokomo and won his heat race from the pole a week ago.  "We were really good in the heat race," says Wayne.  "We're getting there.  We've been racing a lot, but it just seems like we change so much every time we race.  We haven't really quite got a handle on it, but we're getting closer."
Starting tenth in the main event, Wayne would make steady progress forward to a sixth place finish.  "I don't know how many laps in a row I banged the wall," he says.  "We broke the Jacob's ladder and everything, but we kept going and we were able to get sixth."
All season, Wayne has been working to find a balance in the Wayne Johnson Racing #77x.  "It was a good finish, but I don't know how good we really were," he says.  "I'm still chasing some things with this car.  Still, it's probably as good as I've felt in the car all year.  I want to thank Rob Hart for his help there."
The WoO went on to West Burlington Friday.  After qualifying 23rd and running sixth in his heat, Wayne suffered a DNF in the B while running in a transfer spot.  "We were in a transfer there in the B, and lost a stop," he says.  "That's too bad, because Burlington is a place we've won at, and we'd like to think we're strong."
Wayne has also previously won at the Lakeside Speedway in Kansas City, Kansas.  The WoO was there on Saturday.  "We didn't qualify well (17th)," he says.  "Then the feature rubbered up and no one was going anywhere (Wayne finished 16th).  We've got some issues on the bigger tracks that we're working on.  I'm looking forward to Jackson and Knoxville this weekend."


Follow Updates on Facebook!
Wayne will update as his race night goes on at his Facebook page.  Find it by searching for Wayne Johnson Racing or clicking the following link…
http://www.facebook.com/#!/WayneJohnsonRacing


Outlaw Wings – "The Wing with an Attitude"
Check out the new "recessed rivet" design put out by Outlaw Wings.  Talk to Wayne about purchasing Outlaw Wings for your car! Outlaw Wings – "The Wing with an Attitude"!


Wayne's World                                                                       


Got a question for Wayne? Each week, Wayne will answer your questions about "Tech Tips", or anything that's on your mind. If you ever wondered what a part on a sprint car is all about, send an e-mail to us at sprntcar@iowatelecom.net, and we may answer it in this section! Put "? for Wayne" in your subject line. He'll try to keep it clean if you do!


Wayne's Fast Facts
Wayne won night #2 of the Jackson Nationals on August 15, 2008.  After a series of incidents, Wayne was up to third by lap four after starting 18th.  He eventually would get by Billy Alley to take the win.  He was followed to the checkers by Jake Peters, Alley, Gregg Bakker and Travis Whitney.
Partner of the Week – Smiley's Racing Products
Smileys Racing Products and Hoosier Tire Southwest have been in the racing business for 30 years in the Dallas, Fort Worth area. Visit Smiley's, either in Kennedale, at the showroom store in Mesquite, or at the racetracks.  All employees at Smiley's Racing Products and Hoosier Tire Southwest are directly involved with race teams either as owners, drivers, pit crew members etc.  What this means to you our customers is racing advice that has been tested on the track first, and then they pass their findings on to the customer.  >From parts and tires to complete race cars, Smiley's Racing Products and Hoosier Tire Southwest is ready to help you get to the checkered flag first. All aspects of their business can be seen at www.SmileysRacing.com.  Click on catalog and put your information in and you will be sent a catalog free of charge.


"Wednesday's with Wayne"
"Wednesday's With Wayne" is an up close look at the past, present and future of colorful and talented sprint car driver Wayne Johnson. You'll never know what to expect next with Wayne, so don't miss us on Wednesdays!
To receive "Wednesday's with Wayne", send an e-mail to sprntcar@iowatelecom.net with"Wayne" in the subject line.
Wayne Johnson Racing would like to thank Vern Rengen and Missile Motorsports, Sebastian Sandblasting & Powdercoating, Williams Motorsports, Outlaw Wings, Team Achieve, The Oil Medics, Smiley's Racing Products, Hoosier Tire Southwest, Simpson, Butlerbuilt, Super Shox, Maxim, Speedway Motors, Rod End Supply, Schoenfeld Headers, 517 Design and Canyon Apparel.