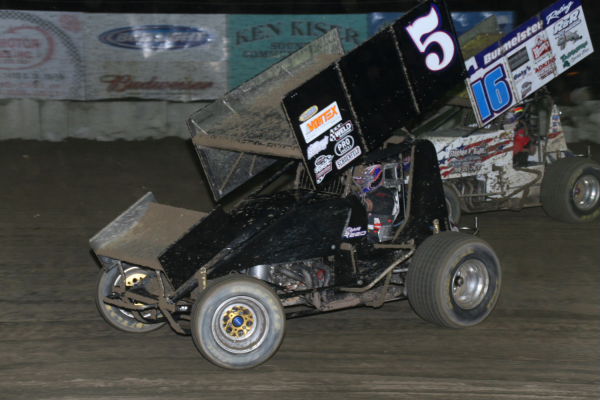 From Brian Liskai
Attica, OH — (June 14, 2013) — Byron Reed has been around sprint car racing long enough to know sometimes all you need is one good run to boost your confidence. The Monclova, Ohio driver started the year a little slow, but over the past month the team has picked up the pace and it paid off at Attica Raceway Park Friday as he took his first win of the season on Burns Electric/Ohio Logistics Mid-Season Championship Night.
Reed, a six-time Attica track champion in the O'Reilly Auto Parts 410 Sprints, dueled with Travis Philo the first half of the race before taking the lead. He then survived a late race restart and held off Craig Mintz for his 29th career win at "Ohio's Finest Racing" speedplant.
"We came into the season with a new tire package and we changed a lot of what we do. We over thought and made too many changes. We got down on ourselves and it snowballed. We went back to the basics and it's paying off. We got a lot of help from Maxim Chassis and my confidence is a lot better," said Reed beside his Crown Battery/Reebar Diecasting backed #5. "Speedweek starts next week and I'm excited. We're going to run most of the shows and I think we can get on a roll."
With double points on the line, Ontario, Ohio's Cody Scott new he had to have a good run in the Summit Racing Equipment UMP Late Models if he wants to unseat four time track champion Ryan Missler. Scott did just that, passing Missler with eight laps to go to take the lead and then held off Missler on a late race restart to claim his first ever feature win.
"Those yellows flags were terrible. I didn't know if I had enough to hold off Missler and I saw Dusty (Moore) came up so I was just hoping I could hang on," said Scott beside his Fultz Fabrications and Speed Shop/Bubba's Crap & Scrap/M.R. Trucking/Innovative Graphics backed #92. "I've had a lot of help from Keith Berner and my parents…if it weren't for them this would never have happened. This is my first real full season running. Being in high school I didn't run too much and last year we had a blown engine at the start of the season. I want to thank Bernie…he comes over all the time to help, This is awesome…a dream come true."
Bradner, Ohio's Nate Dussel is having a dream season and it continued in the Foster's Auto Body 305 Sprints as he passed Dustin Dinan on the white flag lap and went on to score his third win of the year at Attica. It is the 7th total win for Dussel in 2013 as he has four at Fremont Speedway. He now has 8 career wins at Attica.
"He (Dinan) drove a great race. I just kind of snuck up on him late and used lapped traffic. I could probably run the bottom as good as he could but I wasn't going to pass him down there. I tried in one and two but was about spinning out so I just followed him in one and two and built momentum in three and four. This is a dream season and it's because of all the hard work these guys put in to build an awesome program," said Dussel beside his Berrier Fabrications/Dussel Welding/Kylynn Manufacturing/Gressman Powersports/Conrad Transport backed #1.
Fremont, Ohio's John Ivy has five dirt trucks wins at Fremont Speedway in 2013 to go with a pair of 305 sprint wins there. Ivy added to his season win total by driving from his 12th starting spot into the lead on lap 11 and driving to his first truck win at Attica. It was the second career dirt truck win at Attica for Ivy, who is a former 305 and 410 sprint champion at the track.
"I'm glad I made it through that crash. I hit pretty hard there," said Ivy of his Diversified Machine & Welding/Sonny's Machine Shop/Level Performance backed #00. "This thing has been good all year and a lot of fun. I went forward in both the 305 and truck tonight…that's all I can ask for."
Brian Smith and Travis Phil would bring the 410 sprint field to the green for the 30 laps feature with Philo blasting to the lead while fourth starter Reed would slide into second with Smith, D.J. Foos, Caleb Griffith and Stuart Brubaker in tow. Foos would take third on lap three as Reed closed on Philo. With six laps in, Foos moved in to challenge the top two while Griffith ran third followed by Smith and 10th starter Craig Mintz.
As they raced to the line to complete the 7th circuit, Foos tried to make it a three car battle for the lead but his car hooked up tight and he tumbled exiting turn four. On the ensuing restart Chris Andrews would get upside down. When the green reappeared, Philo slammed the door on Reed's repeated attempts to take the lead before the caution flew on lap 10 for debris. On the restart Reed once again hounded Philo with Griffith locked in a tight battle with Mintz for third while Smith gave chase. Philo and Reed would race side by side from lap 10 through lap 18 as Mintz closed to make it a three car battle.
Reed would drive under Phil for the lead on lap 18 with Mintz taking second a lap later. When Reed caught the rear of the field with 10 laps to go, Mintz quickly closed as Phil rebounded to challenge. As they raced through lapped traffic, Griffith and 15th starter Brandon Martin would join the fun at the front. The caution would fly for Brandon Wimmer on lap 23 and when the green came back out Mintz drove back around Philo for second and closed quickly on Reed.
As the laps ticked off Reed would regain his momentum and pulled away for the win over Mintz, Griffith, Philo and Martin.
Tim Sabo and John Mayes Jr. would lead the late model field to the green for their 25 laps feature with Sabo gaining the advantage over Dave Hornikel, Ryan Missler, Ken Hahn and Mayes. Missler would take second on lap three just as the caution flew for a tangle involving Matt Irey and Jeff McCoy. On the restart Missler would drive around Sabo for the lead while Hahn moved into third with Scott, who started seventh, taking fourth.
The caution would fly again on lap five for Ryan Eddleblute with the running order Missler, Sabo, Scott, Hahn and Devin Shiels. When the green flew, Missler pulled away from a terrific battle for second between Sabo, Scot and Hahn. With 10 laps in, the car on the move was Mike Bores who started 17th and had moved into fifth. Meanwhile Missler had built a five second lead as Scott took second on lap 12. A caution for debris on lap 13 wiped out Missler's huge advantage. On the restart Scott immediately pressured Missler for the lead as the two raced side by side until another caution debris on lap 17.
On the ensuing restart Scott would drive under Missler to take the lead with Sabo and a charging Dusty Moore in pursuit. Missler kept driving to Scott's outside, but the second generation driver would not lose his cool and stayed glued to the bottom groove. When Chris Keller drove off the track on lap 21 to bring out the caution, Missler had one more shot at Scott. When the green waved Scott didn't panic when Missler blasted to his outside. Meanwhile Irey, who was involved in the early race skirmish, had worked his way to fourth and would take third on lap 23.
Scott would drive to the win over Missler, Irey, Moore and Bores.
Two-time feature winner Dustin Dinan and Jimmy Colvin brought the 305 sprints to the green for their 25-lap feature with Dinan using the low groove to power into the lead. Fourth starter Bobby Clark would blast into second with sixth starter Dussel grabbing third over Colvin, T.J. Michael and Ivy. Dussel would take second on lap three while Clark and Ivy battled for third. Ivy would take third on lap five.
As Dinan began to close in on the rear of the field, Dussel quickly narrowed the gap with Ivy also making up ground. Dinan raced into traffic on lap 11 and Dussel was there to challenge for the lead. Dan Hammond would spin on lap 12 to give Dinan a clear track. On the restart Hammond would spin again. When the green reappeared, Dinan pulled away from Dussel with Ivy, Clark, Michael, Colvin and Seth Schneider in pursuit. Ivy would pressure Dussel for second as they tried to stay close to Dinan.
With five laps to go, Dinan was closing in on lapped traffic and again his lead would evaporate as Dussel and Ivy closed. Dinan and Dussel raced side by side over the next couple of laps and as they exited turn four with the white flag in the air, Dussel drove to the lead.
Dussel would take the win over Dinan, Ivy, Michael and Clark.
Brian Sorg and Art Ball paced the Bob's Machine Shop/BMS Engines Dirt Trucks for their 15 lap feature. Sorg would grab the lead over Ball as Tony Siferd, Dwight Waltermeier gave chase. The caution flew on lap two for a Siferd and Andy Keegan dust up. On the restart Dustin Keegan would drive into second and closed on Sorg as the caution flew on lap four for Jeff Warnick. When the green reappeared Keegan bolted to Sorg's outside to grab the lead. Meanwhile Ivy had worked his way from 12th to sixth.
When the green came back out Keegan lead Sorg as Ivy blasted into third over Ball, Daniel Roepke and Waltermeier. Ivy drove into second on lap eight and quickly closed on Keegan. Ivy would take the lead with a low move on lap 11 as Keegan had his hands full with Roepke.
Ivy would drive away fro the win over Keegan, Roepke, Sorg and Ball.
Attica Raceway Park will be in action Friday, June 21 to kick off the 31st Ohio Sprint Speedweek with the UNOH All Star Circuit of Champions.
For more information go to www.atticaracewaypark.com
Attica Raceway Park – 6/14/2013
Burns Electric \ Ohio Logistics Night
O'Reilly Auto Parts 410 Sprints (25 Cars)
[#]-Starting Position
Heat 1 – Nitro Black Performance by Engine Pro (8 Laps – Top 5 finishers transfer to the A-feature)
1. 40DD-Caleb Griffith[1] ; 2. 5T-Travis Philo[2] ; 3. 2+-Brian Smith[3] ; 4. 35-Stuart Brubaker[6] ; 5. 9Z-Duane Zablocki[8] ; 6. 9-Dean Jacobs[7] ; 7. 46AU-Stuart Williams[9] ; 8. 312-Mike Linder[5] ; 9. 97X-Rodney Hurst[4]
Heat 2 – Summit Racing Equipment (8 Laps – Top 5 finishers transfer to the A-feature)
1. 24H-Bryan Sebetto[4] ; 2. 39M-Matt Merrill[1] ; 3. 60-Jody Keegan[2] ; 4. 33M-Sheldon Haudenschild[3] ; 5. 9X-Rob Chaney[8] ; 6. 16-Chris Andrews[5] ; 7. 55-Brad Bowman[7] ; 8. 9W-Brandon Wimmer[6]
Heat 3 – Ultra Shield Race Products (8 Laps – Top 5 finishers transfer to the A-feature)
1. O9-Craig Mintz[2] ; 2. 5R-Byron Reed[3] ; 3. 2M-Dallas Hewitt[1] ; 4. 53-DJ Foos[5] ; 5. 11X-Brandon Martin[8] ; 6. 45L-Brian Lay[6] ; 7. 22T-Miranda Throckmorton[7] ; 8. 98-Robert Robenalt[4]
B-Main – Computer Man Inc. (12 Laps – Top 5 finishers transfer to the A-feature)
1. 16-Chris Andrews[2] ; 2. 45L-Brian Lay[3] ; 3. 46AU-Stuart Williams[4] ; 4. 9-Dean Jacobs[1] ; 5. 9W-Brandon Wimmer[8] ; 6. 55-Brad Bowman[5] ; 7. 312-Mike Linder[7] ; 8. 22T-Miranda Throckmorton[6] ; 9. 97X-Rodney Hurst[10] ; 10. 98-Robert Robenalt[9]
A-Main –  (30 Laps)
1. 5R-Byron Reed[4]; 2. O9-Craig Mintz[10]; 3. 40DD-Caleb Griffith[6]; 4. 5T-Travis Philo[2]; 5. 11X-Brandon Martin[15]; 6. 9X-Rob Chaney[14]; 7. 35-Stuart Brubaker[5]; 8. 9-Dean Jacobs[19]; 9. 46AU-Stuart Williams[18]; 10. 2+-Brian Smith[1]; 11. 60-Jody Keegan[12]; 12. 24H-Bryan Sebetto[9]; 13. 9Z-Duane Zablocki[13]; 14. 39M-Matt Merrill[8]; 15. 9W-Brandon Wimmer[20]; 16. 45L-Brian Lay[17]; 17. 2M-Dallas Hewitt[7]; 18. 33M-Sheldon Haudenschild[11]; 19. 16-Chris Andrews[16]; 20. 53-DJ Foos[3]
Hard Charger: 9-Dean Jacobs[+11]
Summit Racing Equipment Late Models (24 Cars)
[#]-Starting Position
Heat 1 – Nitro Black Performance by Engine Pro (8 Laps – Top 5 finishers transfer to the A-feature)
1. 69-John Mayes Jr.[3] ; 2. 98-Tim Sabo[6] ; 3. 75-Dusty Moore[1] ; 4. 48-John Bores[7] ; 5. 25-Ryan Eddleblute[2] ; 6. 77-Coby Bartram[4] ; 7. 5J-Josh Haynes[5] ; 8. 99-Steve Sabo[8]
Heat 2 – Summit Racing Equipment (8 Laps – Top 5 finishers transfer to the A-feature)
1. 92-Cody Scott[4] ; 2. 50Y-Ryan Missler[6] ; 3. 36-Matt Irey[5] ; 4. 21-Larry Kingseed[2] ; 5. 40-Wayne Maffett Jr.[7] ; 6. O1-Brandon Perkins[8] ; 7. OO-Chris Keller[3] ; 8. 15B-Mike Bores[1]
Heat 3 – Ultra Shield Race Products (8 Laps – Top 5 finishers transfer to the A-feature)
1. 71-Dave Hornikel[1] ; 2. 51-Devin Shiels[8] ; 3. 27-Ken Hahn[7] ; 4. O2-Jeff McCoy[2] ; 5. 30-Nate Potts[3] ; 6. 2D-Curtis Deisenroth[6] ; 7. O3-Jim Gingery[5] ; 8. 34-Ky Harper[4]
B-Main – Computer Man Inc. (10 Laps – Top 5 finishers transfer to the A-feature)
1. OO-Chris Keller[5] ; 2. 15B-Mike Bores[8] ; 3. 2D-Curtis Deisenroth[3] ; 4. O1-Brandon Perkins[2] ; 5. 34-Ky Harper[9] ; 6. 5J-Josh Haynes[4] ; 7. O3-Jim Gingery[6] ; 8. 77-Coby Bartram[1] ; 9. 99-Steve Sabo[7]
A-Main –  (25 Laps)
1. 92-Cody Scott[7]; 2. 50Y-Ryan Missler[4]; 3. 36-Matt Irey[12]; 4. 75-Dusty Moore[10]; 5. 15B-Mike Bores[17]; 6. 69-John Mayes Jr.[2]; 7. 98-Tim Sabo[1]; 8. 51-Devin Shiels[9]; 9. 21-Larry Kingseed[11]; 10. 30-Nate Potts[15]; 11. O1-Brandon Perkins[19]; 12. 48-John Bores[6]; 13. 25-Ryan Eddleblute[13]; 14. OO-Chris Keller[16]; 15. 40-Wayne Maffett Jr.[14]; 16. 27-Ken Hahn[3]; 17. 71-Dave Hornikel[5]; 18. 2D-Curtis Deisenroth[18]; 19. 34-Ky Harper[20]; 20. O2-Jeff McCoy[8]
Hard Charger: 15B-Mike Bores[+12]
Foster Auto Body 305 Sprints (17 Cars)
[#]-Starting Position
Heat 1 – Nitro Black Performance by Engine Pro (8 Laps – Top 10 finishers transfer to the A-feature)
1. 8I-John Ivy[2] ; 2. 5R-Jordan Ryan[1] ; 3. 1-Nate Dussel[6] ; 4. 4X-Bobby Clark[9] ; 5. 36-Seth Schneider[3] ; 6. 9-Jimmy Colvin[8] ; 7. 68G-Tyler Gunn[7] ; 8. 2-Ricky Peterson[4] ; 9. 13D-Jeremy Duposki[5]
Heat 2 – Summit Racing Equipment (8 Laps – Top 10 finishers transfer to the A-feature)
1. 6-Dustin Dinan[2] ; 2. 19R-Steve Rando[3] ; 3. 8J-Jess Stiger[1] ; 4. 25-Jason Keckler[7] ; 5. 22D-Dan Hammond[5] ; 6. 8M-T.J Michael[4] ; 7. 1J-Jeremy Shambaugh[6] ; 8. 83X-Nate Reeser[8]
A-Main –  (25 Laps)
1. 1-Nate Dussel[6]; 2. 6-Dustin Dinan[1]; 3. 8I-John Ivy[8]; 4. 8M-T.J Michael[3]; 5. 4X-Bobby Clark[4]; 6. 36-Seth Schneider[11]; 7. 19R-Steve Rando[9]; 8. 5R-Jordan Ryan[12]; 9. 68G-Tyler Gunn[13]; 10. 25-Jason Keckler[7]; 11. 9-Jimmy Colvin[2]; 12. 8J-Jess Stiger[10]; 13. 13D-Jeremy Duposki[17]; 14. 2-Ricky Peterson[15]; 15. 22D-Dan Hammond[5]; 16. 1J-Jeremy Shambaugh[14]
Hard Charger: 1-Nate Dussel[+5]
Bob Machine Shop Dirt Trucks (17 Trucks)
[#]-Starting Position
Heat 1 – Nitro Black Performance by Engine Pro (8 Laps – Top 10 finishers transfer to the A-feature)
1. D1-Dustin Keegan[8] ; 2. 88-Dan Roepke Jr.[2] ; 3. 2-Brain Sorg[9] ; 4. O1-Art Ball[5] ; 5. 8KB-Kent Brewer[7] ; 6. 25S-Tony Siferd[4] ; 7. P51-Willie Keegan[1] ; 8. 69-Jeff Warnick[3] ; 9. 33C-Kyle Cline[6]
Heat 2 – Summit Racing Equipment (8 Laps – Top 10 finishers transfer to the A-feature)
1. O-Andy Keegan[1] ; 2. OO-John Ivy[5] ; 3. 33-Brian Arnold[3] ; 4. 7-Dana Frey[4] ; 5. 39-Dwight Waltermier[2] ; 6. 37-Eric Devanna[8] ; 7. 95-Keith Sorg[6] ; 8. 9-Curt Inks[7]
A-Main –  (15 Laps)
1. OO-John Ivy[12]; 2. D1-Dustin Keegan[5]; 3. 88-Dan Roepke Jr.[10]; 4. 2-Brain Sorg[1]; 5. O1-Art Ball[2]; 6. 39-Dwight Waltermier[3]; 7. 8KB-Kent Brewer[8]; 8. 33C-Kyle Cline[17]; 9. 7-Dana Frey[6]; 10. 33-Brian Arnold[9]; 11. 37-Eric Devanna[7]; 12. 9-Curt Inks[16]; 13. 95-Keith Sorg[14]; 14. 69-Jeff Warnick[15]; 15. 25S-Tony Siferd[4]; 16. O-Andy Keegan[11]; 17. P51-Willie Keegan[13]
Hard Charger: OO-John Ivy[+11]