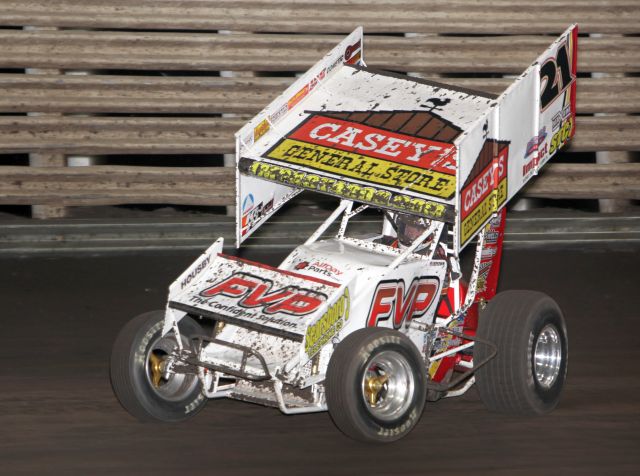 From JSTS
Jackson, MN — (June 26, 2013) — After being postponed from mid-April, the Sixth Annual Fokkens Brothers Trucking Spring Sprint Nationals for sprint cars was run Wednesday night at the Jackson Speedway.
A field of 33 360 cubic inch winged sprints and six 305 cubic-inch winged sprints turned out on a sunny Summer evening.
Defending champion Brian Brown returned to the historic half-mile facility on the Jackson County Fairgrounds to battle for the feature winner's $7.500 check, along with four-time Jackson Speedway Touring Series Champion Gregg Bakker and the 2012 JSTS Series Champion, Skyler Prochaska. Winning the JSTS heats were Terry McCarl, Brian Brown, Randy Rosenboom and Dusty Zomer. Winning the JSTS Dash was Brian Brown, while Scott Winters earned the JSTS "B' Feature win.
However, Brown would successfully defend his title by capturing the 25-lap JSTS Feature event to cap off the evening. And, the Hard Luck Award, presented by the Minnesota Mafia, went to Derrik Lusk after he flipped in the JSTS Dash and flipped a second time in the Feature event. The Hard Charger Award went to Scott Winters as he started 21st in the "A" Feature and finished in seventh place.
Bill Boles dominated the 305 action on the night, capturing the heat race and the feature victory.
Action resumes this Saturday night, June 29, for Jackson's Town and Country Days celebration and will feature a fireworks display at the conclusion of the night's racing action at the Speedway.
305 Sprint Feature – 10 – Laps
05 – Bill Boles, Harris, IA
12X – Nick Johanson, Tyler, MN
93 – Kalob Johnson, Sioux Falls, SD
612J – Jeff Schreurs, Sioux Falls, SD
33X – Trevor Smith, Sheldon, IA (DNF)
11A – Bruce Anderson, Trimont, MN (DNS)
305 Sprint Heat – 8 laps
05 – Boles
12x – Johanson
33x – Smith
612J – Schreurs
11A – Anderson (DNF)
93 – Johnson (DNF)
Jackson Speedway Touring Series – Feature – 25 laps
21 – Brian Brown, Grain Valley, MO
77X – Wayne Johnson, Knoxville, IA
24 – Terry McCarl, Altoona, IA
91 – Dusty Zomer, Sioux Falls, SD
82 – Jason Solwold, Mt. Vernon, WA
41 – Jason Johnson, Rock Mount, MO
23W – Scott Winters, Butterfield, MN
09 – Matt Juhl, Estherville, IA
20G – Chris Graf, Glencoe, MN
1B – Robby Wolfgang, Sioux Falls, SD
05 – Bill Boles, Harris, IA
20K – Thomas Kennedy, Winnipeg, Manitoba, Canada
75C – Casey Heser, Jackson, MN
17W – Cole Wood, Auburn, CA
2D – Dusty Ballenger,Sioux Falls, SD
11x – Gregg Bakker, Sioux Falls, SD
29 – Nate Eakin, Lake Park, IA
35AU – Jamie Veal, Warrnabol, Victoria, AU
17B – Ryan Bickett, Ramona, SD (DNF)
22AU – Chad Ely, Warrnabol, Victoria, AU (DNF)
14R – Jody Rosenboom, Rock Rapids, IA (DNF)
35 – Skyler Prochaska, Lakefield, MN (DNF)
93 – Derrik Lusk, Jackson, MN (DNF)
10 – Justin Jacobsma, Hull, IA (DNF)
JSTS Sprints B Feature – 10 laps
23W – Winters
1B – Wolfgang
35AU – Veal
20G – Graf
53 – Dover
13MJH – Halverson
21K – L.Kennedy
25 – Peterson
4W – Wasmund
75 – Barber
23 – Bosma
13JM – Martens
64 – Gunderson
JSTS DASH – 8 Laps
21 – Brown
91 – Zomer
05 – Boles
41 – J. Johnson
24 – McCarl
77x – W. Johnson
82 – Solwold
17B – Bickett
14R – Rosenboom (DNF)
93 – Lusk (DNF)
JSTS Sprints Heat 1 – 8 laps
24 – McCarl
82 – Solwold
22AU – Ely
05 – Boles
1B – Wolfgang
11X – Bakker
23 – Bosma
4W – Wasmund
53 – Dover (DQ)
JSTS Sprints Heat 2 – 8 laps
21 – Brown
77X – W. Johnson
41 – J. Johnson
10 – Jacobsma
35 – Prochaska
23W – Winters
20G – Graf
25 – Peterson
JSTS Sprints Heat 3 – 8 laps
14R – Rosenboom
93 – Lusk
20K – T. Kennedy
75C – Heser
29 – Eakin
75 – Barber
13MJH – Halverson
64 – Gunderson
JSTS Sprints Heat 4 – 8 laps
91 – Zomer
17B – Bickett
17W – Wood
09 – Juhl
2D – Ballenger
35AU – Veal
21K – L. Kennedy
13JM – Martens