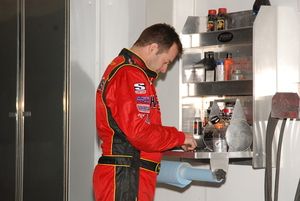 From Dick Jordan
Tracy Hines of New Castle, Ind. is the winningest active driver in USAC history. Saturday he tries to boost his all-time USAC National victory total which already has reached 85 and ranks fourth on the all-time list.
He'll compete in both ends of Saturday's "Rocky Mountain Classic" at Pikes Peak International Classic" at Fountain, Colo. In 1999 he won the Silver Crown race at PPIR and he was fifth in the last Midget race at PPIR in 2005.
He currently ranks fourth in the Honda National Midget series and seventh in the TRAXXAS USAC Silver Crown points. Saturday's events conclude with a 25-lap Midget and 100-mile Silver Crown race.
Tracy has 32 career Midget wins and eight wins in the Silver Crown cars. He was the 2000 Silver Crown Champion and has five runner-up point finishes in the Midgets. This year he has a pair of USAC Sprint car wins, a third in the Silver Crown opener in Indianapolis and a pair of thirds in the Midgets.
Hines will pilot the Mark Lightfoot Beast/Stanton Mopar in the Silver Crown race and the Bob Parker Spike/Stanton Toyota in the Midgets.
He is one of five entered drivers who have competed in both series at PPIR and one of five expected to compete in both Saturday.
Tracy's last USAC Midget victory came last October at Pontoon Beach, Ill. while his last Silver Crown win came at Indianapolis, Ind. in 2010.
A media day is set for Friday, June 28, with the racing action unfolding on the one-mile oval on Saturday. Friday night will see USAC drivers and fans mingling in a festive "Fan Fest" atmosphere from 5-10 pm in downtown Colorado Springs.