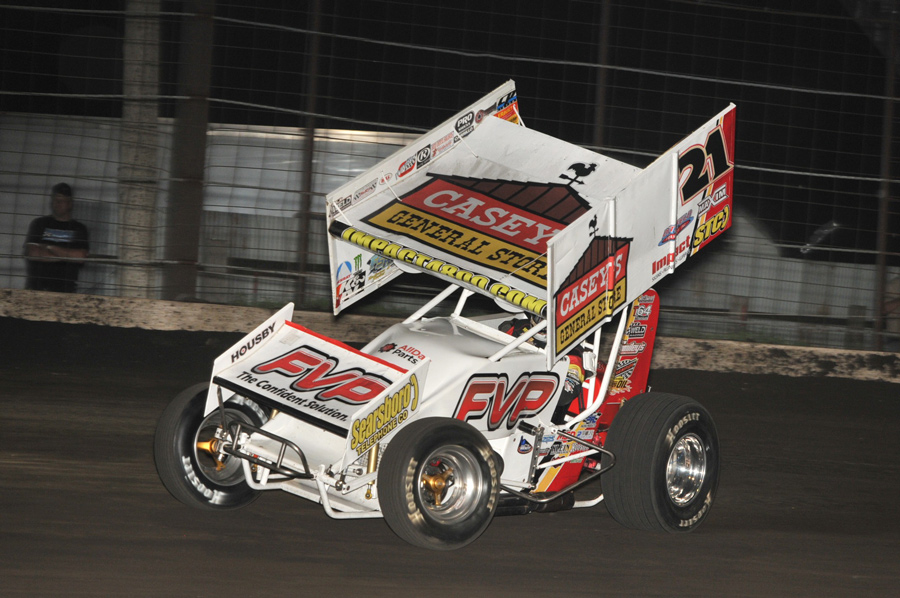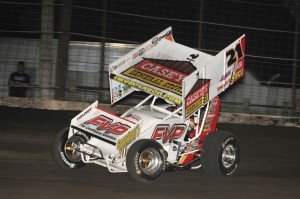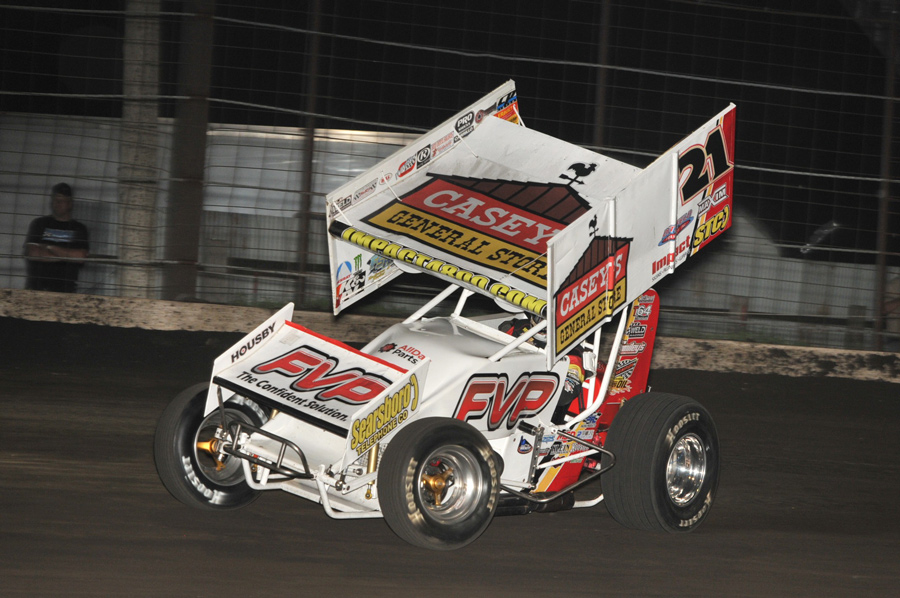 From Bill W
July 1, 2013 – Following his win at the Folkens Brothers Trucking Jackson Spring Nationals that earned them $7,500, Brian Brown and the Casey's General Stores/FVP #21 team found themselves competing with the World of Outlaws over the weekend.  Though the results weren't what they planned, they are looking forward to giving it another go with the WoO Wednesday night at the Huset's Speedway near Brandon, South Dakota.  Saturday, the team will return to Knoxville Raceway for Twin Features night, paying a full purse on both ends.
The team started the weekend Friday night at Beaver Dam Raceway in Wisconsin.
Qualifying is the most important thing with the Outlaws to get going.  We missed the heat invert there (qualifying 17th), and we had our work cut out for us.
You got through the heat with a fifth place finish.  Then you dropped out early in the feature.
The car was a little tight all night long.  In the feature, we had an issue with a power steering pump.  KSE builds the best steering pump there is, we just had an issue with one acting up a little bit.  It's the first time we've had an issue like that in six or seven years.
It sounded like there was some carnage in the feature.
A DNF was definitely not what we wanted.  But it could have been a lot worse had we crashed or something.
You barely missed the heat invert again Sunday night at Cedar Lake Speedway.
I think we missed it by about three-hundreths of a second.  That's how much it can make or break your night.
You were able to drive to a fifth place finish in the heat.
We were really tight in the heat.  Chad, Travis and Treagan worked hard all night long to try to get the car better.
Again, it seemed there was crashing all over the place.  You had to feel good coming across 13th. 
We were definitely better than what we finished.  I felt at times, we were challenging for a solid top ten.  We would pass a couple cars and then a caution would come out.  It was kind of a war zone out there with cars going everywhere…crashing and spinning and tearing things up.
How are you feeling about your short track program?
We definitely weren't where we need to be, but we're headed in the right direction.  We really don't have a lot of laps on these small bullrings with these tires.  We need to keep working at it, and if we do, we'll get it figured out.
Is that why you're going to Huset's?  It wasn't on your schedule before.
That's why we're going to Huset's Wednesday.  It really wasn't on our schedule to start the year, but we need to learn, and you can't do that in the shop.  We haven't been up there in a while and there are so many great fans up there that we'll get to see.  I'm excited about that.
It's been a couple of weeks since you've been at Knoxville.
Twin Features at Knoxville is one of the coolest nights of the year for us.  We haven't been able to run it for a couple of years.  I'd like to thank the Knoxville staff for making it a full purse in both features.  It will be a good tune-up for us.
Follow Brian on the Web, Twitter and Facebook!
Follow Brian at his website located at www.BrianBrownRacing.com!
Also keep up with FVP, Casey's and Brian on Facebook and Twitter at the following links…
Twitter Links – @BrianBrown21, @FVPRacing, @CaseysGenStores
Facebook Links
Brian Brown Racing – www.facebook.com/pages/Brian-Brown-Racing/200630163294222
Casey's General Stores – www.facebook.com/pages/Caseys-General-Stores/112073528804354
FVP Racing –  http://www.facebook.com/FVPRacing?ref=ts&fref=ts
Other Web site info
Casey's: www.caseys.com
FVP: www.fvpparts.com