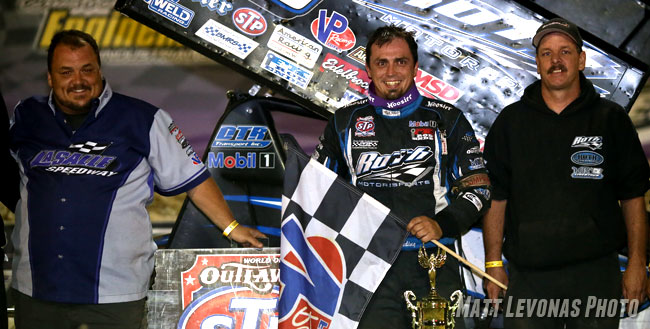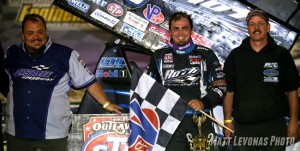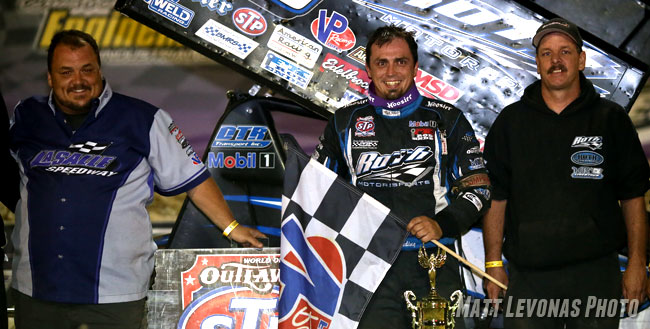 From Peterson Media
Tim Kaeding continued to show why he is one of the best racers in the world, as he raced his way to his sixth World of Outlaw wins of the season Friday night at the LaSalle Speedway in LaSalle, IL before scoring a third place finish at Beaver Dam on Saturday, and closed his weekend out with a rough crash on Sunday.
"We had a great Friday and Saturday, but unfortunately we had a bad night overall on Sunday, and took a pretty hard crash," Kaeding said.
With 32 cars on hand, Kaeding timed in 11th quickest, putting him on the front row of his heat, which he won, and earned a spot in the Dash.
Starting on the pole of the Dash, the San Jose, CA pilot hit the throttle, and motored away to the win, and put his Roth Enterprises/HR Livestock Transportation/3H Cattle backed machine on the front row for the 40-lap feature.
Getting the jump on James McFadden, Kaeding held an early advantage, as he soon as his hands full with fellow California native, Paul McMahan.
Running the top of the speedway in TK fashion, Kaeding then felt pressure from Donny Schatz who worked the bottom of the speedway, but Kaeding was too good on this night, as he led all 40-laps, and picked up his sixth series win of the season, and seventh overall.
"To beat Donny at any race track is a feat," he said. "We are pretty good on the bullring stuff right now, and I can't thank Rob, Jon, and Brandon for working hard al night."
Heading to the Beaver Dam Raceway on Saturday night, Kaeding timed in sixth quickest, before a third place finish in heat race action put him in the 11th spot on the feature event grid.
True to form, TK shot up to the cushion, and put on quite the show, as he gained 11-spots through the 40-lap feature, and pocketed a third place finish.
"We had a good car in the feature, and I could really run both the top or the bottom, and that is always a good thing, but my motto has always been 'live and die by the high-side', and that's how it went tonight."
Sunday night at the Cedar Lake Speedway, TK learned how the other side lived.
Timing in 20th quickest, TK was involved in a big wreck during heat race action, and his night was over, as he had extensive damage to his car.
"Aside from Sunday, we had a really good weekend, and hopefully we are making Dennis and Teresa Roth proud back home. We will get to work, and get ready for Huset's on Wednesday night."
Tim and his Roth Motorsports team would like to thank Roth Enterprises, HR Livestock Transportation, 3H Cattle,  Mobil1, FK Rod Ends, Weld Wheels, Brown and Miller Racing Solutions, Kent Performance, Kaeding Performance, and Astro Titanium for their support in 2013.
2013 ROTH MOTORSPORTS BY THE NUMBERS: Starts-34, Wins-7, Top 5's-18, Top 10's-24.
ON TAP: TK and his Roth Motorsports team will be at the Huset's Speedway on Wednesday night, before heading to Dodge City, KS for a weekend double header.
STAY CONNECTED: Stay connected with Roth Motorsports by checking out their new website, www.rothmotorsports83.com. You can also follow Tim on Twitter by following @tkaedingracing.