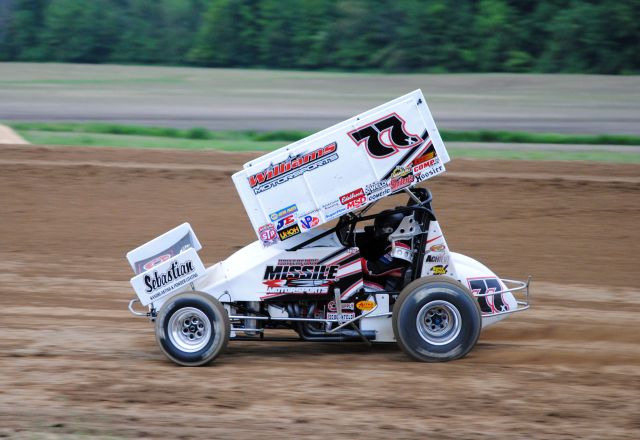 By Bill W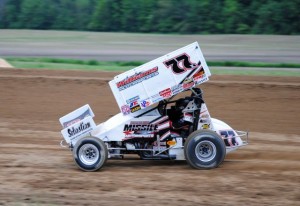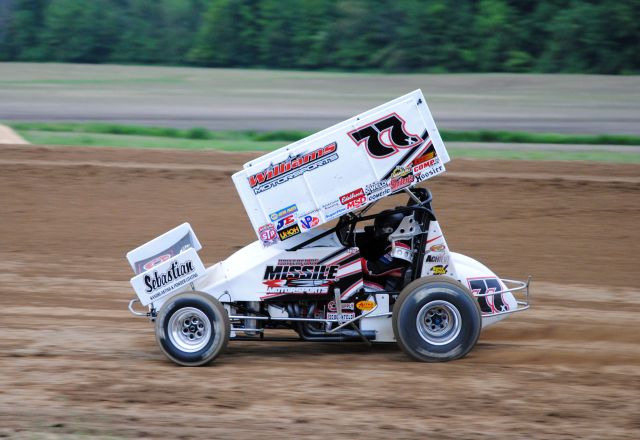 July 3, 2013 – The Wayne Johnson Racing #77x will be heading to Huset's Speedway tonight and Dodge City Raceway Park over the weekend to compete with the World of Outlaws.  But last weekend, he spent plenty of laps dodging the Outlaws themselves.  He also got events in at the Jackson Speedway Folken Brothers Trucking Spring Nationals, where he finished second, and at Knoxville Raceway.
Things started a week ago at Jackson.  Wayne drove to a second place finish in his heat behind Brian Brown from row two.  "I thought we were a little better than Brown there in the heat," he says.  "He had the open track ahead of him, but we were fast."
The finish qualified Wayne for the Dash, where he finished sixth.  That's where he would start in the main event.  "We got a crappy start, and backed it up to eighth or ninth," he says.  "At one point, I about knocked the fence down.  Finally, the driver got his head out.  At the end there, I really thought if we had a caution, we may have had something for Brown."
The run from sixth to second came on a racy track.  "The track was a lot better than the Outlaw show, because you could run the top or the bottom," says Wayne.  "The top of two wasn't good as usual, but overall the track was in great shape."
Friday was spent with the Outlaws at LaSalle Speedway.  After qualifying outside of the heat invert (18th), Wayne won the B main.  "Looking back through our times in the B, they were better than most of the Dash cars," he says.  "The car felt really good."
Unfortunately, another competitor ran over him in the feature coming out of turn four.  The car was destroyed in a hard tumble that left the veteran sore.  "The people in the stands could see what happened in the feature," says Wayne.  "At LaSalle and Cedar Lake…these guys are driving like idiots to be honest."
It was back to Knoxville on Saturday.  Wayne would run in the top five for much of the 410 feature before checkering seventh.  "We're still not 100% on the bigger tracks, but we're getting there," he says.  "We're learning every time out now.  The driver is improving too.  I got too free on the bottom towards the end of the race.  I should have moved to the top.  It looked like on video, the top was better."
At Cedar Lake Speedway on Sunday night, Wayne timed in third with the WoO.  A sixth place finish in the Dash started him outside row three in the feature.  "The car felt a lot tighter than what I'm used to, but we qualified third, so we kept going with it," he says.  "The heat and the Dash went fine.  We were running in the top ten, when the car crossed the infield on the (double-file) restart and slid in front of us.  I about had to stop on that one."
The incident shuffled him back towards the rear of the lead lap.  He would checker 17th.  "Some of these guys can afford to be wild darts out there, because they can just go back and build another car…sometimes in the work area," says Wayne.  "Our team doesn't have that luxury."
Follow Updates on Facebook!
Wayne will update as his race night goes on at his Facebook page.  Find it by searching for Wayne Johnson Racing or clicking the following link…
http://www.facebook.com/#!/WayneJohnsonRacing
Outlaw Wings – "The Wing with an Attitude"
Check out the new "recessed rivet" design put out by Outlaw Wings.  Talk to Wayne about purchasing Outlaw Wings for your car! Outlaw Wings – "The Wing with an Attitude"!
Wayne's World                                                       
Got a question for Wayne? Each week, Wayne will answer your questions about "Tech Tips", or anything that's on your mind. If you ever wondered what a part on a sprint car is all about, send an e-mail to us at sprntcar@iowatelecom.net, and we may answer it in this section! Put "? for Wayne" in your subject line. He'll try to keep it clean if you do!
Wayne's Fast Facts
Wayne's 2007 statistics show 66 races run, 64 features made, 11 (17%) wins, 45 (70%) top fives, and 54 (84%) top tens.  In 410 competition, there were 16 features, 2 wins, 9 top fives, and 12 top tens.  With the 360s, he competed in 46 features, had 9 wins, 36 top fives and 41 top tens.  His other two features came in Chili Bowl midget competition where he ran sixth in his prelim and surged from the B to 20th in the A in the finale.
Partner of the Week – Simpson Performance Products
Simpson Performance Products is headquartered in New Braunfels, TX with more than 80,000 sq. feet of manufacturing and warehouse space.  Many of our restraints, helmets and flagship parachutes are manufactured and tested right here. Simpson fire suits and crew uniforms are manufactured outside of Los Angeles, CA in our 52,000 sq. foot facility. Simpson also employs the largest customer service and sales team devoted solely to servicing NASCAR customers of any racing safety supplier, based in the heart of NASCAR country, Mooresville, NC.  Visit us online at www.TeamSimpson.com!
"Wednesday's with Wayne"
"Wednesday's With Wayne" is an up close look at the past, present and future of colorful and talented sprint car driver Wayne Johnson. You'll never know what to expect next with Wayne, so don't miss us on Wednesdays!
To receive "Wednesday's with Wayne", send an e-mail to sprntcar@hotmail.com with"Wayne" in the subject line.
Wayne Johnson Racing would like to thank Vern Rengen and Missile Motorsports, Sebastian Sandblasting & Powdercoating, Williams Motorsports, Outlaw Wings, Team Achieve, The Oil Medics, Smiley's Racing Products, Hoosier Tire Southwest, Simpson, Butlerbuilt, Maxim, Speedway Motors, Rod End Supply, Schoenfeld Headers, 517 Design and Canyon Apparel.