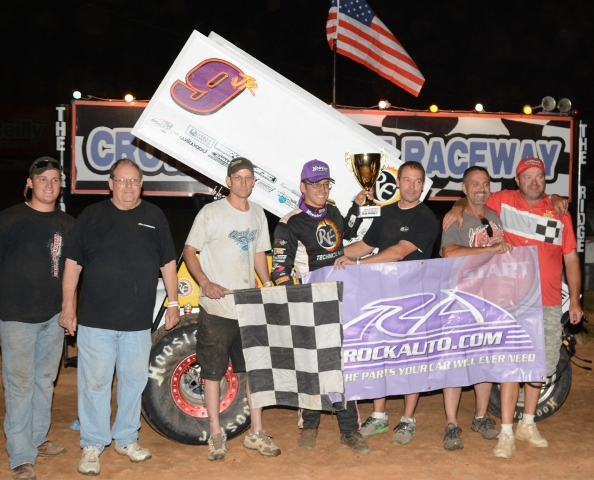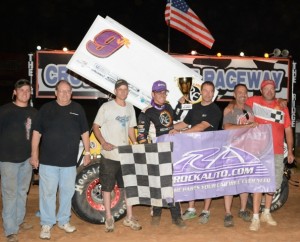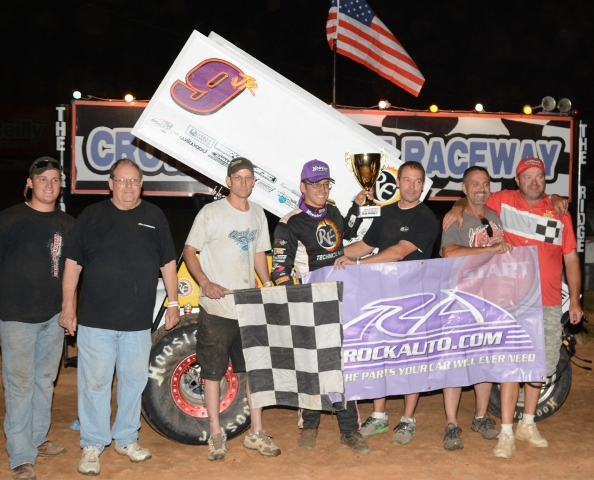 From Pete Walton
Paragould, AR — (July 3, 2013) — Derek Hagar from Marion, Arkansas charged past young gun Brad Bowden from Hernando, Mississippi on lap twenty-one of the twenty-five lap United sprint Car Series Outlaw Thunder Tour ""Glen Francis Memorial Cup race and into the www.rockauto.com USCS victory lane at Crowley's Ridge Raceway on Wednesday night. Hagar claimed the $2000 first prize and the beautiful Glen Francis Memorial Cup trophy in addition to his seventh USCS win of the season. The defending USCS National Champion, Tim Crawley from Benton, Arkansas who started ninth in the field, claimed the runner-up spot and Bowden who started sixth in the talent-laden field claimed the K&N Filters Podium Award for third place. Former USCS series Champion, Marshall Skinner, also from Marion, Arkansas finished in fourth place and ten-time USCS National champion, Terry Gray from Bartlett, Tennessee rounded out the top five drivers.
The 2010 United Sprint Car Series Outlaw Thunder Tour Rookie of the Year, Morgan Turpen from Cordova, Tennessee charged from eighteenth starting position to lead the next group in sixth place. 2008 USCS Rookie of the Year, Anthony Nicholson from Bartlett, Tennessee finished seventh. Jerod Roller from Hernando, Mississippi who won the second of two B-Mains followed in eighth place. Zack Pringle started in eighth position and charged as high up a second place. He then had to stop for a flat left rear tire before finishing in ninth place. The June 29th Riverside International Speedway USCS Speedweek 2013 Finale feature winner, Jordon Mallett from Greenbrier, Arkansas rounded out the top ten drivers.
Tim Crawley kicked off the evening's winged sprint car action by winning the six-lap Hoosier Speed Dash. Brad Bowden, Rookie Joe B. Miller from Millersville, Missouri, Zack Pringle and Henry Gustavus who also finished in third place in the USCS 600 sprint main event all won heat races. Mike Pack from Batesville, Arkansas won the first B-Main event, therefore earning the fifteenth starting position in the A-Main. Jerod Roller raced to victory in B-Main number two.
The next United Sprint Car Series Outlaw Thunder Tour event is this Friday, July 5th at Diamond Park Speedway in Nashville, Arkansas. For information on the speedway please visit www.diamondparkspeedway.com For rules and info on the USCS please visit www.uscsracing.com or call 770-865-6097.
USCS Outlaw Thunder Tour "Glen Francis Memorial Cup" at Crowley's Ridge Raceway on Wednesday, July 3, 2013 results:
Hoosier Speed Dash: Tim Crawley, Zack Pringle, Justin Webb, Terry Gray, Derek Hagar and Jordon Mallett.
Heat Race winners: Brad Bowden, Joe B. Miller, Zack Pringle and Henry Gustavus.
A-main event – 25 laps:
1. 9Jr. Derek Hagar, Marion, AR
2. 88 Tim Crawley, Benton, AR
3. 39 Brad Bowden, Hernando, MS
4. 26 Marshall Skinner, Marion, AR
5. 10 Terry Gray, Bartlett, TN
6. 10m Morgan Turpen, Oakland, TN
7. 16 Anthony Nicholson, Bartlett, TN
8. 5 Jerod Roller, Hernando, MS
9. 14z Zack Pringle, Benton, AR
10 14 Jordon Mallett, Greenbrier, AR
11. 3H Brandon Hanks, Burlison, TN
12. 17 Mike Pack, Batesville, AR
13. 303 Joe B. Miller, Millersville, MO
14. 13T Taylor Tidmore, Hernando, MS
15. 28 Jeff Willingham, Ripley, MS
16. 17g Cody Gardner, Little Rock, AR
17. 1 Nic Jenkins, Benton, AR
18. 25 Ray Bugg, Iuka, MS
19. 42 Henry Gustavus, Marion, AR
20 3 A.G. Rains, West Memphis, AR
21. 27 Curt Terrell, Bartlett, TN
22. 4 Tommy Snellgrove, Little Rock, AR
23. 31g Johnny Gardner, Little Rock, AR
Did not start A-Main:
1x Blake Jenkins, Benton, AR
12m Greg Merritt, Nesbit, MS
13 Tristan Tidmore, Hernando, MS
31 Justin Webb, Drummonds, TN
32x Robert Richardson, Pangburn, AR
44 Ronny Howard, Nesbit, MS
57 Jay New, Memphis, TN
61 Cody Howard, Memphis, TN
USCS presented by K&N Filters Sprint Car Race Awards:
Hoosier Speed Dash winner award: #88 Tim Crawley www.hoosiertire.com
Engler Machine and Tool First Heat winner award: #39 Brad Bowden www.englermachine.com
Butlerbuilt Second Heat winner award:# 303 Joe B.Miller www.butlerbuilt.net
www.RockAuto.com Third Heat winner:#14z Zack Pringle
Schoenfeld Headers Fourth Heat winner: #42 Henry Gustavus
K&N Filters Pole Award: #26 Marshall Skinner www.knfilters.com
Wilwood Eng. Hard Charger Award: #31g Johnny Gardner (started 17th finished 11th ) www.wildwood.com
JE Pistons Top Guns Award: #10 Terry Gray (5th place) www.jepistons.com
K&N Filters Podium Award: #39 Brad Bowden (3rd place) www.knfilters.com
Keizer Wheels Top Five Award: #10 Terry Gray www.keizerwheels.com
Diversified Machine Inc/DMI Top 10 Award: 14 Jordon Mallett www.diversifiedracing