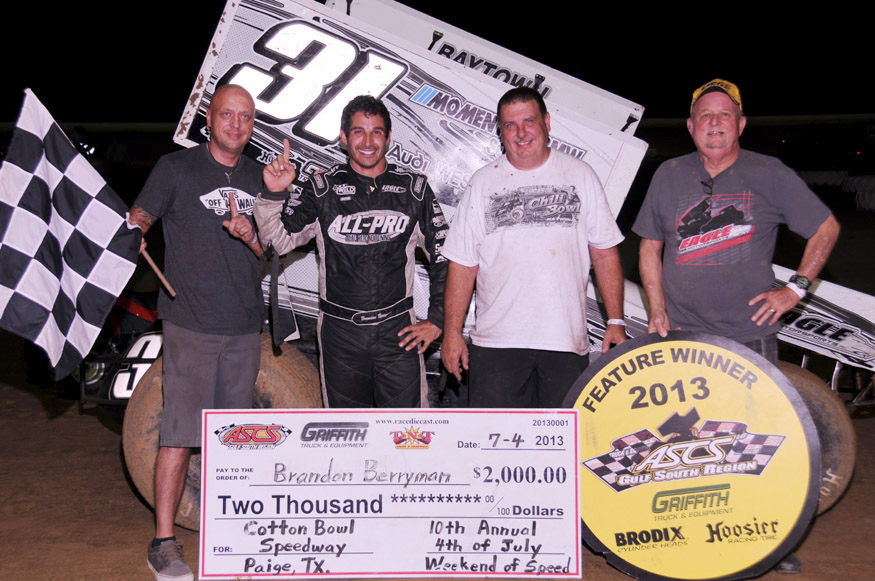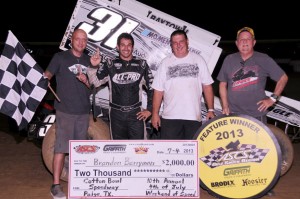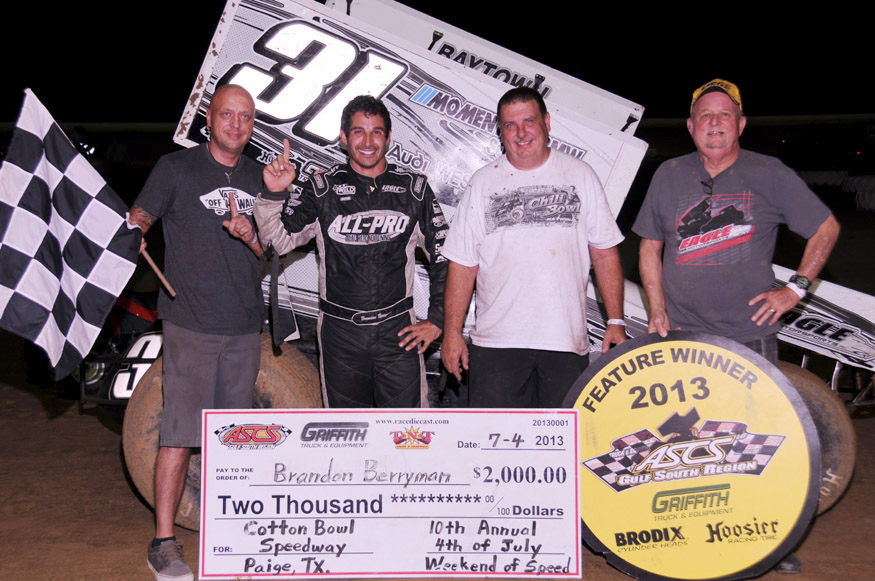 From Bryan Hulbert
Paige, TX —  (July 4, 2013) — Independence Day at the Cotton Bowl Speedway with the Griffith Truck and Equipment Gulf South Region saw Bandon Berryman pick up his first victory of the season.
Advancing from fourth, Berryman overtook Klint Angelette on Lap 10. The Baytown Ford No. 31 was chased to the finish by Aaron Reutzel with series points' leader Ray Allen Kulhanek completing the podium. Blake Hahn and thirteenth starting Travis Elliot made up the top five.
The top ten rounded out with Klint Angelette, Michael Lang, Brandie Jass, J.J. Simmons, and Beau Smith.
Thursday's show also saw Shawn Petersen return to competition for the first time since suffering a spinal injury earlier this season at the U.S. 36 Raceway. The Irving, Texas driver ended his night eleventh after starting sixteenth.
The Griffith Truck and Equipment Gulf South Region Independence Weekend of Speed continues at the Texana Raceway Park in Edan, Texas on Friday, July 5.
Griffith Truck and Equipment Gulf South Region
Cotton Bowl Speedway – Paige, Texas
Thursday, July 4, 2013
Car Count: 19
Heat 1 (8 Laps): 1. 19-Klint Angelette; 2. 87-Aaron Reutzel; 3. 24-Brandie Jass; 4. 71-Channin Tankersley; 5. 17T-Bruce Griffith Jr; 6. 4X-Shawn Petersen; 7. 92-Harry Yerrington
Heat 2 (8 Laps): 1. 7W-Dustin Welch; 2. 31-Brandon Berryman; 3. 35-Greg Rilat; 4. 51-Beau Smith; 5. 15T-Travis Elliott; 6. 15-Andrew VanBlarcum
Heat 3 (8 Laps): 1. 21T-Ray Allen Kulhanek; 2. 6-Ryan Beechler; 3. 17-Blake Hahn; 4. 14-Michael Lang; 5. 66-J.J. Simmons; 6. 69-Larry Howery
A Feature (25 Laps): 1. 31-Brandon Berryman; 2. 87-Aaron Reutzel; 3. 21T-Ray Allen Kulhanek; 4. 17-Blake Hahn; 5. 15T-Travis Elliott; 6. 19-Klint Angelette; 7. 14-Michael Lang; 8. 24-Brandie Jass; 9. 66-J.J. Simmons; 10. 51-Beau Smith; 11. 4X-Shawn Petersen; 12. 69-Larry Howery; 13. 17T-Bruce Griffith Jr; 14. 15-Andrew VanBlarcum; 15. 35-Greg Rilat; DNF 6-Ryan Beechler; DNF 92-Harry Yerrington; DNF 7W-Dustin Welch; DNF 71-Channin Tankersley
Lap Leader(s): Klint Angelette (1-9), Brandon Berryman (10-25)