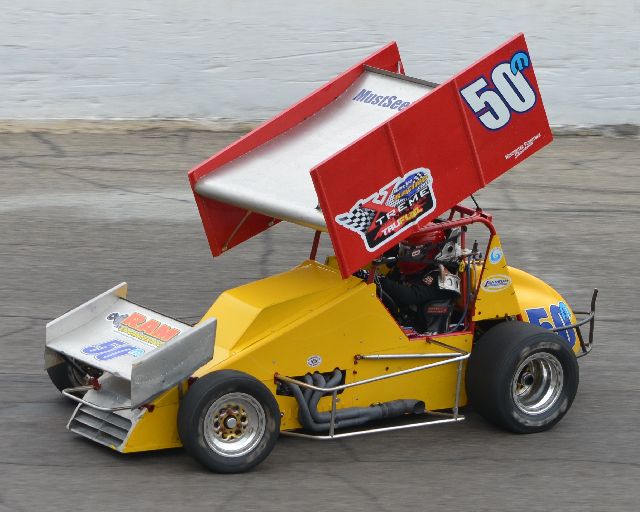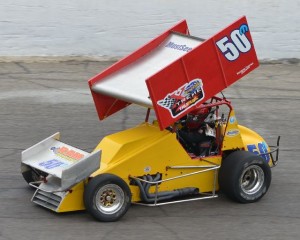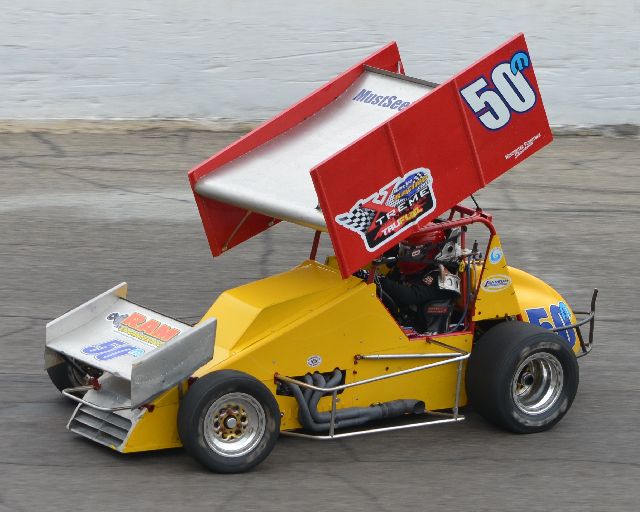 Xenia, OH — (July 19, 2013) — Brian Gerster was winless in 2013 heading into Friday night's TRUFUEL Must See Racing Xtreme Sprint Series (MSRXSS) event at Kil-Kare Raceway. Gerster's dominating performance in the 50-lap feature event put an end to his winless skid.
Gerster, who started on the outside of row two, took the lead on lap eight and never looked back en-route to winning the 50-lap event. Gerster routinely made aggressive maneuvers around lapped cars throughout the entire race. Gerster appeared to be in his own zip code with no one able to mount a threat to him the entire distance. Gerster had lapped up to second place and was within striking distance of lapping the entire field until a caution flag waved on lap 41.
In victory lane, Gerster explained his reasoning for disposing of lapped cars so quickly. "Until I got to the point where I could see the guys running second and third, and I could see them, then I kinda played it cool" explained Gerster."This series is so tough and there are so many good race cars that you just can't mess around in lapped traffic. You gotta go like they're right on your tail even if they are not".
Aaron Pierce led the first eight laps before drifting high in turn one on lap seven. Gerster tried to get under him for the lead at that point unsuccessfully. The same exact scenario played out a lap later, this time Gerster's car stuck and he took control of the race the rest of the way.
Gerster explained the pass for the lead. "Our car was really strong right there. We were fortunate. I don't know if he saw us the first time. The next time we got back there I had a little bit of a run on him and get it done this time. We were just fortunate our car was spot on tonight" concluded Gerster.
Gerster was followed home by Kody Swanson, Jo Jo Helberg, Troy DeCaire, and Jacob Wilson rounding out the top five.
Earlier in the night, Jo Jo Helberg picked up a $500 bonus from BIOBASED.US when he established a new track record with a lap of 10.623 seconds around the 3/8 mile tri-oval. Helberg bested the old mark of 11.106 seconds set on July 18, 2008 by Zach Gibson.
Heat races were won by Jimmy Kite, Kody Swanson, and Gerster.
The MSRXSS will next be in action August 10 at Salem Speedway for the annual Joe James/Pat O'Connor memorial.
For more info please log onto www.mustseeracing.com
50-LAP FEATURE RESULTS
1.             Brian Gerster
2.             Kody Swanson
3.             Jo Jo Helberg
4.             Troy DeCaire
5.             Jacob Wilson
6.             Cody Gallogly
7.              Brain Olson
8.              Mike Larrison
9.              Jimmy McCune
10.                       Ryan Gillenwater
11.                       Tom Tolbert
12.                       Davey Hamilton Jr.
13.                       Jimmy Kite
14.                       Zach Gibson
15.                       Ryan Meyers
16.                       Kevin Blue
17.                       Aaron Pierce
18.                       Jerry Caryer
19.                       Dave Saxer
20.                       Don Johnson
21.                       Brandon Whited
.