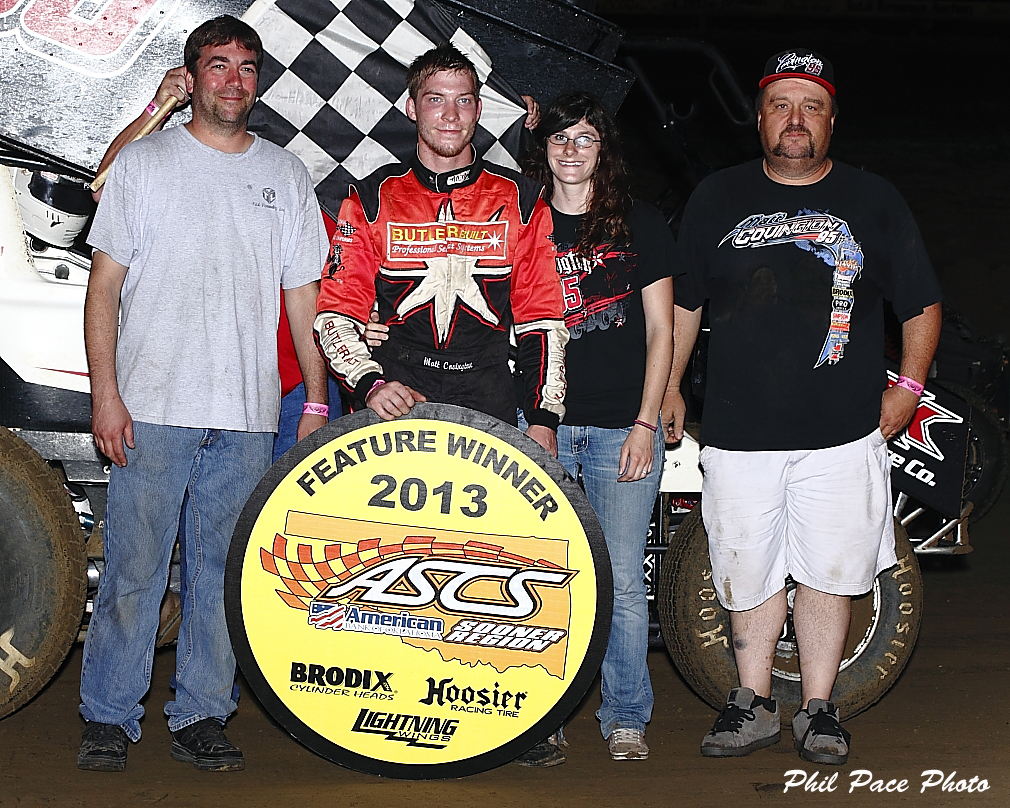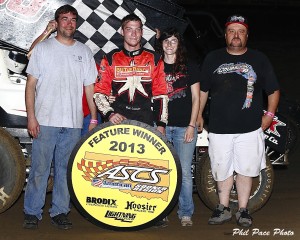 From Bryan Hulbert
West Siloam Springs, OK —  (July 27, 2013) — Matt Covington picked his second victory of 2013 Saturday night at the West Siloam Speedway with the American Bank of Oklahoma Sooner Region.
The third driver to lead laps Saturday night, Covington battled with Joe Bob Lee for the top spot; earning the point on Lap 13. Kyle Chady led the first three rounds with Lee able to take the top spot with a three wide pass with Covington in tow.
Joe Wood, Jr. ended up working past the No. 5 for second with Lee taking third. Mickey Walker and Brad Graham complete the top five.
American Bank of Oklahoma Sooner Region
West Siloam Speedway – West Siloam Springs, Okla.
Saturday, July 27, 2013
Heat 1 (8 Laps): 1. 04-Brad Graham; 2. 2-Mickey Walker; 3. 5-Joe Bob Lee; 4. 97-Kevin Cummings; 5. 4AM-Mike Goodman
Heat 2 (8 Laps): 1. 57-Kyle Chady; 2. 03-Joe Wood Jr; 3. 5-Joe Bob Lee; 4. 95-Matt Covington; 5. 47-Dustin Welch; 6. 36B-Jonathan Beason; 7. 8-Shane Pace
A Feature (20 Laps): 1. 95-Matt Covington; 2. 03-Joe Wood Jr; 3. 5-Joe Bob Lee; 4. 2-Mickey Walker; 5. 04-Brad Graham; 6. 8-Shane Pace; 7. 57-Kyle Chady; DNF 4AM-Mike Goodman; DNS 47-Dustin Welch; DNS 97-Kevin Cummings; DNS 36B-Jonathan Beason
Lap Leader(s): Kyle Chady (1-3), Joe Bob Lee (4-12), Matt Covington (13-20)