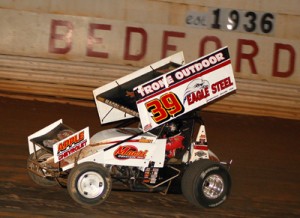 From Bob Miller

Bechtelsville, PA — (July 30, 2013) — The NAPA Auto Parts Thunder on the Hill Racing Series returned to action on Tuesday night showcasing the MACH 1 Chassis 410 Sprints and the Pioneer Pole Buildings 16th Annual Race of Champions for modifieds at the Grandview Speedway.  In total, more than $48,000 was paid out with a $5,000 payday going to Greg Hodnett for winning the sprint feature as Duane Howard earned $5,000 for winning the 60 lap modified feature.   Beautiful weather and a  field of sixty-eight cars attracted a huge crowd for the one-hundred and eighth Thunder on the Hill Racing Series event at Grandview Speedway.  The twenty-fourth season of Thunder on the Hill is a co-promotion between special events organizer Bob Miller and Grandview Speedway track owner Bruce Rogers.
In the MACH 1 Chassis 410 sprints,  thirty cars took part in time trials with Davey Sammons setting fast time of 11.875.   The three qualifying heat race events were won by Brent Marks, Blane Heimbach and Lance Dewease as Davey Sammons came back to win the "B" Main after mechanical problems in his heat race.
The thirty-five lap MACH 1 Chassis feature was a barn-burner.   Former URC Champion JJ Grasso brought the field down for the green but before the field entered turn one, the red flag was displayed for Ryan Taylor who flipped exiting turn four.    On the restart, Grasso set the pace with Mark Smith and Australian driver  James McFadden in the chase.   Grasso maintained a comfortable lead until lap seven when  the yellow was displayed for a mix-up in turn one involving Jessica Anderson, Trevor Utt and Dan Mazy.
When the race resumed, Grasso, Smith and Greg Hodnett were now the top three.   Hodnett was on a charge, taking over second on lap eleven. Alan Krimes was the next new name to  enter the chase for the win, now racing in fourth.
With the hallway sign displayed, JJ Grasso remained the leader followed by Hodnett, McFadden, Krimes and Mark Smith.    One lap later, McFadden moved into second and began to chase down the leader.  Grasso and McFadden raced wheel to wheel for the lead with McFadden taking the top spot on lap twenty-five.   With just ten laps remaining,  the rest of this race was going to get very interesting.    Slower traffic was  now in front of McFadden and  Grasso and Hodnett  were all over the leader.  Grasso challenged to regain the top spot.   With two laps to go, Hodnett moved into second with Grasso close and in the chase.   With the white flag waiving, a lapped car spun in front of the leaders entering turn one.  McFadden bobbled and Hodnett took advantage and the lead.
On the final lap, McFadden made still another bid for the lead but Hodnett was up to the challenge, going on to score  his first Thunder victory of 2013.   McFadden finished an impressive second with JJ Grasso third, Alan Krimes fourth and Fred Rahmer fifth.  For Greg Hodnett, it was his sixth career Thunder on the Hill victory.
The Pioneer Pole Buildings 16th Annual Traffic Jam saw Duane Howard dominate the sixty lap feature, but not without challenges from Craig VonDohren.   Also on a charge was Billy Pauch and Ryan Godown until they tangled on lap fifteen.
At the drop of the green to restart the race, Howard remained  the leader with VonDohren challenging as MeMe DeSantis and Doug Manmiller moved into the picture.
The race went on with Howard holding off VonDohren.  On lap thirty-six, Rick Laubach worked his way to fourth, challenging MeMe DeSantis for third.    With just twenty laps to go, Howard, VonDohren, Laubach, DeSantis and Doug Manmiller made-up the top five.   Laubach appeared as though he might be able to serve up a challenge to Howard and VonDohren then on lap forty-eight, he pulled to the infield.
With just ten laps to go, VonDohren drove up to the outside boiler-plate and made repeated challenges for the lead, but with each attempt, Howard remained the leader.   Howard took the win, his first ever Traffic Jam victory with VonDohren second,  MeMe DeSantis third, Doug Manmiller fourth and Mike Guar fifth.  For Duane Howard, it was his fifth Thunder on the Hill career win.
MACH 1 CHASSIS 25 LAP 410 SPRINT FINISH  $5,000 TO WIN: #39 Greg Hodnett, #55xm James McFadden, #25 JJ Grasso, #87 Alan Krimes, #20s Fred Rahmer, #27 Lance Dewease, #19m Brent Marks, #69 Ryan Smith, #M1 Mark Smith, #22 Cole Duncan, #1s Logan Schuchart, #27H Lucas Wolfe, #747 Davey Sammons, #12 Blane Heimbach, #175 Billy Pauch, Jr. #8 Billy Dietrich, #21 Brian Montieth, #2H Dave Hahn, #21 Kyle Reinhardt, #71 Jessica Anderson, #U2 Trevor Utt, #X Dan Mazy, #22T Matt Boland, #20 Ryan Taylor.   MACH 1 $500 Bonus earned by Mark Smith for the best combined finishes of the June 5 USAC show and the July 30  410 sprint feature.  Along with $5,000 going to the winner, 10th paid $1,000 with $400 offered to start the feature event.
PPB 16TH ANNUAL ROC TRAFFIC JAM FOR MODIFIEDS FINISH  $5,000 TO WIN: #4 Duane Howard, #1C Craig VonDohren, #88d Meme DeSantis, #14 Doug Manmiller, #53 Mike Gular, #1f Stewart Friesen,  #5 Jimmy Horton, Jr., #17 Keith Hoffman, #117 Kevin Hirthler, #1Tyler Dippel, #21 Mike Mahoney, #3W John Willman, #14W Ryan Watt, #357Frank Cozze, #29 Sammy Piazza, #jr1 Rocco Infante, #88C Bobby Varin,  #4* Jeff Strunk, #84 Mel Schrufer, #7 Rick Laubach, #901 Eric Kormann, #5J Billy Pauch, #83 Mike Mammana, #747 Ryan Godown, #66 Danny Johnson, #91 Tim Buckwalter, #145 Alan Rudalavage, #21K Kyle Weiss.  DNS #9S Matt Shepard.   Along with $5,000 going to the winner, 10th paid $1,000 with $325 offered to start the feature event.
The rich payoff of over $48,000 in cash was possible thanks to the support of series sponsor NAPA Auto Parts and event sponsors Pioneer Pole Buildings and  MACH 1 Chassis along with associate sponsors  Lee Myles Transmissions and GALCO Business Communications.