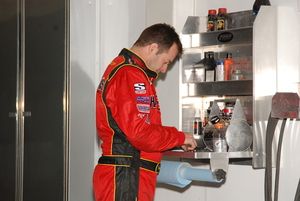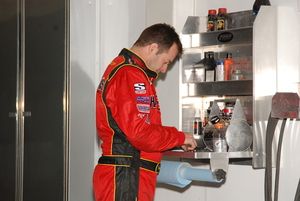 From Dick Jordan
TRAXXAS USAC Silver Crown Series point leader Tracy Hines of New Castle, Ind. continues to re-write USAC history with every start these days. The only driver to win in all three USAC National racing series this year can add another notch to his impressive belt this Saturday when the "Tony Bettenhausen 100" reaches its 80th year at the Illinois State Fairgrounds in Springfield.
A USAC staple for the past 58 years, the 100-mile race is among the most traditional racing events in all of America. From its 1934 beginning, the race has spawned a winners list which includes Indianapolis 500 champions Wilbur Shaw, Mauri Rose, Johnnie Parsons, Rodger Ward, Sam Hanks, Jimmy Bryan, A.J. Foyt, Mario Andretti and Al Unser.
Hines won the 2006 running, one of nine Silver Crown wins on his resume. He is the most recent series winner too, taking the August 2 race at the famed Belleville (Kans.) High Banks.
His two Sprint, two Midget and Belleville Silver Crown wins this year give him 88 total USAC National wins, surpassed only by A.J. Foyt, Rich Vogler and Mel Kenyon on USAC's all-time list.
This is the third time Hines has been able to win a race in all three USAC National series in a single year. He also achieved that in 2006 and 2010. He is hoping this year to join Pancho Carter, Dave Darland, Tony Stewart, J.J. Yeley and Jerry Coons Jr. as the only USAC "Triple Crown Champions," earning National championships in all three National classes. He already has titles in Silver Crown and Sprints and is on the verge of a possible Midget title this year.
Hines will face stiff competition this Saturday, nursing a narrow four-point lead over defending series champion Bobby East. Third-ranking Kody Swanson stands third, just eight points back, with Coons in fourth, just 12 behind. Saturday's race offers 66 total points, so the top-seven in points are all in contention with three races left on the calendar.
East, Swanson and Coons will all be seeking their initial Springfield victories. East was eighth last year, Coons had a third in 2011 and Swanson was eighth in 2011.
Illinois veteran A.J. Fike and North Carolina's Brian Tyler will also be in the hunt Saturday. Fike became the first Illinois driver to win the race in 30 years last year, while Tyler hopes to become only the second driver to post a fifth "Tony Bettenhausen 100" triumph. Tyler won in 2004, 2005, 2008 and 2011 and was second to Fike last year.
2013 TRAXXAS USAC Silver Crown Point Standings: 1-Tracy Hines-247, 2-Bobby East-243, 3-Kody Swanson-239, 4-Jerry Coons Jr.-235, 5-Chris Windom-213, 6-Brian Tyler-204, 7-Shane Hollingsworth-182, 8-A. J. Fike-155, 9-David Byrne-127, 10-Bobby Santos-108.