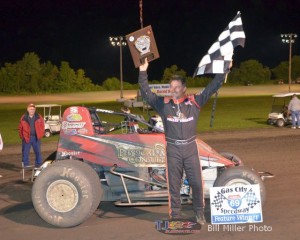 By Bob Buffenbarger
Gas City, IN -(August 16, 2013) — Dave Darland took the lead on lap eleven and never looked back, capturing the 25 lap sprint car main event Friday night at Gas City I-69 Speedway.
AJ Hopkins lead the early going after starting 2nd and was setting a torrid pace with pole sitter Chad Boespflug and 6th place starting Darland, Robert Ballou and Todd Keen in hot pursuit. The red came out on lap ten as Boespflug took a nasty end over end tumble off turn one as he got over the cushion. Boespflug was not injured.
At the restart it was Hopkins, Darland, Ballou, Garret Abrams and Chris Gurley. One lap later Darland made the pass on Hopkins and Ballou got by Hopkins the next circuit. Lap 14 saw the red flag wave again for the 18w of Scotty Weir in turn three. Weir was ok.
The order on this restart was Darland, Hopkins, Ballou, Keen, Abrams, Gurley, Jarrett Andretti, Kyle Robbins, Logan Garrett and Ted Hines. Racing for positions 3rd through 8th was fierce at this point with spots being swapped every lap.
Caution appeared on the track with five to go for a three car melee in turn two involving Travis Welpott, Shawn Westerfield and Conner Donelson. As the green came out Darland was stretching his lead a bit and at the checkers it was Darland over Ballou, Hopkins, Keen, Robbins, Shane Cottle who made a charge from 14th, Chris Gurley, Garrett Abrams, Jarrett Andretti and Logan Jarrett.
Heats for the 26 cars on hand were won by Ted Hines, Chad Boespflug and Robert Ballou. Aaron Farney took the B main victory.
Gas City I-69 Speedway
A Main
1. 41-Dave Darland
2. 12b-Robert Ballou
3. 14H-AJ Hopkins
4. 18K- Todd Keen
5. 17R-Kyle Robbins
6. 48-Shane Cottle
7. 12G-Chris Gurley
8. 32-Garrett Abrams
9. 18-Jarrett Andretti
10. 29J-Logan Jarrett
11. 6RR-Joe Liguori
12. 12H-Ted Hines
13. 30-CJ Leary
14. 40- Gary Taylor
15. 18W-Travis Welpott
16. 89-Shawn Westerfield
17. 42- Conner Donelson
18. 18s-Scotty Weir
19. 15F-Aaron Farney
20. 57-Chad Bosepflug
HONDA IGNITE USAC MIDWEST DIRT MIDGET RACE RESULTS: August 16, 2013 – Gas City, Indiana – Gas City I-69 Speedway – Ignite "Dirt Midget Week"
FIRST HEAT: (8 Laps) 1. Gage Walker (#7 Walker), 2. Chris Phillips (#71 Phillips), 3. John Heydenreich (#22 Givens), 4. Cooper Clouse (#14 Clouse), 5. Austin Nemire (#91 Nemire-Yager), 6. Bill Kriegbaum (#12 Kriegbaum). NT
SECOND HEAT: (8 Laps) 1. Stratton Briggs (#2 Alfrey), 2. Patrick Bruns (#83 Bruns), 3. Mike Gass (#52 Gass), 4. Joey Greening (#17G Greening), 5. Aaron Schuck (#53 Schuck), 6. Lynsey Tilton-Liguori (#41 Liguori), 7. Adam Thomason (#74 Thomason). NT
FEATURE: 25 Laps) 1. Patrick Bruns, 2. John Heydenreich, 3. Gage Walker, 4. Mike Gass, 5. Stratton Briggs, 6. Cooper Clouse, 7. Austin Nemire, 8. Aaron Schuck, 9. Lynsey Tilton-Liguori, 10. Joey Greening, 11. Adam Thomason, 12. Bill Kriegbaum, 13. Emmy Gray (#77 Gray), 14. Chris Phillips. NT
——————————
——————–
FEATURE LAP LEADERS: Laps 1-25 Bruns.
NEW HONDA IGNITE USAC MIDWEST DIRT MIDGET POINTS: 1-Walker-496, 2-Briggs-467, 3-Clouse-416, 4-Toby Alfrey-407, 5-Nemire-386, 6-Katlynn Leer-361, 8-Heydenreich-294, 9-Greening-268, 10-Gray-192.
HONDA IGNITE USAC "DIRT MIDGET WEEK" POINTS: 1- Bruns-67, 2-Heydenreich-63, 3-Walker-62, 4-Gass-57, 5-Briggs-56, 6-Clouse-50, 7-Nemire-46, 8-Schuck-43, 9-Tilton-Liguori-39, 10-Greening-38.
NEXT HONDA IGNITE USAC MIDWEST DIRT MIDGET RACE: August 17 – Putnamville, IN – Lincoln Park Speedway – Ignite "Dirt Midget Week"