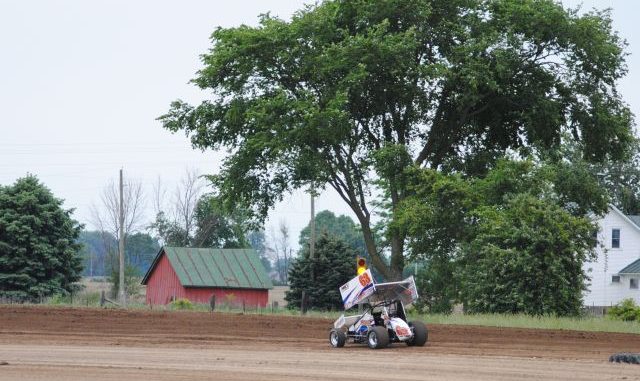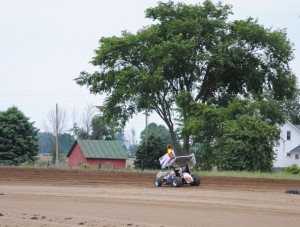 By T.J. Buffenbarger
Wyoming, MI — (August 20, 2013) — As the summer dwindles and the fall is upon us end of season specials start popping up along with some potential plans for 2014.  One interesting thing we have noticed is two different tracks are considering adding sprint cars to their weekly racing program next year.
I-96 Speedway confirmed with us they are considering a Friday night program for sprint cars during the 2014 season.  As of now that's as far as the discussion has gone.  There is no plan as of yet on rules or which track the sprint cars would contest every week, but in the words of I-96 management they are, "heavily considering Friday night sprints".
Further south Plymouth Speedway in Plymouth, Indiana is also considering doing an open winged sprint car class for the 2014 season.  The plan Plymouth is looking at implementing is an open rules package with a Hoosier tire rule paying $1,200 to win and $200 to start.
I-96 and Plymouth adding sprint cars could this get some more teams into the division and give drivers more options to race, or it could dilute the product and loose the novelty of various traveling shows that appear at both facilities.  If done properly weekly sprints at I-96 and Plymouth could be a real boost to winged sprint car racing in the area.  Several Indiana teams have been looking at racing more winged shows this season.  With no Saturday sprint car venue North of Indianapolis this could create a niche market that teams can take advantage of that want to go winged sprint car racing on the dirt.
If this happens I hope both tracks work with existing series and tracks similar to the relationship we see in Ohio between Fremont, Attica, Eldora, and Lima.   If the promoters can work together this has a real chance to take off.
If you are interested in the I-96 or Plymouth programs make sure to contact I-96 and Plymouth management to let them know you would race there.
Other notes….
The possibility of seeing a winged sprint car special adding to the Indiana sprint car scene for the end of September / early October of 2013 seems almost certain at this point.  Feelers we put out on social media garnered enough reaction that it appears an announcement could come any day.
Plymouth Speedway has added a non-wing sprint car program to their schedule on Saturday. October 12th.
If the I-96 story is not wild enough, Mike Mouch is condering buying a new car and returning to the driver's seat for 2014.  Mouch was a regular in the 360 and 410 sprint car divisions in the late 90's and currently owns I-96 Speedway.
Pavement sprint cars have two championships being decided in Michigan this weekend with the Spartan Sprint Cars holding their season championship on Friday and the Trufuel Must See Racing X-Treme Sprint Car Series having their championship race on Saturday at Berlin Raceway.  Leroy Ellis holds a six point lead over John Turnbull for the Spartan championship while JoJo Helberg holds a four point lead over Brian Gerster going into Saturday's Must See Racing event at Berlin.