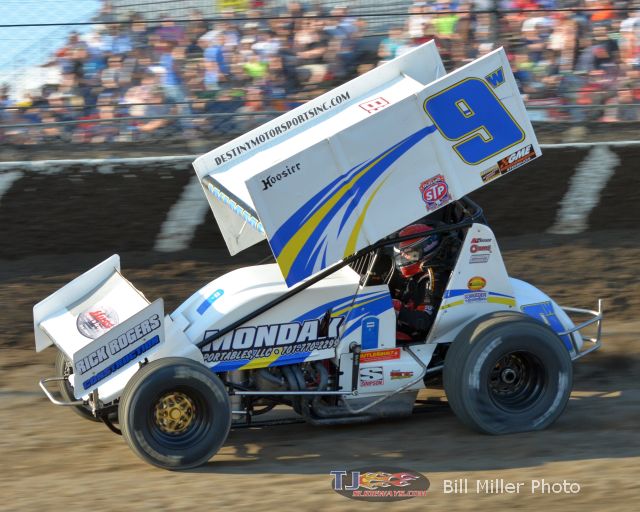 By PETERSEN MEDIA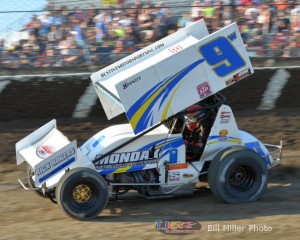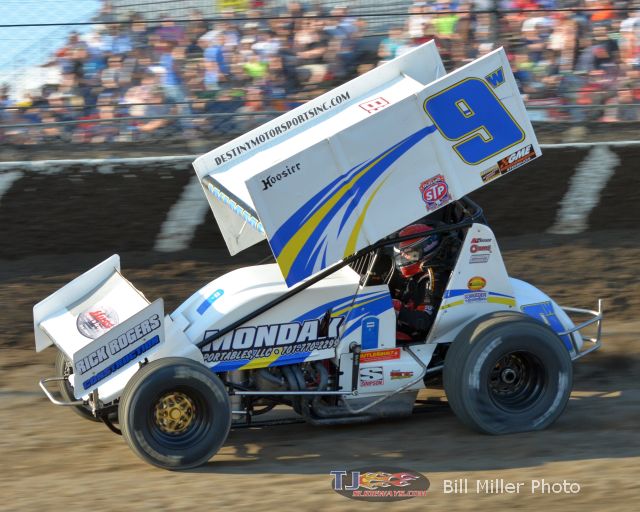 Following the Knoxville Nationals, Brandon Wimmer and his Destiny Motorsports team elected to follow the World of Outlaws out West, and got started by racing in McCool Junction, NE, and a pair of shows in the Dakota's.
"It was pretty much the same story as the Nationals," Wimmer said. "I didn't qualify well, but we raced very well the first two nights, and on Sunday, I timed in well, made a dash, but had a tangle, and went to the back. Overall we are doing pretty well in my opinion."
Sunday night at the Nodak Speedway in Minot, ND, Wimmer started his night off by timing in 13th quickest of the 32 cars on hand, good enough to put him on the front row of his heat race.
Getting the jump over Brad Sweet, Wimmer was in command early, and went on to pick up the heat race win, and put his Destiny Motorsports/Mondak Portables/Rick Rogers Construction No.9w machine in his first Dash of the season.
Starting ninth in the Dash, Wimmer slipped back to a 10th place finish, putting him in the fifth row of the feature event.
In the early stages of the feature, Wimmer made contact with Brad Sweet, and got his Speedmart/Keizer Wheels/Triple X Chassis sideways, and Bill Rose got into him, knocking his nose wing off, and forcing him to the work area.
With a new nose wing, Wimmer was able to restart at the tail end of the field, and march his way up to a 14th place finish.
Friday night, the team was in action at the River Cities Speedway in Grand Forks, ND, and Wimmer timed in 22nd fastest putting him on the outside of the heat-race inversion.
Starting sixth in the second heat, Wimmer was able to earn a transfer into the feature event, where he started in the 20th spot, and went on to finish in the 17th position.
Tuesday night, Wimmer and company were in McCool Junction, NE where Wimmer kicked his night off by timing in 17th fastest, before scoring a 14th place finish in the feature event.
"We seem to be able to race very well, but for some reason, I seem to put us in a hole early with time-trials," he explained. "With most formats, you have to qualify well to start up front, so once I time in better, we will be just fine."
Destiny Motorsports would like to thank Mondak Portables, Rick Rogers Construction, Speedmart, Wesmar Racing Engines, Keizer Wheels, Triple X Chassis, Driver Websites, and Benic Enterprises for their support through the 2013 season.
2013 DESTINY MOTORSORTS BY THE NUMBERS: Starts-43, Wins-1, Top 5's-7, Top 10's-11
ON TAP: Brandon and the Destiny Motorsports team take a week off before reuniting with the World of Outlaws for the West Coast swing.
STAY CONNECTED: Stay updated Brandon Wimmer and Destiny Motorsports by connecting via social media, www.facebook.com/destinymotorsports, and on Twitter, @DestinyMS9. You can also check us out on the web at www.destinymotorsportsinc.com.