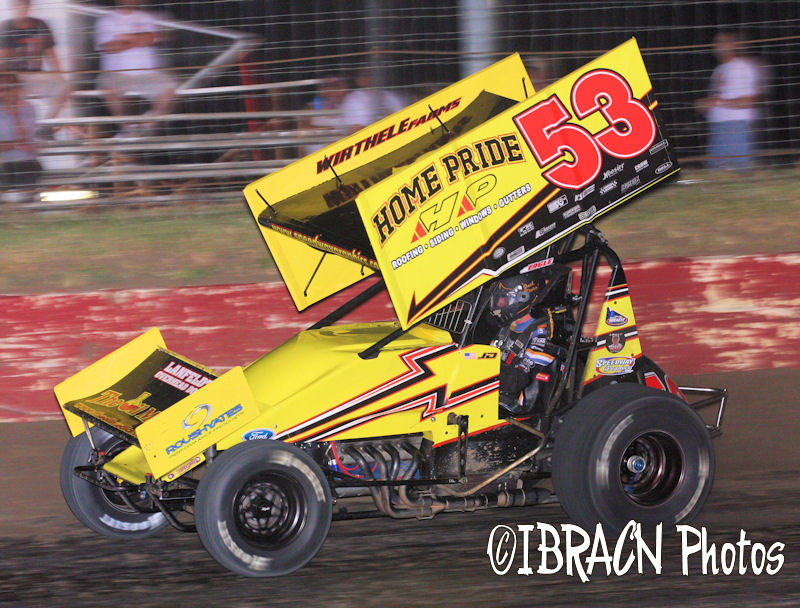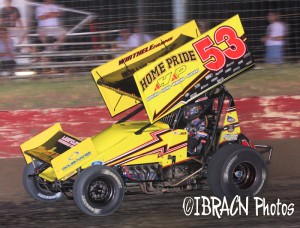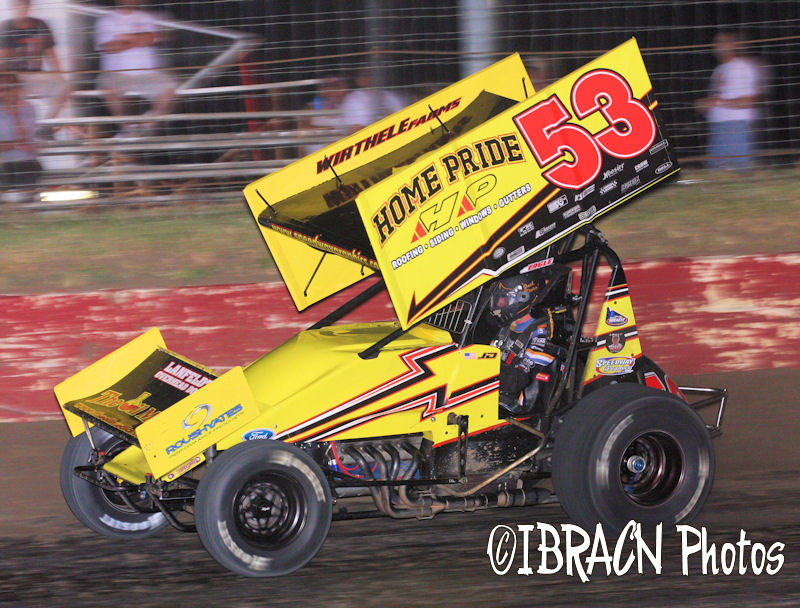 From Bryan Hulbert
Cameron, MO — (August 23, 2013) — The Speedway Motors Warrior Region took to the highbanks of the U.S. 36 Raceway Friday night with Jack Dover leading the distance in the night's 25 lap feature event.
Drawing the front row, Dover went uncontested to the checkered flag to bring his winner's share to $2,500, having already taking $200 for his Heat Race win, plus an additional $500 from Klein Motor and RV's. Justyn Cox crossed second with Jonathan Cornell completing the podium. Miranda Arnold and Wyatt Burks made up the top five.
Cody Baker, Tyler Blank, Dustin Selvage, J.R. Topper, and Corey Nelson made up the top ten.
Speedway Motors Warrior Region
U.S. 36 Raceway – Cameron, Mo.
Friday, August 23, 2013
Heat 1 (8 Laps): 1. 53-Jack Dover; 2. 5H-Justyn Cox; 3. 81A-Chris Morgan; 4. 7K-Dustin Selvage; 5. 9-Casey Baker; 6. 34-Corey Nelson; 7. 14T-Andrew Turley; DNF 24-Ricky Lee Stangl II; DNS 76-Jay Russell
Heat 2 (8 Laps): 1. 28-Jonathan Cornell; 2. 5M-Miranda Arnold; 3. 38-Cody Baker; 4. 1P-Curtis Evans; 5. 11W-Wyatt Burks; 6. 92J-J.R. Topper; 7. 9M-Tyler Blank; DNF 21D-Larry Clawson
A Feature (20 Laps): 1. 53-Jack Dover; 2. 5H-Justyn Cox; 3. 28-Jonathan Cornell; 4. 5M-Miranda Arnold; 5. 11W-Wyatt Burks; 6. 38-Cody Baker; 7. 9M-Tyler Blank; 8. 7K-Dustin Selvage; 9. 92J-J.R. Topper; 10. 34-Corey Nelson; 11. 81A-Chris Morgan; 12. 1P-Curtis Evans; 13. 9-Casey Baker; 14. 14T-Andrew Turley; 15. 21D-Larry Clawson; 16. 24-Ricky Lee Stangl II; 17. 76-Jay Russell
Lap Leader(s): Jack Dover (1-25)