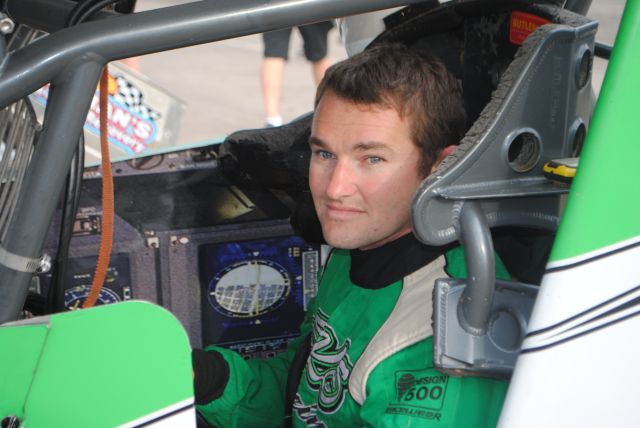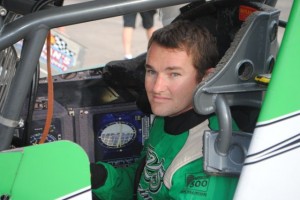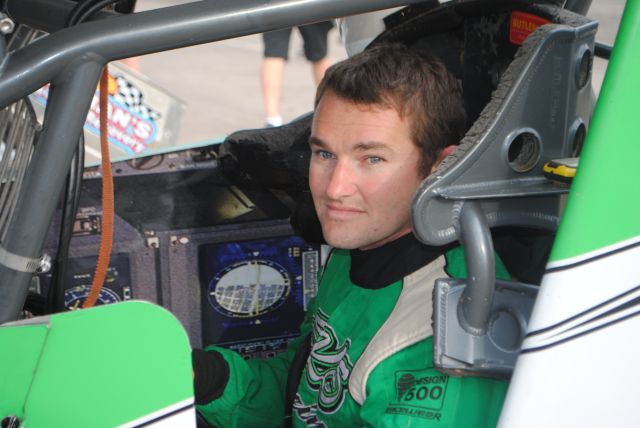 From Ben Deatherage
Cottage Grove, OR — (August 23, 2013) — Medford, Oregon's Roger Crockett was back in victory lane at the Cottage Grove Speedway on Friday August 23rd to capture his ninth win of 2013 with the American Sprint Car Series-Northwest Region. The feature would go nonstop and brought lapped traffic in the picture on several occasions to decide the winner. He would leave the grounds with a perfect record at CGS when the ASCS-Northwest Region had come to town winning all six sanctioned events this year.
At the drop of the green flag Colin Baker of Cottage Grove, Oregon would get the initial race lead. Baker would put the hammer down in his BC Motorsports/Steelhouse Metal Roofing Supply #2 KPC as he tried to build a sizable lead but several drivers would keep him in their sights.
One of those drivers was Eugene, Oregon's Kyle Miller, driving the Huddle Automotive Repair/Oregon West RV/Steelhouse Metal Roofing Supply #71 XXX for owner Hedge Carter, who kept the heat on Baker. Miller was moments away from overtaking Baker for the lead until Miller would make contact with a lapped car. It would cause Miller to lose several positions. The incident would provide some breathing room for Baker as he sought his first career series victory.
Around the time that Miller would get caught up in traffic Roger Crockett was making his move to the front. Crockett would pick one car off after another and eventually found himself behind Baker contending for the win. The two would battle for the top spot with Baker keeping Crockett in check on several occasions.
Crockett would eventually obtain the lead in heavy lapped traffic on lap sixteen at the start/finish line. Crockett would get to work on establishing his lead by losing the rest of the field in traffic. Crockett would maneuver through the lapped cars like an Artic Sea navigator through an ice flow. He would lead the rest of the distance to get his SKS Racing/Al Parker Racing Engines/Champion Racing Oil #11 KPC into the winner's circle.
Henry Van Dam would put up a late race surge to finish his Kovash Logging/Johanson Excavating/Village Green Resort #33V ART mount in second followed by Kyle Miller in third. The Starks Timber Processing/Blue Dot Fabrication/MASCO Petroleum #55 Schnee of Trey Starks from Puyallup, Washington was fourth while Central Point, Oregon's Garen Linder in his Linder Powdercoating/Rodgers Racing Engines #22 KPC in fifth.
Earlier in the evening Shane Forté of Junction City, Oregon, in the Oregon Fuel Injection/Davis Cabinets/Lochmead Farms #26F Maxim, and Trey Starks were heat race winners. The ASCS-Northwest Region gets back into action Saturday August 24th at the Sunset Speedway Park in Banks, Oregon. For more information log on to www.ascsnorthwest.com.
Race Summary:
Friday August 23rd, 2013
Cottage Grove Speedway
Cottage Grove, Oregon
A Feature (30 Laps): 1. 11-Roger Crockett[5]; 2. 33V-Henry Van Dam[3]; 3. 71-Kyle Miller[2]; 4. 55-Trey Starks[4]; 5. 22-Garen Linder[9]; 6. 9R-Reece Goetz[7]; 7. 68-Rob Held[11]; 8. 26F-Shane Forte[8]; 9. 10J-Jake Waddell[17]; 10. 6A-Kady Adelman[13]; 11. 28H-Mark Herz[12]; 12. 4J-Allison Journey[16]; 13. 28N-Brenton Nugent[10]; 14. 4-Jesse Thistle[14]; 15. 21T-Zack Spaulding[6]; 16. 2-Colin Baker[1]; 17. 5-Brian Boswell[15]
Heat 1 (8 Laps): 1. 26F-Shane Forte[1]; 2. 9R-Reece Goetz[4]; 3. 71-Kyle Miller[3]; 4. 2-Colin Baker[6]; 5. 22-Garen Linder[5]; 6. 28N-Brenton Nugent[9]; 7. 6A-Kady Adelman[8]; 8. 5-Brian Boswell[7]; 9. 10J-Jake Waddell[2]
Heat 2 (8 Laps): 1. 55-Trey Starks[4]; 2. 21T-Zack Spaulding[2]; 3. 33V-Henry Van Dam[5]; 4. 11-Roger Crockett[6]; 5. 68-Rob Held[3]; 6. 28H-Mark Herz[7]; 7. 4J-Allison Journey[1]; 8. 4-Jesse Thistle[8]