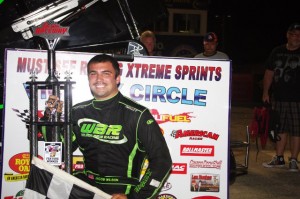 From Must See Racing
Marne, MI – (August 24, 2013) – Jo Jo Helberg's bad luck continued for the second time in as many weeks costing him the 2013 TRUFUEL Must See Racing Xtreme Sprint Series (MSRXSS) championship. Helberg was the defending MSRXSS champion heading into Saturday's 'Fast Car Slash' at Berlin Raceway.
Last Sunday at Winchester Speedway, Helberg was leading the event when his right rear tire came apart after running over debris. The misfortune cost him the feature win and allowed Brian Gerster to close within three points of Helberg entering Saturday night's event.
Helberg found himself leading the feature Saturday night when his bad luck returned once again. On lap 17, Helberg broke a brand new rear end effectively ending his night and bid for repeat MSRXSS championship. Brian Gerster, who finished third, is your 2013 TRUFUEL MSRXSS champion. Gerster becomes the third different MSRXSS champion in the four year history of the series.
Entering the feature event, Helberg and Gerster were tied for the point lead. This is was an interesting sidebar note considering the fact that the 2013 season started in mid-March and remained close the entire season. The top four starting positions of the feature event were also the top four in points assuring that the title was going right down to the wire.
Helberg got the jump at the start and lead the first seventeen circuits before his misfortune handed Troy DeCaire the lead. DeCaire and Jacob Wilson put on a furious battle for the lead trading the lead three times over the last three laps with Wilson making a last-lap pass of DeCaire going down the backstretch to claim his second career MSRXSS victory with both coming in 2013. DeCaire was second followed by Gerster, Jimmy McCune, and Ryan Litt rounding out the top five.
Brian Gerster narrowed the point gap when he was quick time when he timed in a tic over 13 seconds. Heat wins went to Jimmy Kite, Helberg, and Gerster. Helberg won the 'Fast Car Slash' effectively earning the pole position for the 30-lap feature.
The MSRXSS will now head to Kenly, NC in late November for a special non-points event as part of the Mason Dixon Meltdown. For more info please log onto
www.mustseeracing.com
OFFICIAL FINISH
1.    (07w)    Jacob Wilson
2.    (40:1)   Troy DeCaire
3.    (50m)   Brian Gerster
4.    (88)      Jimmy McCune
5.    (07L)    Ryan Litt
6.    ((26p)   Aaron Pierce
7.    (71)       Brian Olson
8.    (26b)     Jeff Bloom
9.    (50:1)    Mike Larrison
10.  (60:1)    Davey Hamilton Jr.
11.  (45)       Ryan Gillenwater
12.  (81)       Jimmy Kite
13.  (6)         Sondi Eden
14.  (75c)     Jerry Caryer
15.  (44)       Teddy Alberts
16.  (56r)      Ryan Meyers
17.  (6b)       Kevin Blue
18.  (7)         Jo Jo Helberg
19.  (2t)        Tom Tolbert
20.  (7s)       Joe Swanson