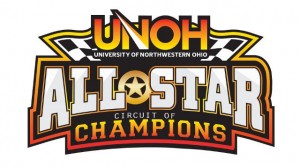 From Brian Liskai
Camargo, IL — (August 29, 2013) — The teams of the University of Northwestern Ohio All Star Circuit of Champions will have a busy Labor Day weekend with three straight nights of racing in Ohio.
It all kicks off Friday, Aug. 30th and Saturday Aug. 31st with the traditional Attica Ambush. On Friday the UNOH All Stars are teamed up with the Lucas Oil Late Model Series on Detroit Chocolat Night. The late models will be running for $10,000 to win while the All Star sprints will battle for $3,000 to win. On Saturday, thanks to the Baumann Auto Group and Attica Raceway Park, the UNOH All Stars will be gunning for $5,500 to win. Also thanks to the Baumann Auto Group the 305 sprints will battle for $1,000 to win thanks to Ron McComas and MRE of Ohio and the UMP late models $1,500 to win with the dirt trucks gunning for $600 to win.
The UNOH All Stars then head to the NAPA Wayne County Speedway near Orrville, Ohio on Sunday, Sept. 1 for their second appearance of the season. The late models and super stocks will also be on the racing card.
The All Stars will be making their 100th and 101st appearance at Attica as the track wraps up its 25th anniversary season. Earlier this year three time series champion Dale Blaney scored the win during the Attica Spring Nationals and former track champion Chris Andrews picked up his first UNOH All Star win at the track to open the 31st Annual Ohio Sprint Speedweek.
Blaney, who is looking to become only the third driver in All Star history to have four series championships, has 17 career wins at Attica to sit fifth on the track's all-time win list. Blaney has five All Star wins in 2013 and is tied with hall of famer Kenny Jacobs for most career series wins with 98. Blaney also has a narrow lead in the series' Ohio Region points, just 38 ahead of four-time national and defending All Star champion Tim Shaffer. Ironically Shaffer has yet to score a series win in 2013.
Pittsburgh, Pennsylvania's Danny Holtgraver is coming off the latest UNOH All Star win, that coming at Mercer Raceway Park last weekend. He has three series wins in 2013 and six career All Star wins at Attica. He currently sits third in the All Star's national and Ohio Region points.
Cap Henry, who calls nearby Bellevue, Ohio home, has always had good runs at Attica but has been bitten by bad luck on several occasions while leading late. He is looking for his first All Star win but has a couple of non-sanctioned victories in 2013 and is coming off an impressive run in the Knoxville Nationals. Henry is fourth in the All Star's national and Ohio Region points.
Third generation driver Caleb Helms of Findlay, Ohio is in his first season of competition with the UNOH All Stars and is fifth in the national and Ohio Region standings. Another youngster in his first year of racing with the All Stars, Trey Gustin, sits sixth in the series' national points and eighth in the Ohio Region standings.
Since the Attica Ambush began in 1989 some of the biggest names in sprint car racing have taken the win including Steve Kinser, Dave Blaney, Sammy Swindell, Joey Saldana, Frank Kerr, Mark Kinser, Kevin Gobrecht, Terry McCarl, Jeff Shepard, Chad Kemenah, Danny Smith, Greg Wilson, Mark Keegan, Alvin Roepke, Dale Blaney, Stevie Smith and Tim Shaffer (2010 and 2011). Local driver Phil Gressman picked up the win in the event in 2012.
There have been 12 different winners of the 13 events contested this season at Attica. Brian Lay has had a break-out season at the track, garnering two wins. Other winners include six time track champion Byron Reed who is second on the track's all-time win list with 29 victories; Brian Smith, Holtgraver and Shane Stewart in the twin 25s in May; two time Kistler Racing Products FAST (Fremont Attica Sprint Title) champion Bryan Sebetto; two time and 2013 track champion Craig Mintz; young chargers Travis Philo and Sheldon Haudenschild; and the most recent winner, Brad Bowman. Blaney and Andrews scored the two All Star wins.
Other local drivers to look out for include Caleb Griffith who finished second in the track's points and picked up the 360/305 sprint challenge win at the track; rookie D.J. Foos; Duane Zablocki, 2012 rookie of the year Stuart Brubaker, Stuart Williams, Brandon Martin; former track champion Dean Jacobs; Greg Wilson, a former two time All Star champion who sits fourth on the track's all-time win list with 19 victories; Cole Duncan and a host of other local and regional talent.
When the UNOH All Stars head to the NAPA Wayne County Speedway Sunday, they will again encounter a very tough field of local competitors.
During the Ohio Sprint Speedweek event at the track, Bixby, Oklahoma's Shane Stewart picked up the All Star win. Two time and 2013 track champion Andrew Palker, who scored a non-sanctioned win at Lernerville Speedway last weekend and if not for a last lap pass by Holtgraver, would have picked up his first ever All Star win at Mercer, will be force to be reckoned with Sunday. Also to watch out for is local driver Danny Mumaw who has four wins at the track in 2013. Another driver who lives near the track, Broc Martin, has scored two wins at the NAPA Wayne County Speedway in 2013. Other drivers scoring wins at the track in 2013 include Cory Crabtree and the legendary hall of famer Jac Haudenschild who has posted two All Star wins in 2013. Not to be outdone, Jac's son, Sheldon, has two non-wing BOSS series wins at the NAPA Wayne County Speedway in 2013, including just last week.
Other drivers to watch at the NAPA Wayne County Speedway include local driver Lee Jacobs whose great-grandfather built the facility; Jason Dolick; Bob Lime; Jimmy Pooler, Mitch Harble; Nick Patterson; Shawn Hubler; Aaron Middaugh; Chris Myers and a host of other tough weekly competitors.
All three of the Labor Day weekend events are part of the $20,000-to-win Ohio Region of the UNOH All Stars. There will be only three Ohio Region point shows left after the weekend – a double header for the traditional Jim Ford Classic, Friday and Saturday, Sept. 13 and 14 at Fremont Speedway, and the season ending event at Tony Stewart's Eldora Speedway on Oct. 12. Other than those shows, the UNOH All Stars have only two other events, both Eastern Region point races at the Port Royal Speedway, Sept. 6 and 7.
For more information go to www.allstarsprint.com. For times and ticket information about this weekend's events go to www.atticaracewaypark.com; and www.waynecountyspeedway.com