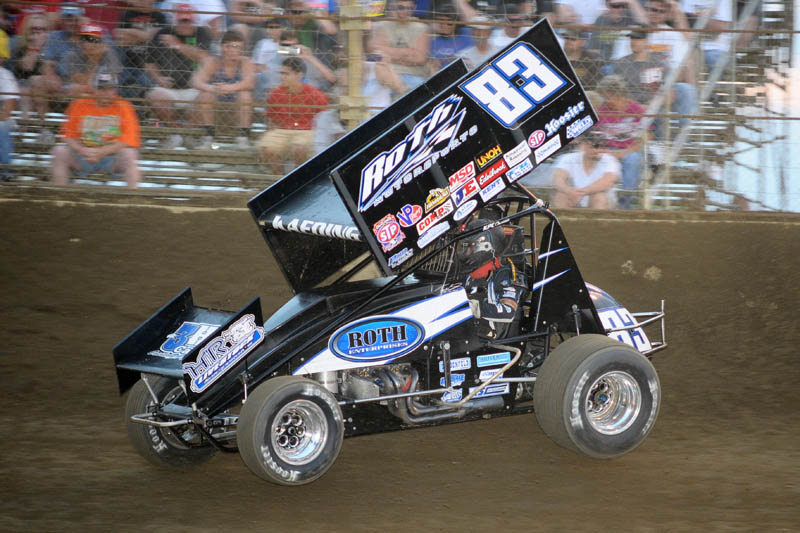 PETERSEN MEDIA
 Continuing to follow the World of Outlaws down the West Coast, Tim Kaeding pocketed wins at the Cottage Grove Speedway in Cottage Grove, OR, and the Willamette Speedway in Lebanon, OR as well a fourth place finish in Elma, WA, seventh and fifth place finishes during the Gold Cup in Chico, CA, and a third place finish in Antioch, CA.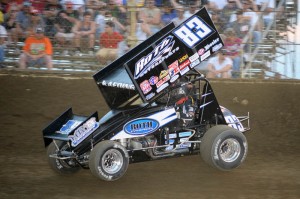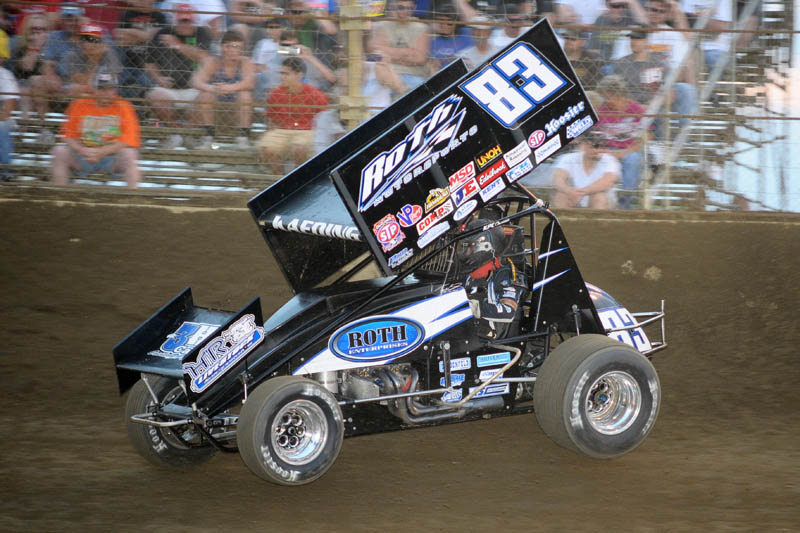 "Overall it was a great swing for us out West," Kaeding said. "I can't say enough about this team, and to win two more Outlaw shows, and not finish any worse than seventh is pretty good."
Kicking his winning off on Tuesday night, Kaeding and his Roth Enterprises/HR Livestock Transportation/3H Cattle team were in action at the Willamette Speedway in Lebanon, OR, and he started his night off with a ninth quick effort in time-trials.
Running second in his heat to Brad Sweet, the Campbell, CA driver scored a fourth place finish in the Dash, putting him in the second row of the feature event.
Jumping into the third spot, Kaeding found the high-side to his liking as he chased after Paul McMahan and Rico Abreu.
On the 11th lap, Kaeding drive around Abreu to take the stop spot as he stayed committed to running the high-side.
As the laps wound down, Donny Schatz began to pressure Kaeding as he had been able to make the bottom work, and closed the gap on TK in traffic.
A late caution set up a green-white-checkered finish, and Kaeding was able to keep Schatz at bay and score another World of Outlaw victory.
"It's been one of those years where I wake up and pinch myself," Kaeding said in regards to the year he has had to date. "Dennis and Teresa Roth give us great equipment and to continue to win for them is awesome."
Wednesday night, Kaeding continued to stay strong as the team rolled into the Cottage Grove Speedway.
Timing in fifth fastest, Kaeding went on to score a second place finish in his heat race putting him in the second row of the dash.
Scoring a fifth place finish, Kaeding would line up in the third row of the feature event, but he would not be back there for long.
When the race got going, Kaeding sat in the third spot, as he worked on making the high-side work for him.
After a couple laps, he was able to work up into the second spot, as he chased after race leader, Cody Darrah.
Working in heavy traffic on the slick racing surface, rubber began being laid down. As Darrah bobbled in traffic on the 15th lap, Kaeding was able to charge past him and never look back.
With a  few cautions slowing the race, TK was able to hold off Kyle Larson, and score his ninth World of Outlaw win of the season.
Continuing to head into his native California, Kaeding was able to put on a strong showing at the Gold Cup Race of Champions where he charged from 19th to fifth on Friday night, earning KSE Hard Charger honors, before scoring a seventh place finish from 15th on Saturday night.
TK closed out the hectic week by scoring a third place finish on a very slick Antioch Speedway on Sunday night.
"I can't thank my crew enough for their effort over the week," TK said. "It was grueling and they gave a great effort, and it really showed."
Tim and his Roth Motorsports team would like to thank Roth Enterprises, HR Livestock Transportation, 3H Cattle,  Mobil1, FK Rod Ends, Weld Wheels, Brown and Miller Racing Solutions, Kent Performance, Kaeding Performance, and Astro Titanium for their support in 2013.
2013 ROTH MOTORSPORTS BY THE NUMBERS: Starts-58, Wins-10, Top 5's-29, Top 10's-38.
ON TAP: TK and the Roth Enterprises team will take on the King of the West Series this Saturday night in Fernley, NV.
STAY CONNECTED: Stay connected with Roth Motorsports by checking out their new website, www.rothmotorsports83.com. You can also follow Tim on Twitter by following @tkaedingracing.