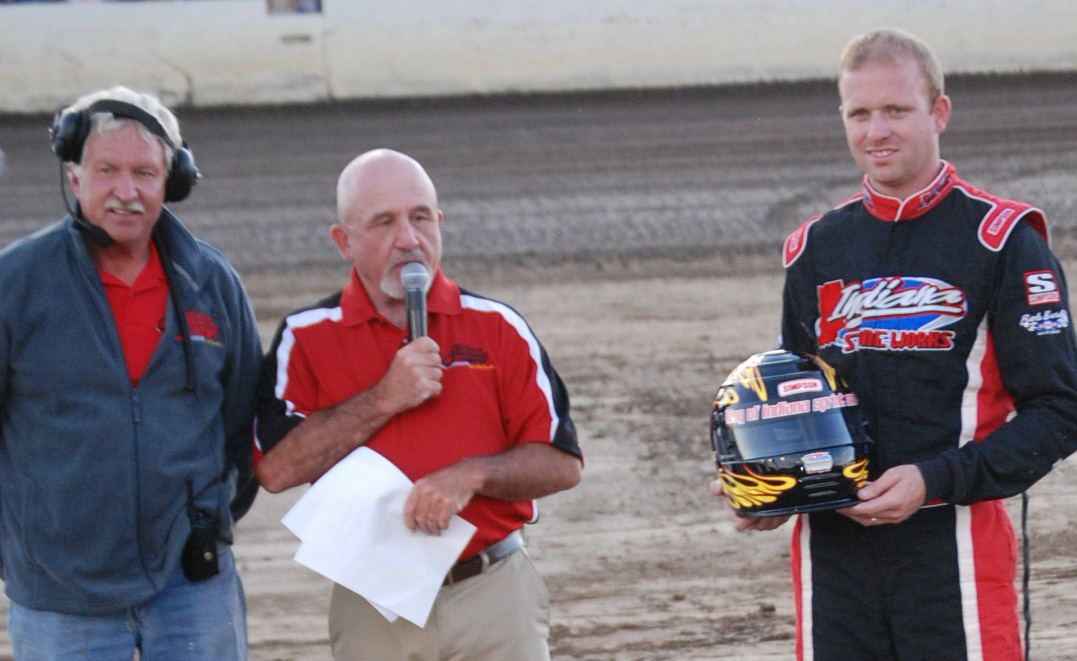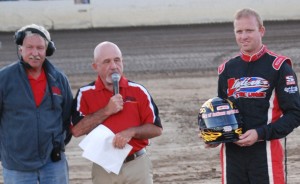 From Mike O'Leary
September 15, 2013 – The crown for the King of Indiana Sprint Series was placed on the head of Bedford, Indiana's Brady Short for the second time Saturday night.  Before the events of the Haubstadt Hustler at Tri-State Speedway, Saturday, the 2013 KISS series champion received the KISS Champion's Helmet, a specially designed, fully race-capable headgear.  It was Short's second championship and second helmet award.
The KISS Helmet award is sponsored by Sprint Car & Midget Magazine, Simpson Performance Products and VanHorn Tin & Accessories.  The black and gold artistic design by Jeff VanHorn reflects the paint scheme of Short's Pottorff Logging sprint car.  The Simpson helmet is fully state of the art in the critical areas of safety, materials and construction, and it comes equipped with everything a driver needs to strap it on and go racing.  Yet, each of the Champion's who have won a helmet (Jon Stanbrough in '07, '08, '10 and last year, Short in '09, and Dave Darland in '11) have chosen not to wear it for racing, but rather to display it with their personal trophies.  This only makes sense in that there are no other helmets like the KISS Champion's, and the only way to get one is to earn it on the race track.
Short opened the 2013 KISS tour with a victory, hustling from mid-pack at Bloomington Speedway.  Two nights later, Robert Ballou claimed the second feature of the series, at the Kokomo Speedway.  Towing to Gas City I-69 Speedway, a track that has challenged him over the years, Short sat up in the cockpit of the Pottorff sprinter and notched his second victory.  It also gave him five wins in the history of KISS, second most behind Jon Stanbrough's 19 victories.
Lawrenceburg Speedway was first to be rained out this year, and a week later Daron Clayton scored at Tri-State Speedway, his fourth KISS win.  With fifth place finishes at both Kokomo and Tri-State, Short held a solid 80-point advantage as the last two races, Paragon Speedway and the Terre Haute Action Track, also suffered to the weather.  Runner-up Kevin Thomas Jr. recorded his best KISS point finish, and Ballou took third in the final standings.
Following his first crown in 2009, Short becomes the second driver to win more than one KISS championship.  Stanbrough is the winningest driver and also the record holder with six titles.  Other champions over the 13 years of KISS competition include Dave Darland, Tony Elliott, Justin Marvel, Dickie Gaines and Michael Burthay.
Final 2013 KISS Point Standings
1. Brady Short 680, 2. Kevin Thomas Jr. 600, 3. Robert Ballou 581, 4. Hunter Schuerenberg 577, 5. Casey Shuman 536, 6. Levi Jones 492, 7. Dave Darland 479, 8. Shane Cottle 427, 9. Jerry Coons Jr. 400, 10. Chris Gurley 351