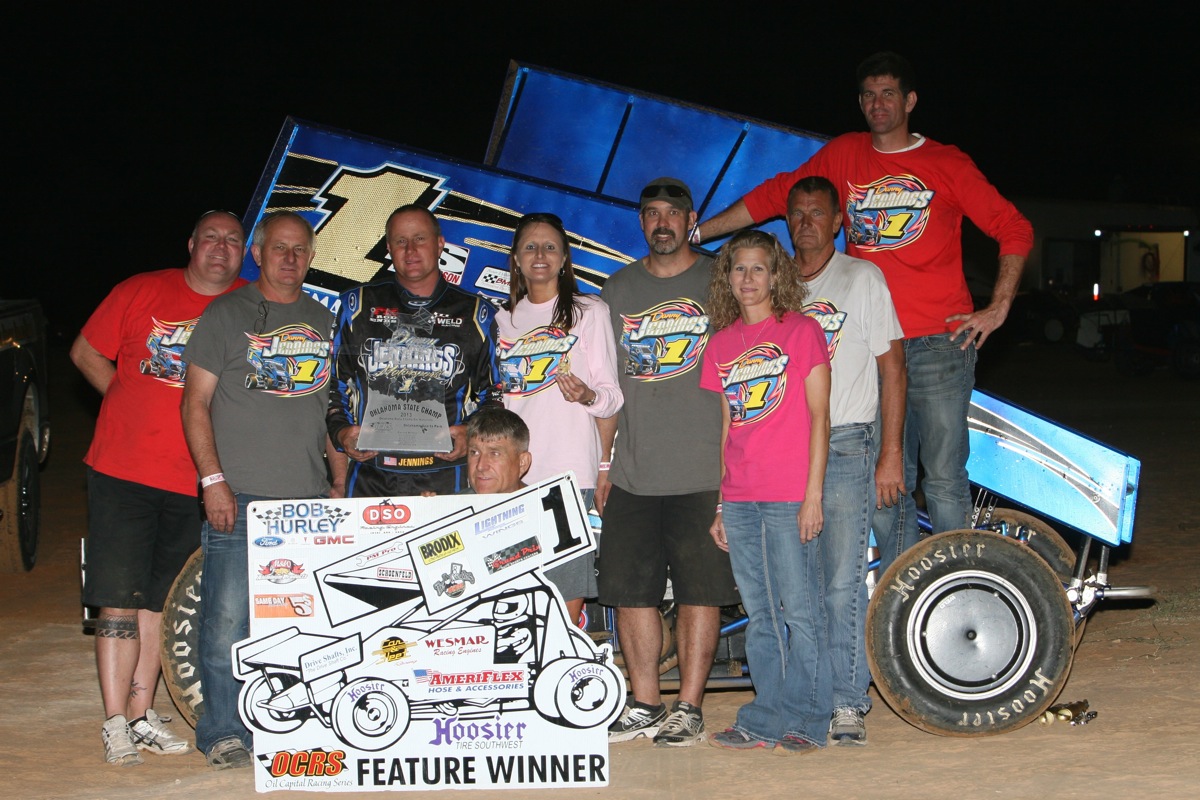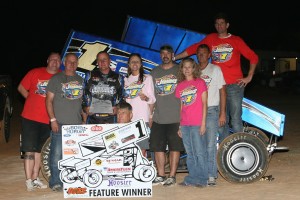 From John Lemon
Ada, OK — (September 14, 2013) –- Norman Oklahoma's Danny Jennings captured the 7th Annual Oklahoma State Championship race tonight in a dominating performance at the Oklahoma Sports Park in the twentieth round of the season long Oil Capital Racing Series 2013 sprint car tour. In winning the 25-lap contest in his second OCRS race of 2013, Jennings becomes the sixth OSC winner, which was first held in 2007. Also, the win by the driver of the Maxim Chassis/ Jennings Engines number 1j makes Jennings the 13th different winner on the OCRS circuit which adds to the current series record for the number of different winners in a single OCRS season.
"Our night went great," said the jubilant winner. "We rolled it (race car) out of the box (trailer) and it was fast right out of the box. You don't get those very often. I have to thank David Grace, Butler Built Seat, Lucas Oil, F-K Rod Ends, Ti-22, my wife Jamie and my grandfather Earnest who builds my motors, tonight went really good. I really wished Andy Shouse and Whit Gastineau were here. They are the ones that out ran me the last couple of times." There are a bunch of good clean drivers that race with OCRS and there are a couple of tracks we typically pick and choose to run. Lawton Speedway and here (OSP) mostly because they are close to my family and friends and they can come watch me race. It makes it that much better when we win and they are all here. We have lost this race every which way you can imagine including losing it at the line going for the checkered (a reference to the 2009 race when Andy Shouse nipped Jennings at the line). I'm just glad we could get one tonight."
Jennings started the race on the pole along side fellow front row starter Strike Hill, who was also making his second OCRS start of the season in the Tipton Excavating / Maxim Chassis/ Wells Racing Engines number 13. Jennings powered his way to the front as the field shot into turn one at the start. Fred Mattox followed Jennings through the south turns to take second from his inside third row position as the field broke for the back stretch with Hill taking the third spot. Johnny 'Hotrod' Kent would tuck in behind Hill and Robert Sellers would occupy the fifth position.
Lap four saw Sellers over take Kent in turn two on a track that was quickly taking on rubber. As laps were clicking off the 4/10-mile track, a yellow fell on lap number 16 when OCRS point leader Harli White and Shayla Waddell made contact in turn number three. Both would stall but each would restart tailback. Before a lap could be completed, a red was tossed into the air as White came upon the cars of Tyler Cothran of Wichita Falls Texas and Locust Grove Oklahoma's Alex Decamp. Cothran and DeCamp were in the process making contact with one another in turns three and four and White clipped them an went into a hard flip. While the car was badly hurt, White walked away unscathed. Cothran and DeCamp would retire as well.
The restart had Jennings holding first with Mattox next followed by the lapped car of Michael Bookout, then Hill, Sellers and Kent. Mattox, who has been so close to winning at OSP in recent trips, knew the restart was his chance if he were to get around Jennings and he did just that, but it only lasted a few seconds. When the green dropped, Mattox, who was the only threat to Jennings all night, got a run on him entering turn one and for a moment, took the lead. Just as Mattox could see a track with no view of a chrome bumper in sight, the rear end in his sprinter gave way thus having to relinquish the very brief lead back to Jennings. Mattox then pulled into the infield wondering why his luck at OSP is so hard to come by.
From there, Jennings was never seriously challenged again as he would continue to pull out to large leads after each restart. Hill would hold down the second spot for his career best OCRS finish. "This was a tough track to pass on tonight," said Hill. "There were some spots were there was rubber and there were slick spots too. I was running Danny down a little bit before that red flag. After the red, the track went away and my car went away. I just was holding on (at the end) looking for the checkered flag."
Robert Sellers crossed the stripe in third with Johnny Kent fourth and Shane Sellers fifth. 2011 OSC winner Gary Owens was sixth, Sheldon Barksdale seventh, Cody Cothran eighth with Shayla Waddell coming back for a ninth place finish after her earlier skirmish and Kyle Clark was rounded out the top ten.
The best passing jobs on the track were by Clark, who started 18th and by Brodix / PM-Pro Rookie of the Year candidate Chance Morton, who started in the last position (20th). Each of these young men passed eight cars with Clark getting the tie breaker for the AmeriFlex Hose and Accessories Hard Charger award by virtue of finishing in the 10th position to Morton's 12th place finish. Mattox was the night's Dyno Services of Oklahoma Hard Luck award recipient.
The OCRS teams are off next week but will return to action on Saturday night September 28th at the West Siloam Speedway. For more information on the OCRS sprint car series including updates, stories, photos, complete 2013-point standings and future schedules, log onto: www.ocrsracing.com
You can also checkout our Facebook page at: https://www.facebook.com/oil.series
OCRS Race Results
"7th Annual Oklahoma State Championship"
Oklahoma Sports Park / Ada, Oklahoma
Date of Race: Saturday, September 14, 2013
Car Count: 25
(Pos-Car-Driver-Start)
AmeriFlex Hose and Accessories Heat
1, 4-Shane Sellers[1]. 2, 1J-Danny Jennings[7]. 3,33-Gary Owens[6]. 4, 22C-Cody Cothran[2]. 5, 78-Perry Pickard[3]. 6, 31-Casey Wills[4]. 7, 3G-Jeff Garnett[5].
Bob Hurley Auto Family Heat
1, 10K-Kyle Ezell[2]. 2, 4X-Robert Sellers[3]. 3, 17W-Harli White[6]. 4, 007- Michael Bookout[1]. 5, 21C-Tyler Cothran[5]. 6, 7m-Chance Morton[4].
Drive Shafts Inc. Heat
1, 84-Alex DeCamp[1]. 2, 20-Sheldon Barksdale[3]. 3, 88S-Shayla Waddell[4]. 4, 13-Strike Hill[6]. 5, 8J-James Fabian[2]. 6, 5$-Danny Smith[5].
Car and Fleet Parts Heat
1, 55-Johnny Kent[2]. 2, 26M-Fred Mattox[3]. 3, 8M-Kade Morton[1]. 4, 9-Derek Cottrell[4]. 5, 9$-Kyle Clark[5]. 6, 3x-Justin Mowry[6].
Wesmar Racing Engines B Feature
1, 8M-Kade Morton[12]. 2, 22C-Cody Cothran[10]. 3, 9-Derek Cottrell[5]. 4, 21C-Tyler Cothran[1]. 5,31-Casey Wills[11]. 6, 9$-Kyle Clark[9]. 7,007-Michael Bookout[6]. 8, 7m-Chance Morton[7]. 9, 8J-James Fabian[8]. 10, 78-Perry Pickard[4]. 11, 3G-Jeff Garnett[3]. 12, 3x-Justin Mowry[2]. 13, 5$-Danny Smith[13]. (DNS).
OCRS A Feature
1, 1J-Danny Jennings[1]. 2, 13-Strike Hill[2]. 3, 4X-RobertSellers[5]. 4,55- Johnny Kent[6]. 5, 4-Shane Sellers[8]. 6, 33-Gary Owens[10]. 7, 20-Sheldon Barksdale[7]. 8, 22C-Cody Cothran[14]. 9, 88S-Shayla Waddell[4]. 10, 9$-Kyle Clark[18]. 11,9-Derek Cottrell[15]. 12, 7m-Chance Morton[20]. 13, 8M-Kade Morton[13]. 14, 10K-Kyle Ezell[12]. 15, 31-Casey Wills[17]. 16, 007-Michael Bookout[19]. 17, 26M-Fred Mattox[3]. 18, 17W-Harli White[11]. 19, 84-Alex DeCamp[9]. 20, 21C-Tyler Cothran[16]
AmeriFlex Hose and Accessories Hard Charger: Kyle Clark +8
Dyno Services of Oklahoma Hard Luck Award: Fred Mattox