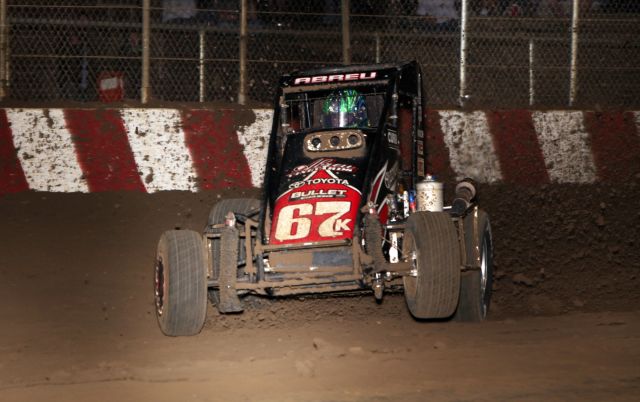 By Tim Tuttle

PONTOON BEACH, Ill. (Oct. 3, 2013)—Rico Abreu drove to his fourth feature victory of the season in the POWRi Lucas Oil National Midget Series and Zach Daum's fourth place increased his lead over Andrew Felker for the championship Thursday in the opener of the fifth annual DuPont Gold Crown Midget Nationals co-sanctioned by the Honda USAC National Midget Series at Tri-City Speedway.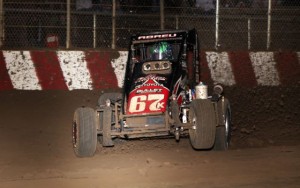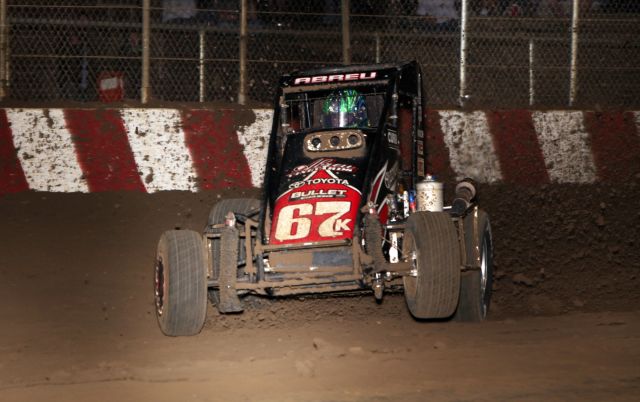 Abreu started on the outside of the second row and, using the far outside line on the three-eighths mile track, powered into the lead in the Keith Kunz/Curb-Agajanian Motorsports' Bullet-Toyota on the back straight. The 21-year-old from Rutherford, Calif., led all 25 laps. It was Abreu's seventh POWRi Midget victory in 23 starts over the past two seasons.
"I had a great start," Abreu said. "I knew it would be hard to pass and wanted to get to the front as quickly as possible. Once I got in the lead, I began to pace myself, stayed patient. The cushion got tall with about 10 laps to go and I moved down off it."
Bryan Clauson started from 13th and, by passing Brady Bacon and Tanner Thorson following a lap 16 restart, climbed to second in his Curb Records Spike-Esslinger. The driver from Noblesville, Ind., stayed within striking range until a red flag came out on the 22nd lap.
"I really didn't need that long red," Clauson said. "It let the tires settle too much, lost too much air pressure, and the car became a little too bouncy. I was trying to get a run through turn four and get a run on him to do a slider in turn one, but never got the chance. Rico dropped down to the bottom (in turn four) after the red."
Abreu had changed his line in turn four during the red, dropping down to apex the corner in turn four. It had been the line—not identical, but close—to what Clauson had been running prior to the red.
"Keith (Kunz) told me under the red what Clauson was doing and I went down to take away his line," Abreu said.
Clauson finished second, .64 of a second—several car lengths—behind.
"It was a good run, 13th to second," Clauson said. "I didn't feel like Rico was much better."
Chris Bell, Abreu's teammate, finished third from 15th on the grid. He's the USAC national midget point leader over Clauson, 791-720, and lost only three off his lead.
"I was a little worried when Clauson was seventh and I was 14th at the first yellow (lap nine)," Bell said. "I took too long to get going. I started out on the bottom and about 10 laps in, I switched to the top. I had a good car and once I got going, the car was really fast. The track slicked up and got wider and I like that."
Daum started on the fourth row and drove his Toyota-powered Eagle to fifth by the seventh lap. The 22-year-old from Pocahontas, Ill., was third when the race was red flagged on the 22nd lap. Bell passed him on the 23rd for third and Daum finished fourth.
Championship rival Andrew Felker of Carl Junction, Mo., was caught up in the 22nd lap crash of Tanner Thorson and finished 16th.
Daum can clinch the title in tonight's (Friday) second event of the Gold Crown Nationals by finishing 13th or better even if Felker wins the final two races of the season, which concludes Saturday with the $10,000-to-win Gold Crown finale. Daum has a 4,400-3,980 advantage in total points and when the POWRi rule requiring each driver to drop his lowest two finishes is included, he's 330 points in front.
"We're almost there (championship), but not there yet," Daum said. "It's racing. I could not qualify for the feature twice or break and Andrew could win both them. We need to keep plugging along and not make any mistakes."
Daum finished fourth with a hole in his muffler that sapped power in the closing stages of the feature. It was his 10th straight top-five.
USAC HONDA NATIONAL MIDGET CAR SERIES RACE RESULTS: October 3, 2013 – Pontoon Beach, Illinois – Tri-City Speedway – 5th "Gold Crown Midget Nationals" – (Co-sanctioned by POWRi)
FIRST HEAT: (8 laps) 1. Jonathan Beason (#36 Beason), 2. Brady Bacon (#11 Wilke), 3. Rico Abreu (#67K Kunz/Curb-Agajanian), 4. Bubba Altig (#33 Davis), 5. Jerry Coons Jr. (#63 Dooling), 6. Logan Hupp (#38 Gardner), 7. Tyler Robbins (#5H Hoppe), 8. John Campbell (#19 Campbell), 9. Ross Rankine (#39x Rankine). 1:59.33
SECOND HEAT: (8 laps) 1. Shane Cottle (#56P Hmiel), 2. Kevin Thomas Jr. (#2 Steele), 3. Caleb Armstrong (#7c C&A), 4. Brenden Bright (#92 Bright), 5. Bryan Clauson (#39 Tucker/BCI/Curb-Agajanian), 6. Dave Darland (#17 RW/Curb-Agajanian), 7. Tyler Thomas (#91T Thomas), 8. Ryan Criswell (#11R R&C), 9. Dalton Camfield (#10c Camfield). 2:04.38
THIRD HEAT: (8 laps) 1. Tanner Thorson (#67 Kunz/Curb-Agajanian), 2. Andrew Felker (#11A Felker), 3. Jake Blackhurst (#25 Blackhurst), 4. Taylor Ferns (#55 Ferns), 5. Dalton Armstrong (#7A C&A), 6. Billy Wease (#10x Moore), 7. Colten Cottle (#5c Cottle), 8. Darren Kingston (#94 Kingston). 1:58.83
FOURTH HEAT: (8 laps) 1. Chris Windom (#3F RFMS), 2. Tracy Hines (#24 Parker), 3. Chris Bell (#71 Kunz/Curb-Agajanian), 4. Brad Kuhn (#10 Cook), 5. Darren Hagen (#3 RFMS), 6. Danny Frye (#5 Frye), 7. Daniel Robinson (#57 McCreery), 8. Dave Camfield Jr. (#4x Meents). NT
FIFTH HEAT: (8 laps) 1. Zach Daum (#5D Daum), 2. Bobby East (#4 Klatt), 3. Danny Stratton (#56A Hmiel), 4. Austin Brown (#7 Brown), 5. Alex Bright (#77 Hemler), 6. Parker Price-Miller (#9P Ronk), 7. Terry Babb (#88 Babb), 8. Tim Buckwalter (#52 Buckwalter). 1:59.71
C-MAIN: (10 laps) 1. C.Cottle, 2. T.Thomas, 3. Babb, 4. Buckwalter, 5. Criswell, 6. Rankine, 7. Kingston, 8. Campbell, 9. Dave Camfield Jr., 10. Dalton Camfield. 2:33.35
DASH: (6 laps) 1. Bacon, 2. Cottle, 3. Thorson, 4. Abreu, 5. East, 6. Beason. 1:31.13
SEMI: (15 laps) 1. Blackhurst, 2. Kuhn, 3. Stratton, 4. Hagen, 5. Darland, 6. A. Bright, 7. Price-Miller, 8. Brown, 9. Altig, 10. Wease, 11. T.Thomas, 12. Babb, 13. D.Armstrong, 14. Robinson, 15. Hupp, 16. Robbins, 17. C.Cottle, 18. Frye, 19. B.Bright, 20. Buckwalter. NT
POWRi Lucas Oil National Midget Series feature results (25 laps): 1. Rico Abreu, 2. Bryan Clauson, 3. Chris Bell, 4. Zach Daum, 5. Darren Hagen, 6. Kevin Thomas Jr., 7. Alex Bright, 8. Caleb Armstrong, 9. Jerry Coons Jr., 10. Shane Cottle, 11. Brad Kuhn, 12. Jake Blackhurst, 13. Bobby East, 14. Austin Brown, 15. Tanner Thorson, 16. Andrew Felker, 17. Jonathan Beason, 18. Brady Bacon, 19. Tracy Hines, 20. Dave Darland, 21. Tyler Thomas, 22. Taylor Ferns, 23. Chris Windom, 24. Parker Price-Miller, 25. Danny Stratton.
For more information, go to www.POWRi.com.