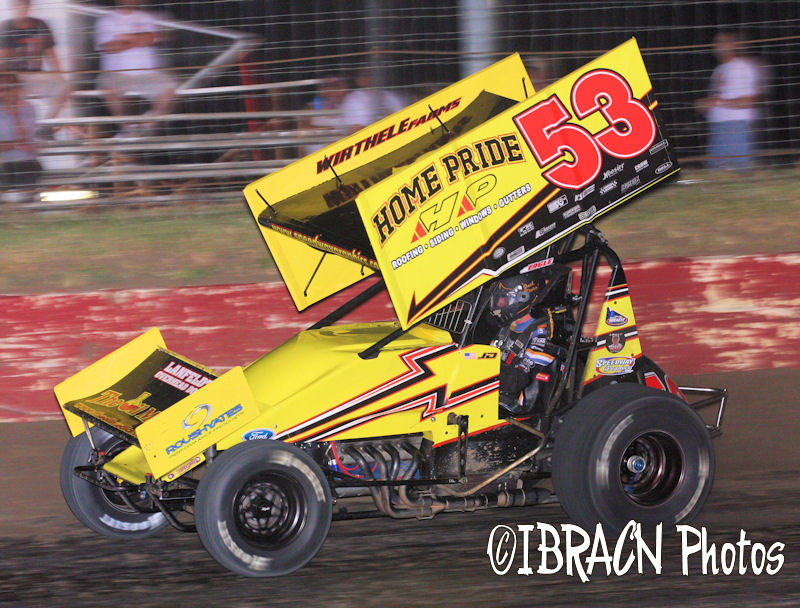 From David Smith, Jr.
Park City, KS — (October 5, 2013) — Jack Dover continued his winning ways in series action as he pocketed $3000 in claiming his third National Championship Racing Association of Park City, Kansas presented by Precise Racing Products 360-ci sprint car feature event of the season Saturday night at 81 Speedway in Park City.
Dover and fellow "Cornhusker State" driver Billy Alley started on the front row for the thirty lap feature with both drivers looking to get an early jump on each other causing complete restarts. The second attempt was nelegated when Randy Woodside flipped at the bottom of turn four collecting Randy Hibbs. Woodside was uninjured but both were done for the night.
When race finally went green, Dover, aboard the family owned #53 Certified Transmission/Home Pride Companies/The Oil Medics/Trail Performance sponsored, Roush/Yates Ford powered Eagle chassis, pulled away from the field and quickly opened up a half stretch lead over Alley by lap three.
The leader began approaching lapped traffic on lap seven and by lap nine was caught behind more traffic allowing Alley to cut the deficit to ten car lengths. However Dover would work his way around the slower cars while behind him, Danny Wood would get around Shawn Peterson for the third position.
At the races midway point it was Dover, followed by Alley, Wood, fifteenth starting Jordan Boston and Wayne Johnson as Dover continued to set a torrid pace. His pace was slowed for a caution on lap seventeen and on the restart, Dover would motor away and over the final thirteen laps would lap all the way up to the seventh place position.
Alley would settle for second and finish a full stretch behind Dover while behind him, eleventh starting Danny Lasoski had his race setup starting to work as he steered clear from a race long battle for positions three through seventh to finish third at the checkered. Eighth starting Wayne Johnson finished fourth while tour runner up in the current point standings, Jeremy Campbell, came from his ninth starting position to round out the top five. Current point leader C.J. Johnson came home sixth.
The three, ten lap heat races for the twenty-seven car field were won by; Dover, Alley and Wood while Boston won the twelve lap "B" feature.
The next event for the NCRA sprint car division is scheduled to take place on Saturday night, October 26th in what will be the final event on the 2013 race season and the battle for the championship will be decided between C.J. Johnson and Campbell.
NCRA Sprints
81 Speedway/Park City, Kansas
October 5, 2013
27 Cars
1st Heat: 1) Jack Dover (Springfield, Ne), 2) Jason Martin (Lincoln, Ne), 3) Brandon Hahn (Tulsa, Ok), 4) Jeremy Campbell (Wichita, Ks), 5) Jordan Boston (Lincoln, Ne), 6) Curtis Evans, 7) Koby Barksdale (Norman, Ok), 8) Jordan Weaver (Woodward, Ok), 9) Randy Woodside (Wichita, Ks)
2nd Heat: 1) Billy Alley (Bennet, Ne), 2) Jeff Stasa (Kingman, Ks), 3) Shawn Peterson (Irving, Tx), 4) Danny Smith, 5) Randy Hibbs (Savannah, Mo), 6) Jon Freeman (Salina, Ks), 7) Taylor Velasquez (Turpin, Ok), 8) Marc Robe (Wichita, Ks), 9) Kyle Bellm (Nixa, Mo)
3rd Heat: 1) Danny Wood (Norman, Ok), 2) Wayne Johnson (Knoxville, Ia), 3) J.D. Johnson (Wichita, Ks), 4) Danny Lasoski (Higginsville, Mo), 5) Kyle Clark, 6) Rick Wright Jr (Ponca City, Ok), 7) CJ Johnson (Quinter, Ks), 8) Wyatt Burks (Topeka, Ks), 9) Kris Miller (Woodward, Ok)
B Feature: 1) Jordan Boston (Lincoln, Ne), 2) Randy Hibbs (Savannah, Mo), 3) Curtis Evans, 4) CJ Johnson (Quinter, Ks), 5) Kyle Bellm (Nixa, Mo), 6) Randy Woodside (Wichita, Ks), 7) Rick Wright Jr (Ponca City, Ok), 8) Koby Barksdale (Norman, Ok), 9) Taylor Velasquez (Turpin, Ok), 10) Jordan Weaver (Woodward, Ok), 11) Marc Robe (Wichita , Ks), 12) Wyatt Burks (Topeka, Ks), 13) Kris Miller (Woodward, Ok)
A Feature: 1) Jack Dover (Springfield, Ne), 2) Billy Alley (Bennet, Ne), 3) Danny Lasoski (Higginsville, Mo), 4) Wayne Johnson (Knoxville, Ia), 5) Jeremy Campbell (Wichita, Ks), 6) Jason Martin (Lincoln, Ne), 7) CJ Johnson (Quinter, Ks), 8) Danny Wood (Norman, Ok), 9) Jordan Boston (Lincoln, Ne), 10) Brandon Hahn (Tulsa, Ok), 11) Curtis Evans, 12) Shawn Peterson (Irving, Tx), 13) Jon Freeman (Salina, Ks), 14) Danny Smith, 15) Kyle Clark, 16) Jeff Stasa (Kingman, Ks), 17) Kyle Bellm (Nixa, Mo), 18) J.D. Johnson (Wichita, Ks), 19) Randy Hibbs (Savannah, Mo), 20) Randy Woodside (Wichita, Ks)