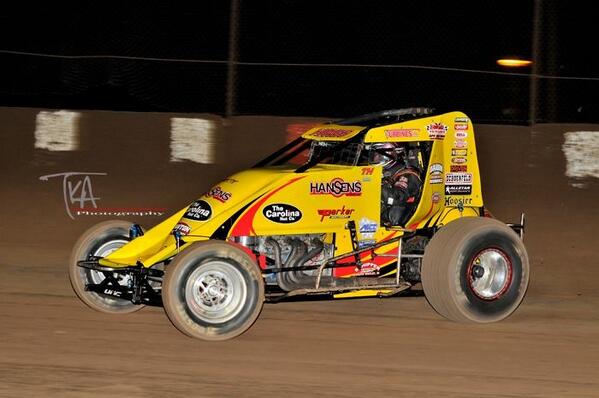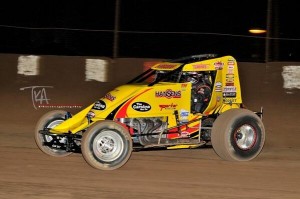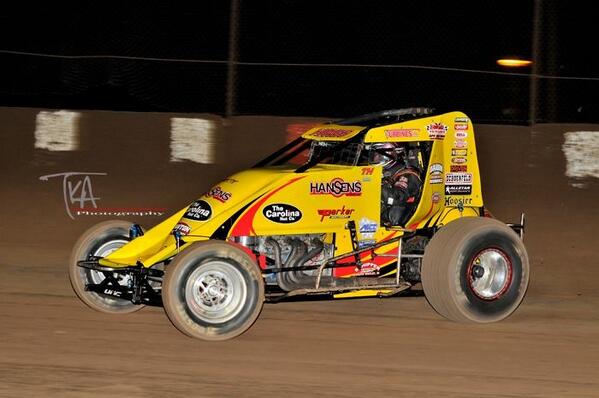 From Tracy Hines Racing PR
New Castle, IN — (October 27, 2013)— Tracy Hines knows how to get around Canyon Speedway Park — plain and simple. After picking up three wins in 2012 at the track, he returned this past weekend looking to add to his impressive stats at the Arizona oval. Hines would run up front both nights of the 13th Annual Hose Advantage Hall of Fame Classic, ultimately recording a pair of runner-up finishes with the Amsoil USAC National Sprint Car Series aboard The Carolina Nut Company/Hansen's Welding Inc. DRC.
In the finale of the two-night event on Saturday, Oct. 26, the 2002 Amsoil USAC National Sprint Car Series champion, started on the pole and led the opening lap, before eventual race winner Chase Stockon got around him. Hines made up some ground on the leader in the late going, and tried everything he could to track Stockon down, but had to settle for second. The main event started with a pair of cautions that led to two complete restarts. A total of four yellow flag periods slowed the A-Feature.
"It was a tough second, because I had such a good car," said Hines. "When the track laid rubber, I was in conserve mode. I caught him (Chase Stockon) once in traffic, and I backed off a little bit because I saw him smoking his tire. We kind of thought he'd burn it off, and I ran him down when I saw the five-to-go. There just wasn't much more I could do once I got there. I was surprised it laid rubber like that, and that's unfortunate, but it was a good racing weekend for everybody."
Hines opened the final night of the Hall of Fame Classic by turning the eighth-fastest lap in time trials of the 30 entrants. He lined up fifth in the fourth heat race and finished fourth in that eight-lap contest to punch his ticket into the main event, where he would start on the pole.
The opener of the Hall of Fame Classic on Friday, Oct. 25, found Hines using a late race restart to his advantage to move into the second spot, before running out of laps as he tried to chase down eventual winner Bryan Clauson. Hines started seventh in the 30-lap A-Feature and methodically worked his way to the front. A red flag on the initial start led to complete restart. A handful of cautions slowed the race, with the final one on lap-28, setting up a three-lap shootout.
"I felt like I was in the best spot while we were in traffic, even while I was in fourth, since they couldn't see me working the bottom," said Hines. "I was okay on the top, but I didn't really have a shot to get to the leaders, so I started looking around on the track. I found something in (turns) one and two earlier, and then later I hit on something in (turns) three and four. The yellows (caution flag periods) didn't help, because I was going good as we hit traffic."
Hines kicked-off the Hall of Fame Classic by timing in seventh-quickest. The veteran driver came home third in the third heat race to transfer directly into the main event.
Following his two runner-up finishes at Canyon Speedway Park, Hines remains sixth in the Amsoil USAC National Sprint Car Series standings. He has a pair of wins this season, along with 17 top-10 finishes. The 2013 Amsoil USAC National Sprint Car Series season comes to an end next weekend at Perris Auto Speedway in California, with the running of the Budweiser Oval Nationals.
Tracy Hines Racing would like to thank: Hansen's Welding Inc., The Carolina Nut Company, Parker Machinery, Turbines, Inc., Afco Racing Products, Daum Crop Insurance, Schoenfeld Headers, Allstar Performance, Kenny's Components, Race Bumpers and Bell Racing.
For more information on Tracy Hines Racing, visit http://www.tracyhinesracing.com. Follow Tracy on Twitter at www.Twitter.com/TracyHinesRacin.