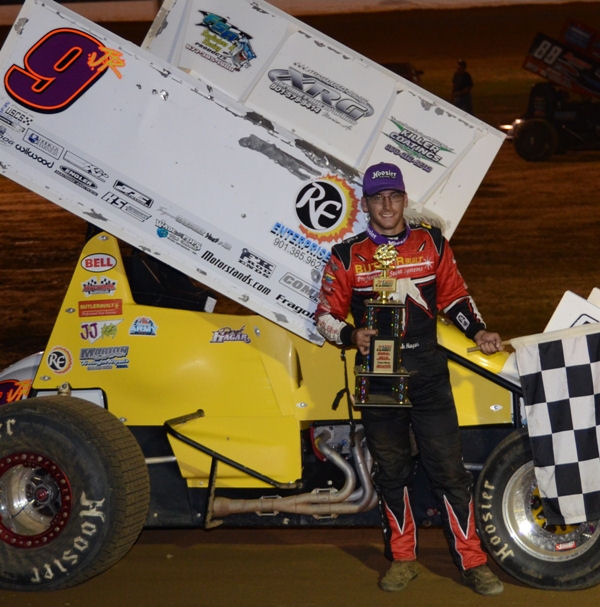 Inside Line Promotions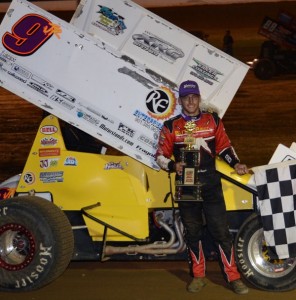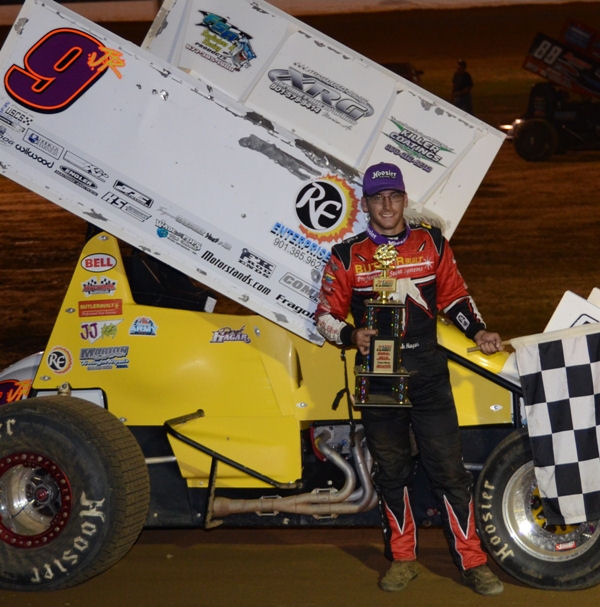 WEST MEMPHIS, Ark. (Nov. 4, 2013) – Derek Hagar is a national championship winning driver.
Hagar secured his first career national title and his second championship of the year last weekend with a pair of top 10s during USCS action at Riverside International Speedway.
"I'm pretty excited about that," he said. "It would have been cool to win all three of them, but the national is what everybody looks at. It made the year exciting and nerve-racking. I'm glad it's over, but then again I hate that it is over."
While Hagar wrapped up the USCS Outlaw Thunder National title with a solid performance at the USCS Fall Nationals, he entered the event with a one-point advantage over Tim Crawley in the USCS Mid-South Thunder standings.
After rain postponed the start of the event from Friday to Saturday at the quarter-mile track, Hagar finished second to Crawley in the dash. That evened the points heading into the first of two features, which Crawley started on the pole after winning the scramble, the following day.
Hagar advanced from third to second place in his heat race and from seventh to sixth place in the scramble to start on the outside of the third row for the first of twin, 25-lap features to conclude the USCS season on Sunday.
"I had to beat him to win (the USCS Mid-South championship) and he had to beat me to win it," Hagar said.
While Crawley had the early advantage, Hagar worked toward the front after a slow start.
"The track was really slick," he said. "I tried a couple of different things and we had a caution around Lap 7. I was running fifth and I slid two guys going into turn one on the restart. About two or three laps later I had a guy sneak up on me on the inside. I followed him and found out there was rubber on the bottom. I got by him and chased down the leaders."
Hagar said he took the lead around Lap 19, but quickly began to lose the handling of his car as his right rear tire started to go flat.
"We had a red flag on Lap 20 I think and it started going away from there," he said. "There wasn't much we could do about it. I knew the right rear was going low. I was hoping we could salvage a finish ahead of (Crawley), but that's not what happened. We had a bunch of cautions in the last five laps. I ended up finishing the race on it. It was completely flat. The car was pretty much undriveable. It was just bad luck."
Hagar lost several positions in the final five laps and he finished sixth. He narrowly dropped the USCS Mid-South title, which would have completed the sweep with the USCS Outlaw Thunder National championship and the USCS Southern Thunder championship he won earlier this season.
"I'll take it," he said. "It should have turned out better. We had a winning car. It could have been better, but we'll take what we got."
The second 25-lap feature was inverted and Hagar charged from 15th to fifth, earning his 31st top-five finish of the season.
"We got going pretty good," he said. "We just had to pick them off as they screwed up. As the rubber got thicker we got real, real tight. We salvaged a fifth-place finish out of it and made it through the weekend."
Hagar will wrap up his season this Saturday at Riverside International Speedway.
QUICK RESULTS –
Nov. 2 – Riverside International Speedway in West Memphis, Ark. – Dash: 2 (1); Heat race: 2 (3); Scramble: 6 (7).
Nov. 3 – Riverside International Speedway in West Memphis, Ark. – Feature #1: 6 (6); Feature #2: 5 (15).
SEASON STATS –
47 races, 10 wins, 31 top fives, 45 top 10s, 46 top 15s, 46 top 20s
UP NEXT –
Saturday at Riverside International Speedway in West Memphis, Ark.
SOCIAL MEDIA LINKS –
Website: http://www.DerekHagar.com
Twitter: https://twitter.com/hagarderek
APPAREL –
Hagar has t-shirts, hats and koozies available for sale at his race trailer at every race he competes at. To see his schedule, visit http://www.DerekHagar.com/schedule.
SPONSOR SPOTLIGHT – Xtreme Race Graphics
Located in Marion, Ark., Xtreme Race Graphics creates custom graphics, banners and wraps. For more information, visit http://www.XtremeRaceGraphics.com.
"Dustin is a real good artist," Hagar said. "He has a real good imagination. If you want the car to look the best, I'd prefer him."
Hagar would also like to thank R.E. Enterprises, Fragola Performance Systems, J&J Auto Racing, DynoTech Performance, FSR Radiators, ButlerBuilt Professional Seat Systems and FK Rod Ends for their continued support.