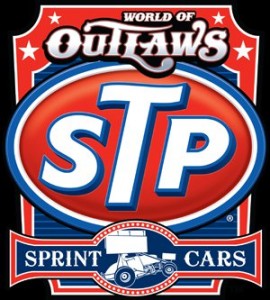 From Sam Martin
Concord, N.C. — (November 7, 2013) — Two-time World of Outlaws STP Sprint Car Series champion Jason Meyers and this year's leading qualifier Paul McMahan set the pace on Thursday's qualifying night to kick off the seventh annual World of Outlaws World Finals at The Dirt Track at Charlotte.
Meyers, in the Kasey Kahne Racing Ollie's Bargain Outlet car, topped the first round of qualifying used to line up Friday night's event with a lap of 12.912 seconds around the 4/10-mile oval. McMahan earned his 17th quick time honor of the season by posting a lap of 13.410 seconds to lead the second round of qualifying used for Saturday night's race.
"It feels great, this entire team really rallied together," said Meyers of Clovis, Calif., after setting quick time in a car he raced for the first time on Thursday. "We didn't have that good of a qualifying hot lap session, we came in, made some changes and really hit it. I honestly feel we could have been a little bit better and it is very impressive how well everyone here works together."
For Saturday's qualifying, Schatz appeared to have quick time locked up when McMahan went out fifth from last and grabbed the top spot.
"Barry Jackson and the guys had the car real good for me and we cut a good lap," said McMahan, of Nashville, Tenn., and driver of the CJB motorsports GF1. "That's number 17 for quick times this year and that's pretty cool to have that many quick times this year. Going into the winter with a victory would make the winter a lot shorter. There's a lot of tough guys here and a lot of good competition, but if we can get our car right like we have here in the past we should be alright."
Five-time and defending World of Outlaws STP Sprint Car Series champion Donny Schatz was second quick in both qualifying runs, accumulating four bonus points per night towards Friday's and Saturday's races, effectively trimming eight points off of series leader Daryn Pittman's 52- point advantage in the standings.
Friday night the World of Outlaws STP Sprint Car Series continues the World Finals at The Dirt Track at Charlotte with a full event. Hot laps for Friday are scheduled to begin at 5 p.m. with the World of Outlaws STP Sprint Car series then going into heat racing action with a full event for the series.
Tickets for the event can be purchased at http://www.charlottemotorspeedway.com/dirt/tickets/world_of_outlaws_world_finals/